Published

08/07/2021
Written by

Lykke
Share
Uniswap

on

Lykke

Wallet

Exchange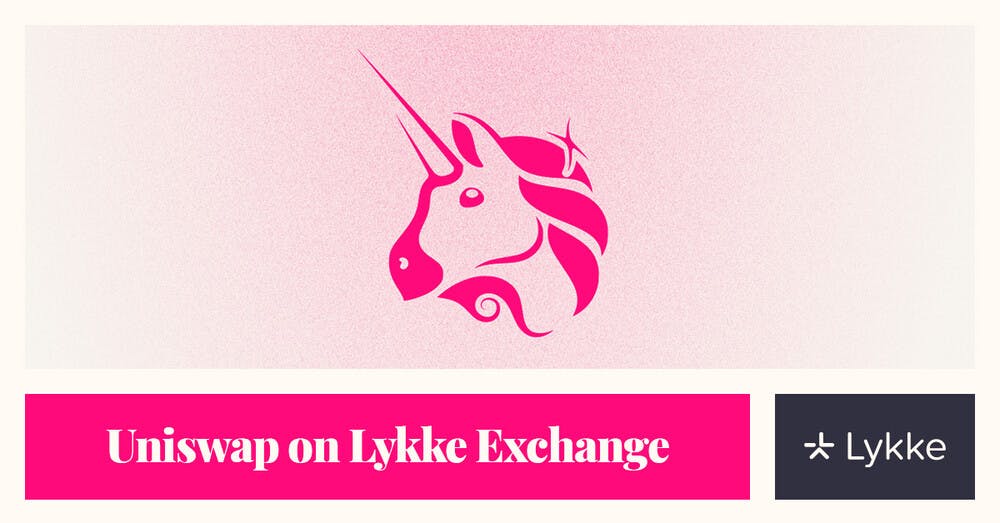 Zug, Switzerland. – July 8th, 2021. Lykke Corp, a fintech company and builder of marketplaces for digital financial assets, announces the listing of Uniswap. Uniswap is a protocol for trading and automated liquidity provision on Ethereum. It creates liquidity for millions of users and hundreds of Ethereum applications.
Uniswap is open-source software licensed under GPL, it offers a range of products from analytics and historical data to an app that allows to swap any ERC-20 tokens thanks to creating liquidity even for new and low volume assets. Uniswap is built on such values as decentralization, censorship resistance and security and supported by a huge community of users and developers.
"We are excited to welcome Uniswap, one of the top open-source blockchain technology protocols backed up by a great community of developers and users. We totally share their mission of building a financial marketplace that is open and accessible to all", said Richard Olsen, Lykke's CEO.
Trading Pairs
UNIUSD
UNIEUR
UNIBTC
UNICHF
UNIGBP

Uniswap deposits, withdrawals, and trading will be enabled as of today, July 8th, 2021 (Listing Date).
About Lykke
Lykke is a Swiss-based investment and financial product provider leveraging the power of the blockchain. Lykke runs a proprietary exchange — Lykke Wallet — where clients can buy, sell and store a large variety of tokenized assets, amongst them cryptocurrencies, national currencies, and native tokens.