Published

27/08/2020
Written by

Lykke
Share
Sandra

Ro,

the

CEO

of

the

Global

Blockchain

Business

Council

(GBBC)

joins

the

Steering

Committee

of

The

Open

Initiative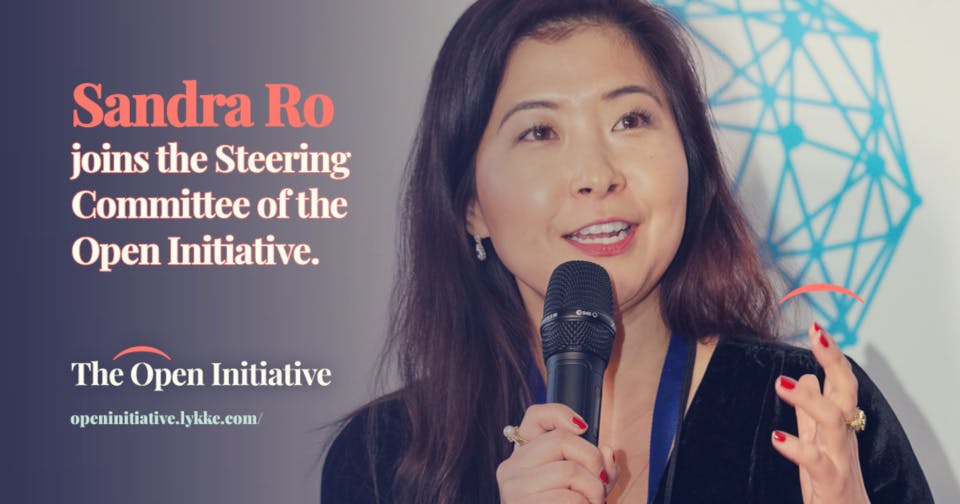 Zug, Switzerland. – August 27, 2020 – The Open Initiative announces the appointment of a new member for the steering committee, Sandra Ro.
The Open Initiative is a platform that aims to enhance the current financial system by providing businesses and governments with new innovative tools and services. The Open Initiative funds and nurtures innovative solutions by awarding four grants, each worth of 50'000 CHF, in four key areas: a digital vouchers platform; supply chain solutions; a real-time and economic information system; and research initiatives.
"Sandra Ro combines the experience of traditional financial markets with a clear view of what needs to be done to trigger the blockchain transformation of society. Just thrilled to have Sandra join our steering committee, she belongs to the select group of people, who are the real movers and shakers in the space." said Richard Olsen, the CEO and founder of Lykke.
About Sandra Ro
Sandra was appointed CEO of the Global Blockchain Business Council (GBBC) in March 2018, a Swiss non-profit focusing on education, advocacy & partnership across over 50 countries. She was appointed and serves on the NYS Digital Currency Task Force, the US Department of State Speakers' Bureau for blockchain/security, the Blockchain for Public Funds, EU and Member States Recovery Plans & European Green Deal, the Post Trade Distributed Ledger (PTDL) Group Organising Committee, the Astana International Financial Centre's (AIFC) Fintech Advisory Council of Kazakhstan, the Global Blockchain Policy Council (GBPC), founded by bipartisan South Korean Congress, and the World Economic Forum (WEF) Digital Currency Governance Working Group.
Previously, she served as a former Treasurer and founding board director of the Enterprise Ethereum Alliance (EEA) and founding member of the Post Trade Distributed Ledger Group (PTDL), founding member of Linux Foundation's Hyperledger. Sandra was also founder and former Executive Director, Digitization Head, CME Group, where she was responsible for the company's digital asset and blockchain/distributed ledger technology (DLT) initiatives, including CME CF Bitcoin futures & index pricing products and post trade solutions. Previously, she served as Head of Foreign Exchange (FX) & Metals Research and Product Development.
Ro holds an M.B.A. in Finance from London Business School, studied Computer Science at Columbia University, School of Continuing Studies, and earned a double B.A. degree in History and Studies in the Environment from Yale University.
About the Open Initiative
The Open Initiative is a web-platform that aims to enhance the financial system by equipping businesses and governments with new tools and services to unlock resources at the service of the people and their governments. Learn more about initiatives by visiting the website.
About Lykke
Lykke is a Swiss-based global fintech firm that utilizes blockchain and emerging technologies to provide solutions for consumers, investors, and corporations. By leveraging the power of a broader ecosystem, Lykke's platforms eliminate barriers to market entry, solve inefficiencies within current economic systems, and democratize access to digital asset marketplaces. Learn more about Lykke's work including The Open Initiative – to fund and incubate solutions for the global supply chain, and following the Lykke on Twitter,  Facebook, and LinkedIn.