Published

28/07/2020
Written by

Lykke
Share
Massimo

Buonomo

joins

the

Advisory

Committee

of

The

Open

Initiative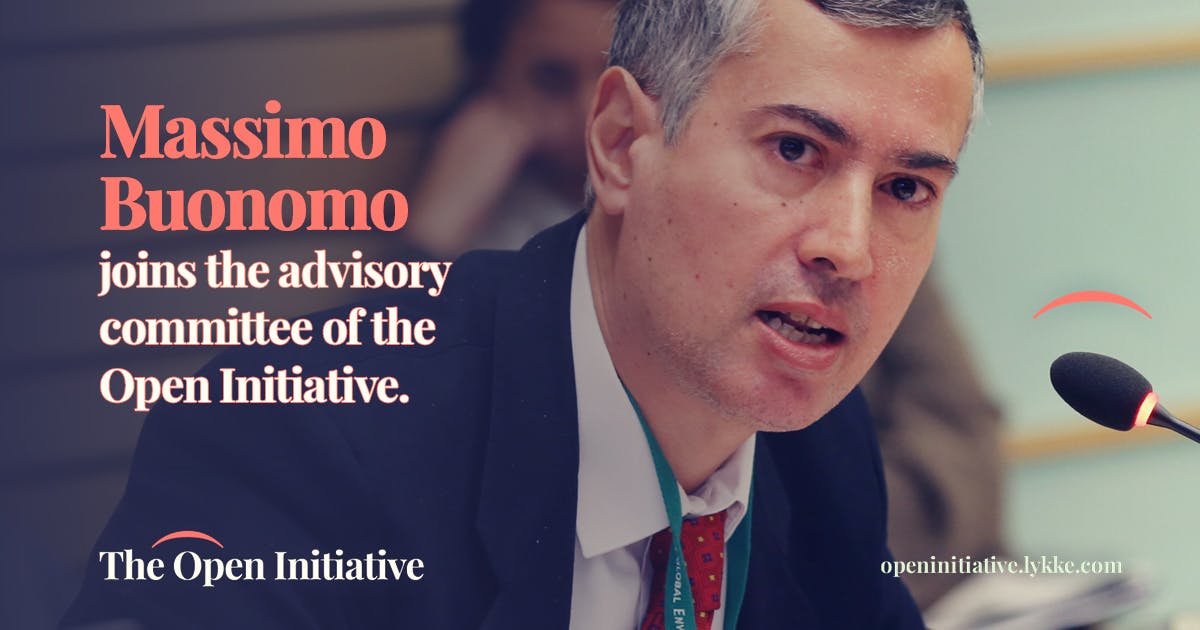 Zug, Switzerland. – July 28, 2020 – The Open Initiative announces the appointment of a new member for the advisory committee, Massimo Buonomo.
The Open Initiative is a platform that intends to strengthen the financial system by equipping businesses and governments with new tools and services. As a result, the team funds and incubates innovative solutions by awarding four grants, each worth of 50'000 CHF, in four areas: a digital vouchers platform; supply chain solutions; a real-time, economic IT system; and research initiatives.
"Massimo's experience and knowledge in blockchain and financial markets will be of great value to the Open Initiative. I am delighted that a key stakeholder with the caliber of Massimo joins the Open Initiative.", said Richard Olsen, the CEO and founder of Lykke.
About Massimo Buonomo
Massimo Buonomo is a United Nations Alliance of Civilizations Global Expert in Blockchain. He is a Senior Expert and Advisor in fintech and blockchain in finance for several international organizations including the United Nations Centre for Trade Facilitation and Electronic Business (UN/CEFACT)-UNECE Italy, the International Supply Chain Education Alliance in the USA and the Global Impact FinTech (GIFT) Forum in Asia.
He brings more than 20 years of experience in international financial markets, Massimo has also worked as a University Professor of Fintech and International Finance in Rio de Janeiro (Brazil), Turin (Italy) and Wuhan (China).
Massimo has participated as a Keynote speaker at numerous blockchain conferences including the Paris Blockchain Summit, London Blockchain Summit, European Blockchain Investment Congress, and Crypto Conference 2019 in Berlin and Asian Blockchain Summit 2020.
Massimo focuses on Central Bank Digital Currencies (CBDCs) and blockchain solutions to address COVID 19 challenges.
About the Open Initiative
The Open Initiative is a platform that aims to enhance the financial system by equipping businesses and governments with new tools and services to unlock resources at the service of the people and their governments. Learn more about The Open Initiative by visiting the website.
About Lykke
Lykke is a Swiss-based global fintech firm that utilizes the blockchain and emerging technologies to provide solutions for consumers, investors and corporations. By leveraging the power of a broader ecosystem, Lykke's platforms eliminate barriers to market entry, solve inefficiencies within current economic systems and democratize access to digital asset marketplaces. Learn more about Lykke's work – including The Open Initiative to fund and incubate solutions for the global supply chain – by visiting the website and following the firm on Twitter and LinkedIn.