Published

29/06/2022
Written by

Lykke
Share
Lykke

Wallet

Lists

AVAX

for

Trading

Without

Fees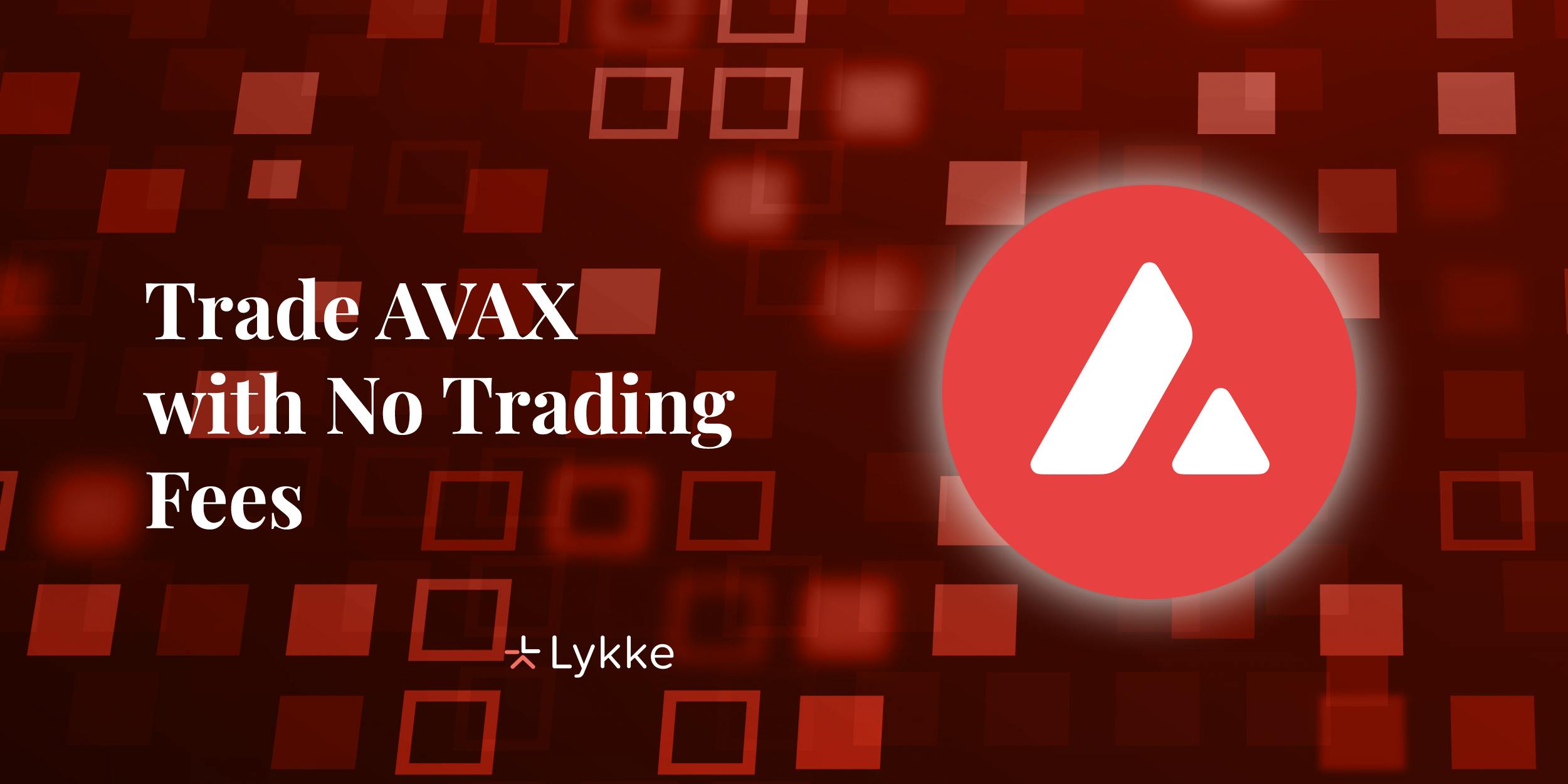 June 2022 Lykke Corp, a financial service and product provider based in Switzerland, announces the listing of Avalanche (AVAX) at its proprietary commission-free cryptocurrency exchange Lykke Wallet. Avalanche is a blockchain platform that is like Ethereum in that it supports smart contracts to run decentralized applications. However, it produces faster transaction speeds and higher scalability than Ethereum, leading crypto enthusiasts to call it an Ethereum killer. "Ethereum Killer" is a term used to refer to blockchains that tackle one or more of Ethereum's limitations.
You can now deposit, trade, and withdraw AVAX with zero fees on the Lykke exchange using the following trading pairs:
AVAX/BTC
AVAX/CHF
AVAX/EUR
AVAX/GBP
AVAX/USD
AVAX/USDC
AVAX/USDT
About Avalanche
Avalanche deals with two main problems, interoperability and transaction speed.
In tackling interoperability, Avalanche uses subnets, which are custom-created blockchains that operate with the primary network's security.
Avalanche also deals with Ethereum's slow transaction speed with a superior consensus mechanism. It uses the Proof of Stake (PoS) consensus mechanism, where users stake some of their tokens so that the network can verify transactions and keep the blockchain secure. As a result, the Avalanche blockchain can process over 4,500 transactions per second (tps), way more than Ethereum's 15 tps.    
About AVAX, the native token of Avalanche
AVAX is the native token of the Avalanche blockchain. You can use AVAX as a currency within the protocol to pay for fees or receive incentives. 
You can also stake AVAX to validate the blockchain. When you stake, you can choose to be a validator or a delegator. Both validators and delegators receive rewards for ensuring the protocol's safety by staking.
AVAX has enjoyed massive growth as a cryptocurrency, especially in 2021, when it grew by over 3,300%, from $3.15 on New Year's day to $109.38 on the last day of the year. So if you had invested $1,000 into AVAX at the beginning of the year, your investment would have been worth about $34,000 at the end of the year. 
At the time of writing, AVAX is the 15th most valuable cryptocurrency in the worth, with its price hovering around $22. The price drop is due to the crypto market crash of May 2022 caused by the collapse of the Terra ecosystem. 
AVAX is limited in supply, with the maximum supply capped at 700 million tokens. At the time of writing, over 40 million AVAX tokens have been mined, giving the cryptocurrency a total market cap of about $6 billion.   
Despite the bear market, AVAX has the fourth-most total value locked (TVL) at $4.04 billion, just behind Ethereum, Binance Smart Chain, and TRON, proving that the protocol is fundamentally strong.
Also, Avalanche has partnered with big financial names like Mastercard and Deloitte for blockchain technology development schemes.
How to trade AVAX with zero fees
You can trade AVAX with no fees on the Lykke exchange. 
All you have to do is register and get verified at Lykke Wallet through an easy and fast KYC procedure. After this, you can deposit your funds by bank transfer using the fiat gateway. Crypto deposits in your account on Lykke are also free. After you have credited your wallet with your deposits, you can exchange them to AVAX with zero trading fees. 
About Lykke
Lykke is a Swiss-based and UK-registered crypto trading platform that uses complex trading algorithms to provide zero fees for crypto traders who wish to buy, store, and trade their cryptocurrencies.  With Lykke, you are guaranteed a safe trading environment, as the platform is AML and KYC compliant and has a robust exchange architecture. To open an account, please register here.