Published

19/05/2020
Written by

Lykke
Share
Lykke

Launches

COVID-19

Project

to

Fund

Global

Supply

Chain

Solutions

and

Announces

Chris

Giancarlo

as

Strategic

Advisor

for

The

Open

Initiative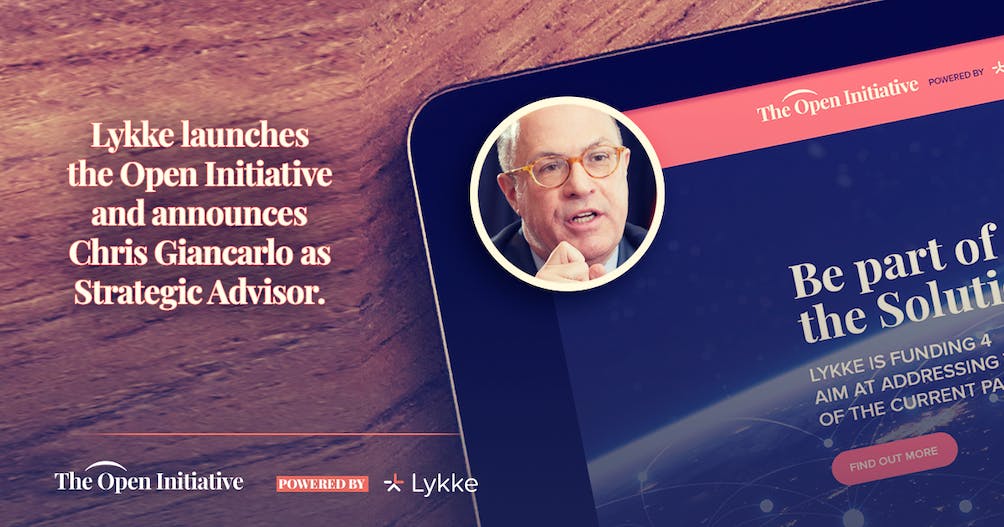 Zug, Switzerland. – May 19, 2020 – Lykke Corp, the Swiss fintech company and builder of marketplaces for digital financial assets, today launched The Open Initiative, a project dedicated to helping governments envision the ways digital technology can transform the global supply chain and financial system in a post-COVID-19 economy.
"New technologies will accelerate the recovery of society in the aftermath of the COVID-19 pandemic, and the blockchain offers feasible solutions for necessary government and private sector initiatives," said Lykke CEO Richard Olsen.
To help advance The Open Initiative, Lykke is pleased to announce J. Christopher ("Chris") Giancarlo, former Chairman of the U.S. Commodity Futures Trading Commission (CFTC), will serve as strategic advisor.
"As the unprecedented COVID-19 crisis reveals inefficiencies and limitations in global financial and supply chain systems, I am pleased to support the Open Initiative to bring sophisticated digital services within reach by leveraging blockchain technology and the expertise of Lykke's Digital Engineering Team."
The Open Initiative aims to provide a minimum of CHF 50,000.00 for each selected proposal by individuals, teams and companies that are working to create solutions that address the crisis, while offering direct access and support for governments to benefit from newly developed solutions.
The Open Initiative is accepting proposals for four categories:
Digital Vouchers Platform: Digitizing government initiatives for SMEs, the labor force, and more.
Supply Chain Platform: Leveraging the efficiency of financial market mechanisms to solve supply chain problems.
Real-Time Economic Information System: Aggregating and verifying relevant information for economic forecasts.
Research Initiatives: Contributing new approaches and ideas to the management of the current crisis and the development of useful solutions.
The process for submitting proposals will be open until July 3, 2020. Selected entries will be evaluated by a jury of government and industry leaders, and winners will be considered for future initiatives eligible for additional funding.
Learn more about Lykke's Open Initiative on the website:
https://openinitiative.lykke.com/
About Lykke
Lykke is a Swiss-based builder of marketplaces, including the Lykke Exchange, for the free exchange of digital financial assets such as Bitcoin and Ethereum. By leveraging the power of emerging technology, our platform eliminates market inefficiencies, promotes equal access from anywhere in the world, and supports the trade of any object of value. Lykke Corp, incorporated in Switzerland, issues its shares in the form of Lykke Coins on the Blockchain. Lykke is addressing critical failure points of the economy by leveraging blockchain technology. Democratizing finance by eliminating market barriers, Lykke provides and promotes equal easy access to the digitization and trade of virtually any asset of value from anywhere in the world. A pioneer in the blockchain space, Lykke has several years of international operational experience with a sophisticated financial engineering team, scalable blockchain infrastructure and in-depth know-how in the tokenization of assets of all types.

About J. Christopher Giancarlo
The Honorable J. Christopher Giancarlo is senior counsel to the international law firm, Willkie Farr & Gallagher and the former Chairman of the U.S. Commodity Futures Trading Commission (CFTC). He is the founder of the Digital Dollar Foundation, the not-for-profit organization created to support the Digital Dollar Project's efforts to advance exploration of a United States Central Bank Digital Currency. Giancarlo serves as Chairman of the Board of Common Securitization Solutions, a joint venture between Fannie Mae and Freddie Mac. Giancarlo is also an independent director of the American Financial Exchange, the sponsor of Ameribor® and Ameribor® Futures. Additionally, Giancarlo serves on the advisory board of the Chamber of Digital Commerce.

About Richard Olsen
Richard Olsen is a pioneer in high frequency finance with extensive entrepreneurial experience and renowned for his academic work. He was a co-founder of OANDA, a currency information company and market maker in foreign exchange. Under Richard's stewardship as CEO of OANDA, the company was a shooting star that launched the first fully automated FX trading platform offering second-by-second interest rate payments and netting $37 million in profits by 2007. He is a visiting professor at the Centre for Computational Finance and Economic Agents at the University of Essex. His ambition is to transform financial markets into a seamless system without the inefficiencies that we today take for granted. The Lykke platform led by Richard Olsen enables people from around the world to trade currencies, digital currencies and other tokenized assets safely and securely, without incurring fees.