Published

21/11/2021
Written by

Lykke
Share
Lykke

and

Hiveterminal

Deepen

their

Partnership

on

the

Cryptocurrency

Market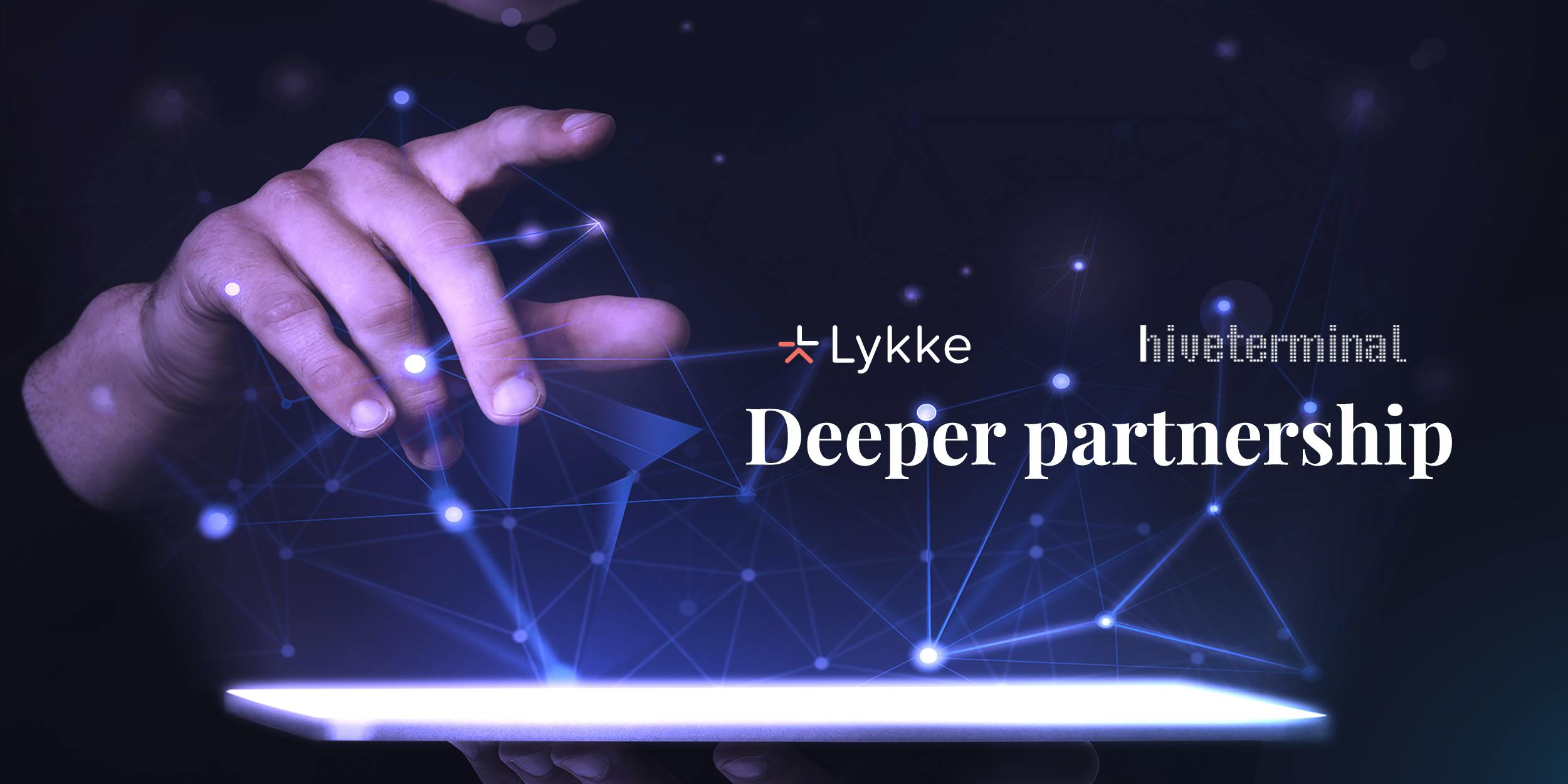 Zug, Switzerland. – November 4th, 2021. Lykke, a Swiss-based commission-free cryptocurrency exchange, and Hiveterminal, a blockchain-based invoice financing platform that offers a peer-to-peer bridge between small businesses, announce their commitment to a deeper partnership. Hiveterminal's moving to Switzerland was an impulse for the companies to take decisive steps to improve trading conditions for the HVN token and agree on mutual marketing and media support.
Hiveterminal offers a solution to entrepreneurs and SMEs who need liquidity to develop their businesses. The company provides a platform where invoice issuers can sell their invoices immediately and receive the whole payment instead of waiting for the due date which may be 30, 60 or even 90 days away. This is what allows invoice issuers to enhance liquidity without resorting to bank credit services or borrowings. The HVN token, listed at Lykke Wallet crypto exchange in 2018, is used to grant its holder the right to claim ownership of invoices on the Hiveterminal platform and is the only payment method available to the invoice buyers to do so. To improve the HVN trading conditions, the HVN/ETH pair has been replaced by HVN/EUR which gives the Hiveterminal users the advantage of a direct fiat gateway.
"Hiveterminal has committed to ensuring liquidity for the HVN token and its top trading pairs, this is good news. We are very happy to see the company move to Switzerland's "Crypto Valley" in Zug; this is an extra motivation to build a strong partnership," the CEO and founder of Lykke, Richard Olsen, has said.
"We are looking forward to making Hiveterminal token (HVN) more accessible to our users. The increased cooperation with Lykke allows us to do so, and we need to grasp the opportunities available to us, at the right time. We share many things with Lykke, the desire for crypto to be a well-established, adopted, and regulated part of the business environment, as well as the fact that Hiveterminal's recent move to Swiss markets has also brought us closer in the sense of sharing the same country of operations'', Hiveterminal CEO Bonart Mati has stated about the newly signed agreement between Lykke and Hiveterminal.
About Hiveterminal
Hiveterminal is a European fintech startup, creating a unique relationship between liquidity providers and businesses for working capital. Founded in 2017, the company launched its liquidity-providing platform in its native Slovenia in 2019. Since then, it has already gained trust of more than 4200 Slovenian small and medium-sized enterprises (SMEs) and 420 investors from 58 countries, and partnered with some largest domestic corporations.

Hiveterminal allows them to avoid taking out company loans by selling their invoice receivables. They upload their invoice to the platform and fill out all the relevant data. Once the invoice is confirmed by the debtor company as valid, it is sent to Hiveterminal market, where investors can buy the invoice at a discount and get paid the full sum by the company's original debtor at the invoice due date.
About Lykke
Lykke Corp is a Swiss-based fintech company that runs the commission-free cryptocurrency exchange Lykke Wallet on which HVN is listed. Lykke Corp is an umbrella entity for a group of companies working on B2B and B2P levels. A Lykke talent spin-off develops blockchain solutions for fintech businesses, Lykke Business is the company that commercializes white-labelled solutions. Lykke Wallet is a product of Lykke, it's a cryptocurrency exchange operating on both B2B and B2P levels.
Lykke Wallet differs from other cryptocurrency trading venues thanks to its cost-efficient trading conditions. The trading fee at Lykke is zero for all traders, both retail and API. The low buy-sell spreads allow for arbitrage and hedging. Other important perks include a fiat gateway, 24/7 human support and the possibility to trade 20+ selected cryptocurrencies at a web terminal or in a mobile app.