Published

30/09/2021
Written by

Lykke
Share
Lykke

and

Margin

Integration:

Crypto

Algo

Trading

with

Zero

Trading

Fees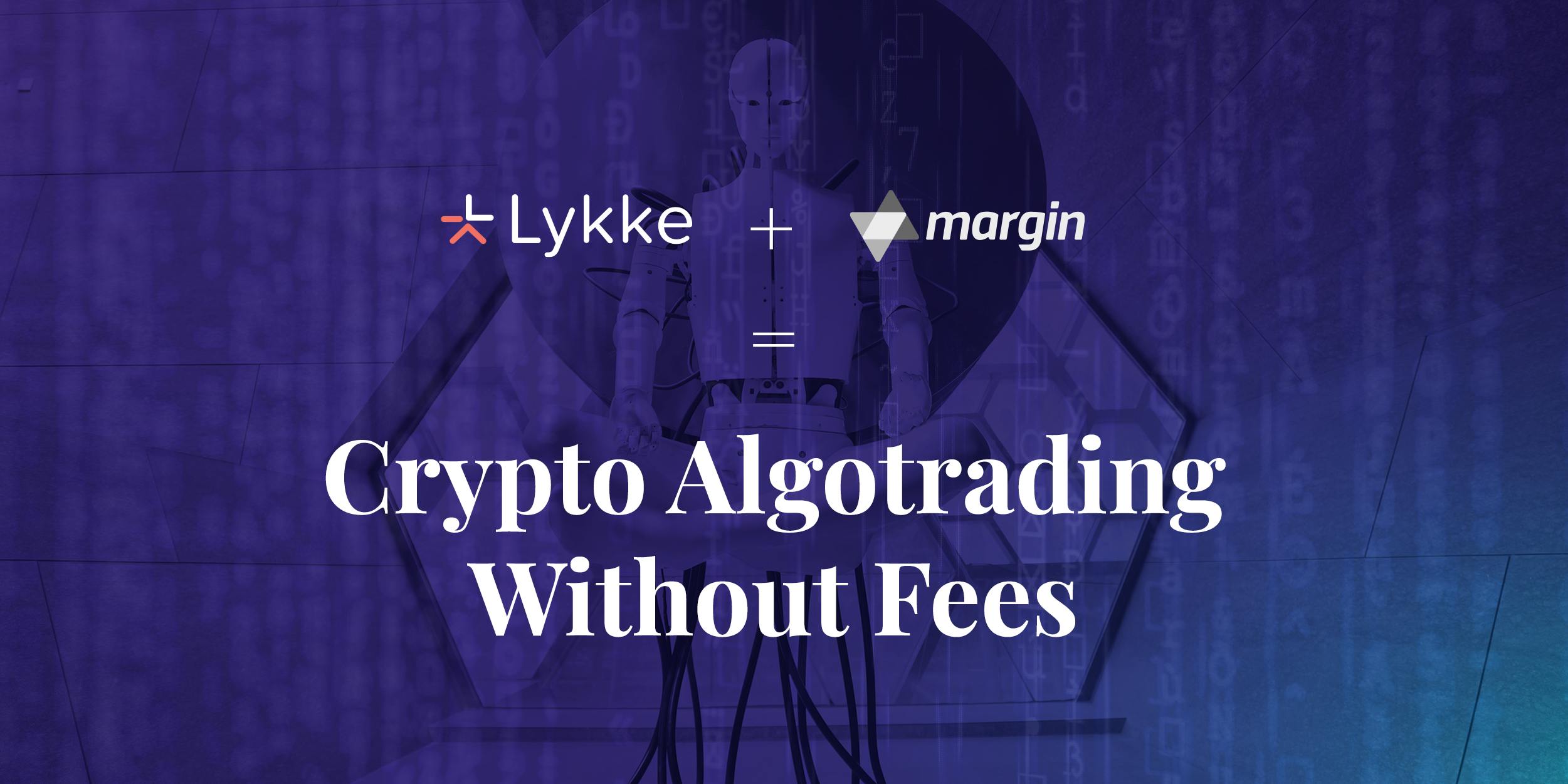 Zug, Switzerland. – December 16th, 2021. Lykke, a Swiss-based commission-free cryptocurrency exchange and Margin, a German crypto trading automation solution, announce their partnership and the integration of the two platforms. The integration will allow cryptocurrency traders to automate their trading strategies by using Margin trading bots on the Lykke Wallet cryptocurrency exchange. This symbiosis creates truly unique conditions for cryptocurrency traders: easily configurable Margin trading bots and the zero trading fee policy at Lykke make high-frequency trading accessible for almost everyone.
Margin developed the first ever dedicated crypto trading terminal back in 2014 with a vision to have a single interface for multiple exchanges. Combining elements of a Bloomberg and MetaTrader terminal experience in which both data and execution are available on a single platform. Focus is placed on easy to configure bots with parameters that are presented in a uniquely visual manner. 
Under the partnership, Lykke users will receive a special discount to get registered on the Margin platform. To apply the discount, the user will add the code, "Lykke" during checkout and receive 30% off a subscription. The discount only applies for the Starter Subscription plan when using the Lykke exchange option. The plan allows Lykke users to automate their trading strategies at Lykke Wallet crypto exchange. To connect their Lykke account to the Margin platform, the user will connect with part of their API key.
"We are delighted to announce the partnership with Margin and offer our users to test the intuitive interface and the visually configurable trading bots of the Margin platform. Any algotrader knows that trading fees are a hurdle for the successful execution of trading strategies. The integration of the Margin trading bot platform with the zero-fee cryptocurrency exchange Lykke aims to address exactly this inefficiency" - said Richard Olsen, the CEO and founder of Lykke.
"From the start, we have been grateful for the professional partnership we have had with Richard and his team. Lykke's zero-fee concept should grab the attention of many traders in the Margin community who I am sure will be keen to test our bots on Lykke. - Jonathan Maycock, CEO and co-founder Margin"
About Lykke
Lykke is an umbrella term for a group of entities that offer blockchain-powered solutions on a B2B and a B2P level. Lykke runs a proprietary cryptocurrency trading platform Lykke Wallet exchange. Lykke Wallet is a commission-free exchange which offers zero trading fees both to retail and high-frequency, or algorithmic, traders. Lykke has been on the market since 2015, and it has gained a reputation as a fully-functional, transparent and reliable cryptocurrency trading platform with highly cost-effective trading conditions. Lykke not only offers cryptocurrency trading without fees but also maintains low buy-sell spreads on all crypto and fiat trading pairs. There are some 20 selected cryptocurrencies and the list is growing. To start trading, download the app or get registered on our website!