Published

09/12/2021
Written by

Lykke
Share
Lykke

Launches

Its

Zero

Fee

Crypto

Trading

App

for

Huawei

Devices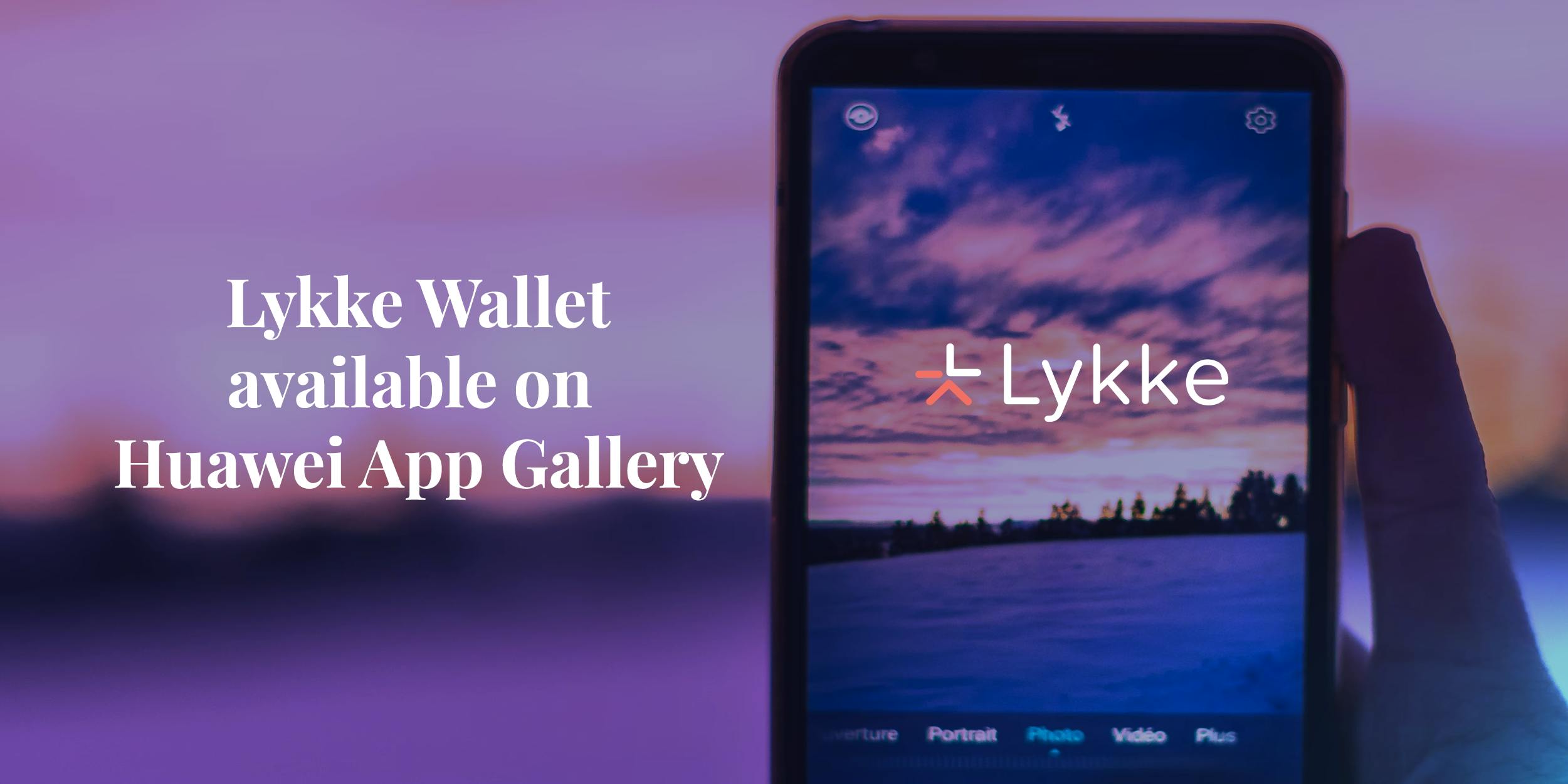 Zug, Switzerland. – December 9th, 2021. Lykke Corp, the fintech company running the commission-free cryptocurrency exchange Lykke Wallet, announces that its cryptocurrency trading application is now available to the users of Huawei phones. Lykke Wallet is one of several selected financial service and product providers that have been recently listed on the Huawei AppGallery marketplace. 
Of all the listed applications, Lykke Wallet is the only all-in-one cryptocurrency trading platform with zero trading fees for retail and API traders. The platform offers 20+ selected cryptocurrencies with liquidity, a web and an app interfaces, and a 24/7 human support service. Additionally, Lykke Wallet is the only cryptocurrency trading platform on the market that covers the bank deposit and withdrawal fees for its customers, which puts it at the top of the list of the cryptocurrency exchanges with the lowest fees. It means that users can deposit, for example, euros and buy Bitcoin without any commissions.
Huawei is a Chinese cell phone manufacturer whose sales have been growing exponentially across the globe. What distinguishes the Huawei products is a highly attractive quality-price ratio. In the AppGallery, the Huawei app store, users can find selected applications for any purpose. The range of financial product and service providers has recently been expanded to include such Swiss companies as Swissquote, Neon, YUH, FlowBank, and Lykke.
"By making the Lykke cryptocurrency app available to the users of Huawei phones we get one step closer to our mission: creating conditions so that everyone around the world can trade digital and cryptocurrency assets freely, without any fees, in a simple and intuitive way and in a legal and safe environment. Getting access to the financial system of the future is now as easy as downloading an app," - said Richard Olsen, Lykke's founder and CEO.
"We are honored that Lykke and so many of our partners have been so inspired by the potential and innovation of our ecosystem. We are proud to provide more partner applications to our customers in Switzerland that simplify their daily lives every week", says Steven Huang, Country Manager of Huawei Consumer Business Group in Switzerland.
About Huawei Consumer BG
Huawei's products and services are available in more than 170 countries, and are used by a third of the world's population. Fifteen R&D centres have been set up in the United States, Germany, Sweden, Russia, India and China. Huawei Consumer BG is one of Huawei's three business units and covers smartphones, PC and tablets, wearables and cloud services, etc. Huawei's global network is built on almost 30 years of expertise in the telecom industry and is dedicated to delivering the latest technological advances to consumers around the world.
About HUAWEI AppGallery:
AppGallery is a smart and innovative ecosystem that allows developers to create unique experiences for consumers. Huawei's unique HMS Core allows apps to be integrated across different devices, delivering more convenience and a smoother experience – all of which is a part of Huawei's wider "1+8+N" strategy.
With AppGallery, Huawei's vision is to make it an open, innovative app distribution platform that is accessible to consumers, and at the same time, strictly protects users' privacy and security while providing them with a unique and smart experience. As one of the top three app marketplaces globally, AppGallery offers a wide variety of global and local apps across 18 categories, including navigation and transport, news, social media and more. AppGallery is available in more than 170 countries and regions with over 560 million monthly active users globally. With 5.1 million registered developers across the globe, 2020 saw AppGallery reach 384.4 billion downloads.
 For regular updates on AppGallery, follow on:
URL: https://consumer.huawei.com/en/mobileservices/appgallery/
Facebook: https://www.facebook.com/AppGalleryOfficialPage/
Twitter: https://twitter.com/AppGallery
Instagram: https://www.instagram.com/_appgallery/
YouTube: https://www.youtube.com/AppGallery
LinkedIn: https://www.linkedin.com/company/huawei-app-gallery/
About Lykke Corp
Lykke Corp is the fintech company that runs the commission-free cryptocurrency exchange Lykke Wallet. Under the umbrella brand name of "Lykke", several companies are grouped that operate on B2B and B2P levels. The Lykke cryptocurrency exchange has been fully-functional since 2015 and it has consistently maintained its zero fee policy throughout various crypto booms and corrections. This has been possible thanks to the company's commitment to its mission of democratizing finance and hence its bold and ingenious solutions on this volatile and nascent market.
Fintech is an innovative and disruptive space by nature, and the Lykke businesses take their origins from scientific research in high-frequency finance. It is a novel term introduced by Richard Olsen, the founder and CEO of Lykke Corp. The company's expertise in financial engineering allowed it to pioneer the conceptual development of products and services powered by the blockchain in Switzerland. A Lykke talent spin-off, Swisschain, is one of the few companies that build and customize complex turnkey blockchain solutions for businesses and governments. Lykke Business is an entity that successfully commercializes Lykke blockchain-powered financial products and services on the B2B level.
Lykke Wallet exchange is a platform that creates the same favorable conditions for retail, API, and corporate traders and investors, being a true level-playing field on the crypto market. Apart from the favorable trading conditions, such as the free transactions, low spreads and liquid assets, Lykke offers a safe trading environment. The company is KYC and AML compliant, it possesses a temporary registration by the UK FCA authority and is awaiting the permanent approval by this entity.