Published

08/07/2022
Written by

Lykke
Share
WHAT

YOU

NEED

TO

KNOW

BEFORE

YOU

START

TRADING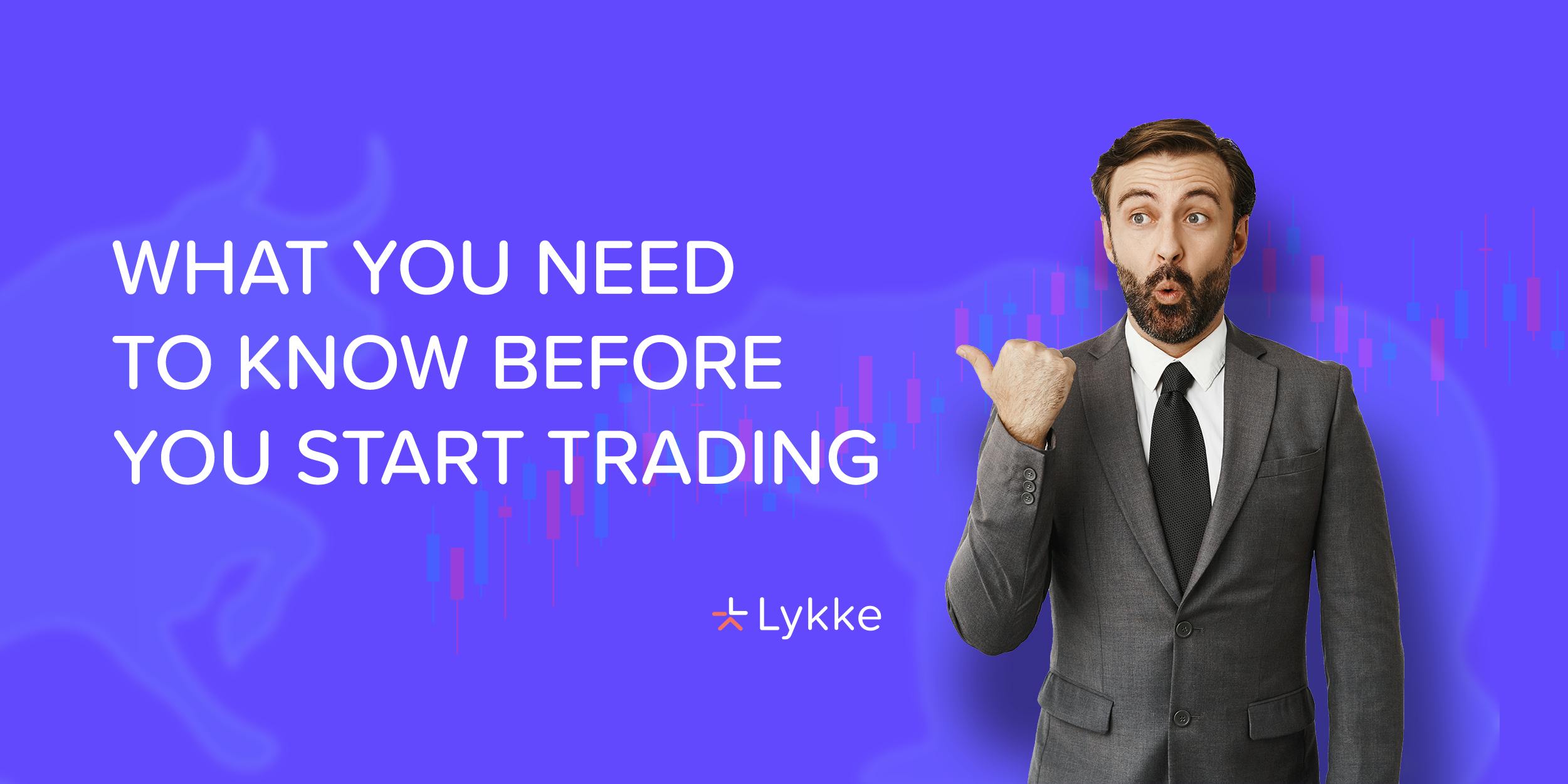 July 8th, 2022. For newcomers who are about to venture into the trading of digital currencies, it's crucial to acquire knowledge on how to get started. This short article will answer almost all the questions you may want to ask ranging from where to buy or sell to how to make profits and others.
WHAT IS CRYPTOCURRENCY TRADING?
It is an act of buying and selling cryptocurrency via an exchange.
A beginner can choose between any of these three already existing types of exchanges:
Centralized exchanges (CEX) 
In the most traditional type of exchange, buyers and sellers are connected while the exchange serves as the middle man by holding the trader's coins. Once a seller places an order, it's the responsibility of the exchange to find a buyer and vice versa.
Decentralized exchanges (DEX)
This type of exchange is based directly on the ideology behind cryptocurrency. No middle man is involved. The buyers and sellers simply come together and exchange their coins.
Hybrid exchanges
Hybrid exchanges are presently under development. They are a future crypto trading marketplace. They aim to combine the functionalities of CEX and the high-security assurance of DEX together.
Lykke exchange is the only CEX that charges zero trading fees. The low buy-sell spreads make Lykke also stand out. 
FUNDING YOUR ACCOUNT.
After signing up for an exchange and completing the verification process, the next stage is funding your account. Most exchanges accept bank deposits. Lykke is the only crypto exchange covering bank deposit fees for its customers. Our customers can trade cryptocurrency absolutely for free. 
STYLES OF TRADING
Based on a beginner's interest and the knowledge she has, she can choose between the following styles of trading:
The simple style of trading requires a lot of discipline. The easy explanation for this strategy is buying Bitcoin at $20,000 and then waiting for the price to pump for example to $100,000 before selling. Traders may have to wait for several months or years. All beginner traders pick usually pick this trading method.
As the name implies, traders do not hold the position till the next day. They take profits at the end of the day and then hunt for another opportunity the next day.
It's a swift style of trading to make constant profits irrespective of the amount. The trader needs to be more focused and concentrate on the price movement at all times.
Here, traders focus more on support and resistance. It may take several days or weeks before they reach the target. 
DECIDE ON WHICH CRYPTO TO BUY AND START TRADING 
Although several traders prefer to buy Bitcoin and Ethereum because of their market capitalization, recently many altcoins have been traded. To make the best decision, traders need to be well versed in the method of market analysis which includes Fundamental analysis and Technical analysis. At Lykke Exchange, you can trade both fiat currency as well as 20+ different cryptocurrencies. 
News and community sentiment are other factors to consider. A beginner crypto trader must keep track of community discussions and news events because this information impacts the market price of cryptocurrencies. A trader must take advantage of the power of information by staying active in communities and reading news on Lykke Blog and Lykke News.
Crypto trading automation has made it easy for beginners to trade effortlessly. Integrating these trading automation tools with the Lykke exchange may be one of the best decisions a day trader can make. The detailed Lykke API for Crypto and Forex trading is available here, or you can use the Lykke integration with Margin. 
Traders are encouraged to take profits whenever they are satisfied.
CONCLUSIONS
Some trading cryptocurrency benefits include volatility, privacy, 24-hour trading, asset variety, and ease of account creation. With Lykke, you can enjoy all these if you begin today.