Published

29/08/2023
Written by

Lykke
Share
Tools

at

hand

for

crypto

trading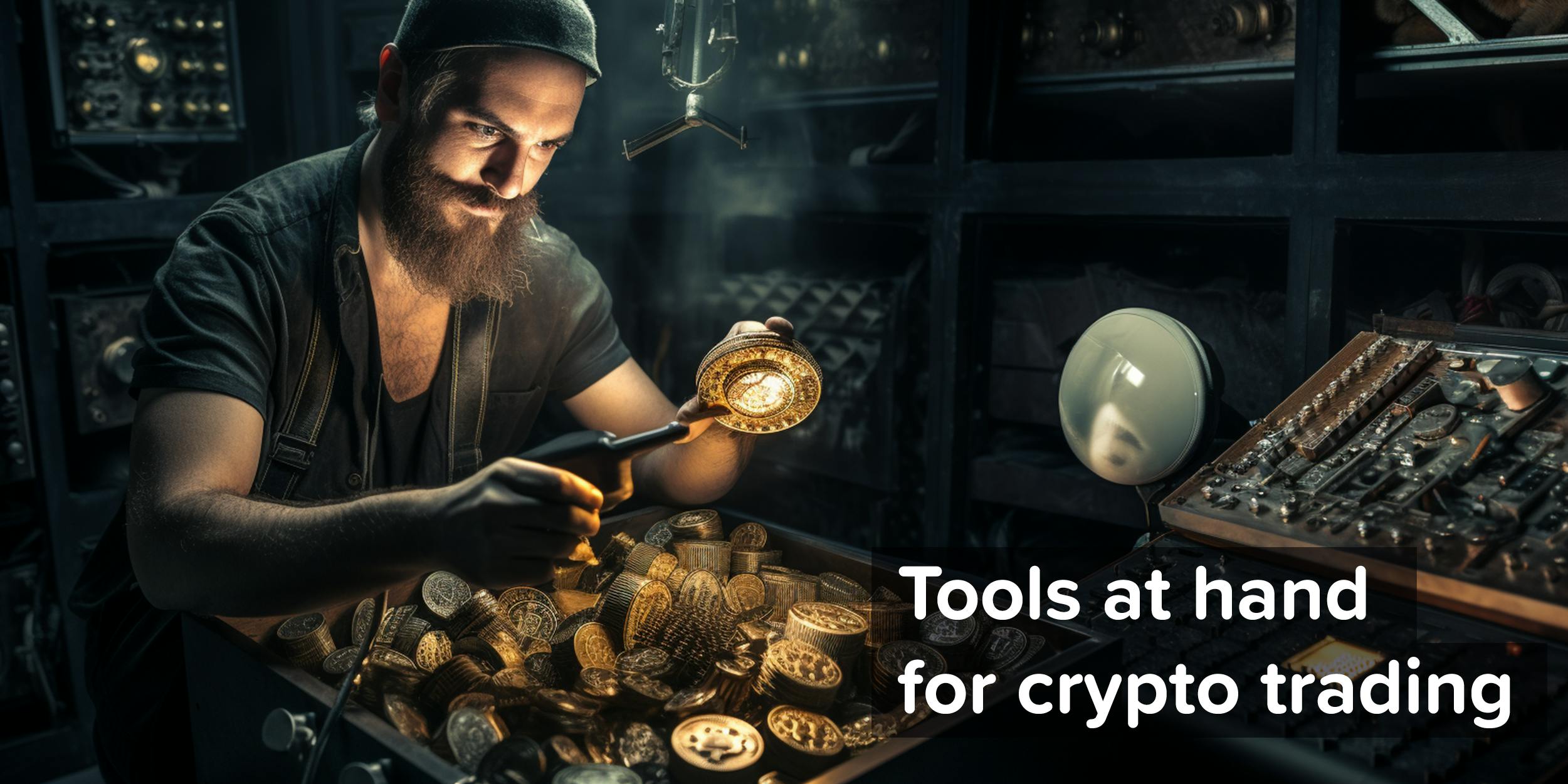 There are numerous tools available to help you succeed with your crypto trading. Let's take a closer look at these.
Crypto exchanges  It's on these online platforms that you trade – buy, sell or convert – cryptocurrencies. There are numerous exchanges to choose from, with Binance being the largest crypto exchange with more than 55 million visits in June.

Each exchange offers different features, and their fee structures vary widely. Some require minimum deposits, while others don't offer customer support run by humans. The Lykke Exchange applies no trading fees, covers the bank withdrawal fees when you deposit money into your crypto wallet and offers customer support around the clock with no chat bots involved.


Crypto wallets A crypto wallet is the equivalent of a bank account in the traditional financial sector. It's through these wallets that you store, send and receive the crypto currencies that you have traded. There are two types of wallets: hardware wallets, physical USB-stick like devices, on which the digital assets are stored. These can however be lost or stolen. Then there are online software wallets protected by two-factor authentication and cryptography, such as the Lykke Wallet.


Crypto data sites To keep in the loop about the latest crypto price developments, trading volumes, market capitalizations as well as historical data there are numerous websites to choose from. CoinMarketCap, being the largest in terms of visitors with 84 million visits in June, followed by CoinGecko, crypto.com CoinCodex, and Lykke's ATTMO are just a few of these. They also offer filter tools, so that you can screen out crypto currencies below a certain price, volume, market cap and more. Some data sites also offer crypto price alerts by push notifications via SMS or social media channels.
Crypto news sites It has never been easier to keep fully informed about the latest developments on the crypto markets, as there are many media outlets covering the crypto universe. Media giants such as CNBC, Bloomberg, and Reuters have reporters dedicated to covering the global crypto markets. Then a myriad of news channels focusing on crypto have appeared online: Bitcoin.com (with 9 million visits in June), tracked by Decrypt with 3.4 million visits, CryptoNews, CryptoSlate, Crypto-Economy, and many more. Lykke's ATTMO Times is yet another news channel. The daily online report strives at covering the latest news affecting the crypto universe and explain how these impact the prices of crypto assets. ATTMO Times is released every weekday. Register 


Trading tip sites Crypto investors are often looking for trading tips and like to share trading ideas. These can be found on social media channels, such as Telegram, Twitter (X), Discord, Reddit, Signal, Medium, BitcoinTalk, TradingView… Check out Lykke's Telegram channel and TradingView profile!


Crypto tax calculators Last but not least. In order to be fully compliant when trading with crypto assets, you need to comply with fiscal rules. These differ widely depending on jurisdictions. Most crypto assets are subject to either capital gains tax or income tax depending on your country of residence. Lykke has teamed up with Koinly, CoinLedger and the CryptoTaxCalculator to easily compile the income or capital gains made on your crypto trading and required on your tax return.
Happy crypto trading!