Published

12/02/2020
Written by

Lykke
Share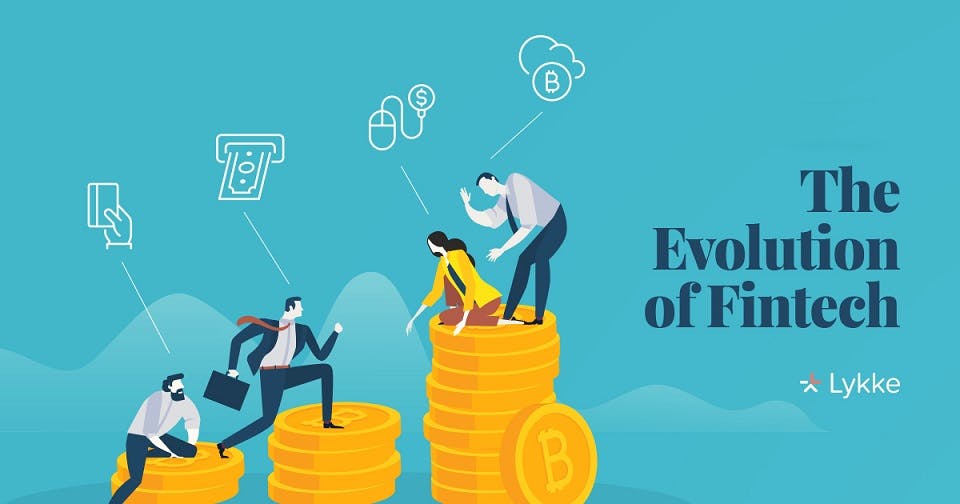 The phrase Fintech which stands for 'Financial Technology' refers to software and other modern technology used by businesses that provide automated and streamlined financial services.
Financial Technology - History Briefing
It was born in the 1990s with the advent of the internet and online e-commerce business models, dreamt up by the likes of Amazon, AOL & PayPal. But once banks & financial institutions started to digitize their back-office systems in the 1990s it was then becoming mainstream across many global corporations and even local businesses.  
Some of the early game-changers have included online banking which started in the early 2000s which revolutionized how we managed day-to-day finances and the way in which we interacted with our high street bank.
We then had Mobile Payment apps which meant we could manage our finances on the move from literally anywhere in the world. This led to tech-savvy customers, especially millennials expecting money transfers, lending and investing to be an effortless, secure and scalable solution, without the need and hassle of visiting a bank or financial advisor.
One could argue that the Fintech industry really went up a gear after the global financial crisis of 2008. Many individuals & even companies lost a lot of faith in the traditional banking system. Transparency and security had become more prevalent than ever before.
With a shifting mindset and the technology of cloud computing, this made it possible to invent new customized solutions and standard procedures such as providing access to banking, payments, and transfer of money with automatically converted currencies. Due to regulation and high expectations of customers, Fintech companies' main goal was to create services and solutions with long-term potential.
The primary means by which people access the web and make use of different financial services is the smartphone. By equipping it with mobile banking apps and digital wallets such as Google Wallet and Apple Pay, this has made consumers wake up to the fact that the future is ever-changing and somewhat easier in the new world of Fintech solutions and its benefits.
Another area where Fintech companies were able to establish a direct connection with their customers, is crowdfunding. By launching a product on a crowdfunding platform, it allowed business owners, small businesses, and entrepreneurs to gain support and backing without raising money from conventional investors such as venture capitalists and banks.
Social change is a big area that many Fintech firms hope to achieve and be a big USP by taking into account the demographic and social needs of societies in different countries & cultures.  People in developing nations now have access to microfinance and digital lending platforms. Regions in Africa, Asia, and India, areas with large numbers of people who were disadvantaged by traditional banks, have now become enabled to use payment services by the power of Fintech.
In the Fintech industry, there is always the next 'big thing'
For some time now that has been the blockchain technology and the digital currencies. Companies such as ourselves here at Lykke whereby we are bridging the gap between traditional finance and Blockchain. With the ultimate aim of bringing a new version of finance to the populous where we are at the forefront of upgrading the world's financial system. To do this we want to separate ourselves apart from what many of our competitors do.
About Lykke
Lykke is a Blockchain-based fintech company building a global marketplace for the fee-free exchange of any kind of digitized assets. Lykke offers trading of a wide range of cryptocurrencies, 21 fiat currencies, and unique services for managing your investment portfolios such as the LyCI crypto indexes and the corresponding investable utility tokens.