Published

10/03/2023
Written by

Lykke
Share
ATTMO

Times

–

Icy

Weather

Ahead

for

Major

Cryptocurrencies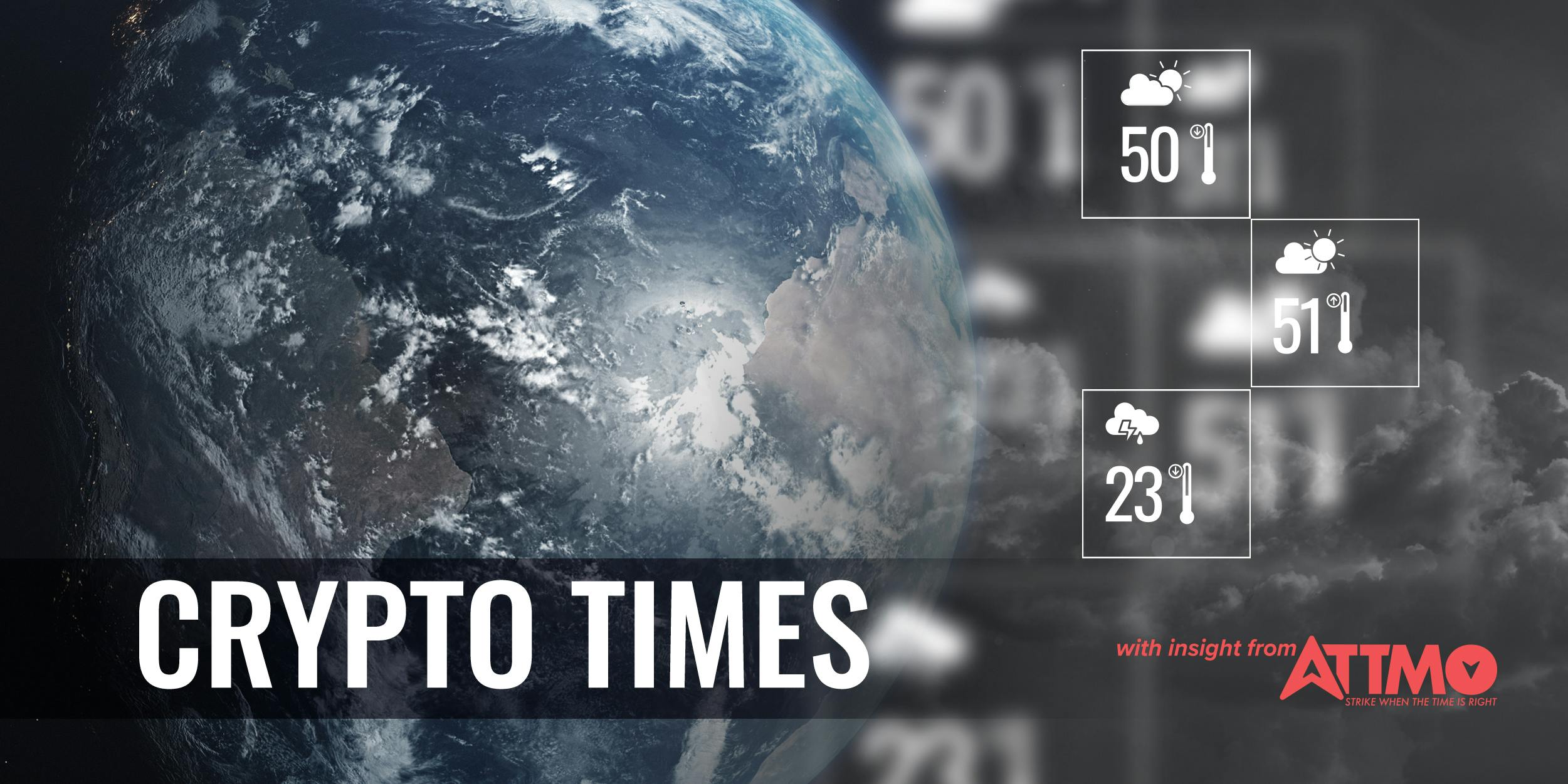 March 10th, 2023. Stormy and cool weather awaits the global crypto market during the day with the mood pushed lower by global rout with banking stocks taking a battering, the ATTMO weather-inspired crypto AI forecasting tool shows. The two major cryptocurrencies Bitcoin and Ethereum are likely to drop sharply in the coming days, while smaller currencies are set to escape the strong headwinds and trade sidelines. 
Bank stocks fell sharply in the US overnight, bringing down their Asian and European peers. The expected rate hikes ahead make investors fear that banks will have a tougher time raising capital. In the crypto universe, Silvergate's (SI.N) announced plans to "voluntarily" liquidate Silvergate Bank added to the negative sentiment. US Senator Elizabeth Warren tweeted: "As the bank of choice for crypto, Silvergate Bank's failure is disappointing but predictable… Now, customers must be made whole & regulators should step up against crypto risk."
Fears of higher & tougher US tax rules also weigh on the mood
Additionally, the presentation of US President Joe Biden's budget for the upcoming year next week adds to the subdued mood. The introduction of new taxes such as a minimum tax on unrealized capital gains and a near doubling of the capital gain tax rate to as much as 39.6 percent for high-income earners is expected to be part of the budget proposal. The current tax rate on capital gains lies at 20 percent. 
The Wall Street Journal reports that the Biden administration also wants to change the tax treatment of cryptocurrency transactions so that they come under wash-sales rules just as stocks and bonds. The wash-sales rule states that if an investment is sold at a loss and then repurchased within a month, the initial loss cannot be claimed back for tax purposes. These potential fiscal changes would have a far-reaching impact on the US crypto market. 
Yesterday, the price of Bitcoin dropped by 8 percent, while that of Ethereum yesterday fell by 8.2  percent. The combined market capitalization of the two cryptocurrencies makes up around 55 percent of the crypto space. Smaller currencies such as Binance and Ripple also dropped sharply. 
New digital asset fund to raise $100 million
The digital asset funds Alpha Sigma Capital and the venture capital firm Transform Ventures announced they will raise 100 million US dollars for two new funds focusing on investments in the decentralized Web3 network, according to Reuters. Web3 uses blockchain technology to run.
German regulator says NTFs may qualify as crypto assets
Meanwhile in Germany, the country's financial supervisory authority (BaFin) issued an article in its flagship journal clarifying that non-fungible tokens (NFTs) in most cases don't qualify as securities. Whether NFTs are crypto assets must therefore be decided on a case-by-case basis.
US job figures in the spotlight this afternoon
This afternoon, investors will focus on the release of US non-farm payroll figures – a benchmark employment indicator.  Analysts expect around 205 000 new jobs to have been created in February, a slowdown compared to the previous month. If this figure comes in higher than expected, it means the US economy grows faster than forecast, which in turn triggers inflation.
Rising inflation rates in turn force the Federal Reserve (Fed) to raise its benchmark interest rate. Jerome Powell, the Fed's chairman, earlier this week warned that further rate hikes will be necessary at a faster rate than previously anticipated. The Fed will announce its next rate decision on March 21.
Rate hints from the ECB head also sought
They will also seek for hints about future interest rate hikes by the President of the European Central Bank (ECB) Christine Lagarde following her meeting with the Federal Chancellor of Germany Olaf Scholz. It's unclear if they will hold a joint press conference following their meeting. The ECB is expected to raise its benchmark rate by 50 basis points at its next meeting on Thursday.  
Forecast ahead
The crypto forecast compiled by ATTMO foresees icy and stormy weather in the three days ahead for Bitcoin (BTC), Ethereum (ETH), Litecoin (LTC), Binance (BNB) and Uniswap (UNI) with temperatures close to 0.

Smaller currencies such as avoid the worst of the storm Ripple (XRP), Cardano (ADA), Avalanche (AVAX), Dogecoin (DOGE), Polkadot (DOT) and Polygon (MATIC) set to trade sidelines with sunny spells and temperatures ranging between the mid-40s to mid-50s in the coming three days.

An article published by Cointelegraph on the five countries in the lead with regard to the adoption of blockchain can be found here. 
DISCLAIMER
These forecasts are not trading advice; they are only decision-support tools. They do not include information that is specific to the user; in particular, they do not account for their personal risk appetite or market assessment.