Published

23/08/2022
Written by

Lykke
Share
Positioning

Your

Crypto

Portfolio

After

Summer

Holidays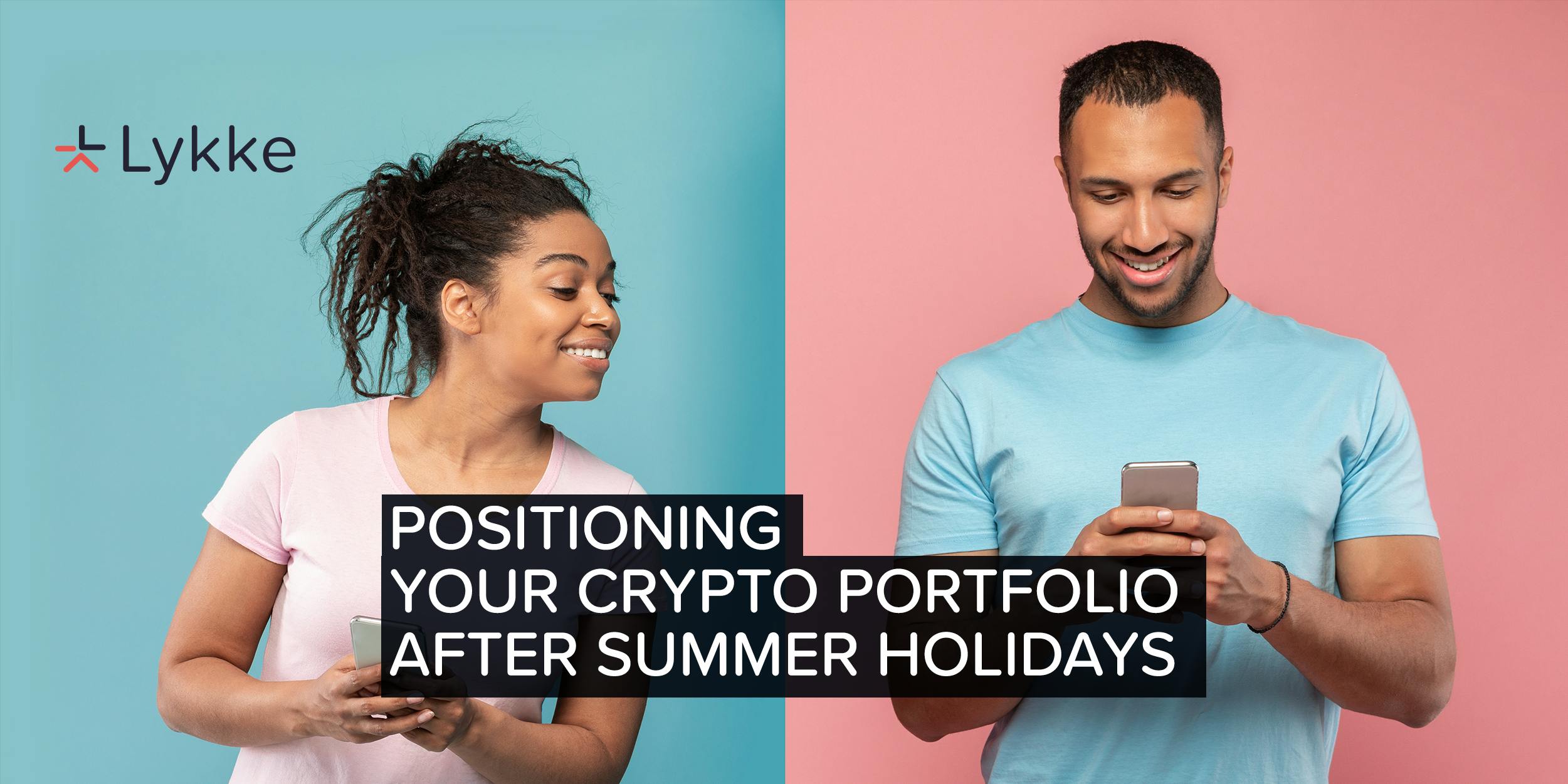 August 29th, 2022. Unlike traditional financial and stock markets that take a breather during weekends and holidays, crypto markets never sleep. Yet, does that mean that you should keep your eyes peeled on the charts, pause your life, and forget about vacays and time off? Of course not, and we hope that you already know this. 
Presuming that you have recharged your batteries, enjoyed some time by the sea and soaked some sun, maybe even partied a bit, we guess that you'd now want to get your crypto portfolio back in order and come up with new strategies for this bear market. 
Yet, to be able to do so, you should get the drift of everything that has been happening on the market during the past 3 to 4 weeks. To keep you in the loop, we'll do the monthly crypto recap. 
Crypto Market Update – August 2022
At the beginning of August, everything was looking pretty good, cryptocurrencies bounced from the July lows, and the selling pressure eased a bit. Hence, investors and traders got the relief they were patiently waiting for. On the 15th, Bitcoin even touched the $25,000 trendline, Ethereum peeked above $2,000 and the prices of altcoins were back in the green, too! 
However, if you have been doing crypto for some time now, then you already know that this market is anybody's guess. And, just when the crypto crowd got all hepped up, things turned around quickly. 
Bitcoin couldn't hold the $25,000 level and the situation has been looking pretty bearish since the decline.  On August 20th, the most popular cryptocurrency dropped to almost $20,000, then it recouped the losses and got back to $21,600. 
So, what do we think is the most likely for Bitcoin and altcoins in days to come? Well, Bitcoin was not able to crush the strong resistance at $23,300 and $25,000 and dropped significantly below these levels. 
Crypto investors are eyeing the Fed's annual symposium in Wyoming that is taking place at The main topics being discussed are, as expected, the current global economic outlook, the rate of inflation, and lending rates just to name a few. 
Much will depend on Jerome Powell, the Fed chairman's inflation-fighting message. If he happens to keep the dovish tone and sustain from telling what investors want to hear, we'll likely be heading downwards to below $20,000 or, in the worst-case scenario, below $19,000. 
Bottom Line
So, now that you're back on track, you are probably trying to figure out how to make still your crypto portfolio grow even amid market turbulence. The great thing about all this is that you can easily amass a decent amount of cryptocurrencies if the market stays in the downtrend and just ride the "buy the dip" train. You will probably want to take advantage of this short-term volatility but be careful and take your risk tolerance into account as well. 
What else you can do? Well, what would you say if there was a way to maximize your profits (that can, obviously still be made in the bear market)? 
Lykke is one among a few zero-fee exchanges out there that actually make it possible to keep all of your hard-earned crypto money for yourself. If you just got back from that dream vacation, this could be the best time for a new, fresh start. You owe it to yourself to take some time and unwind but you owe it to yourself as well to lock in as many profits as possible, and Lykke can certainly help you with that. Sign up here and start trading at no fees today!