Published

21/08/2018
Written by

Lykke
Share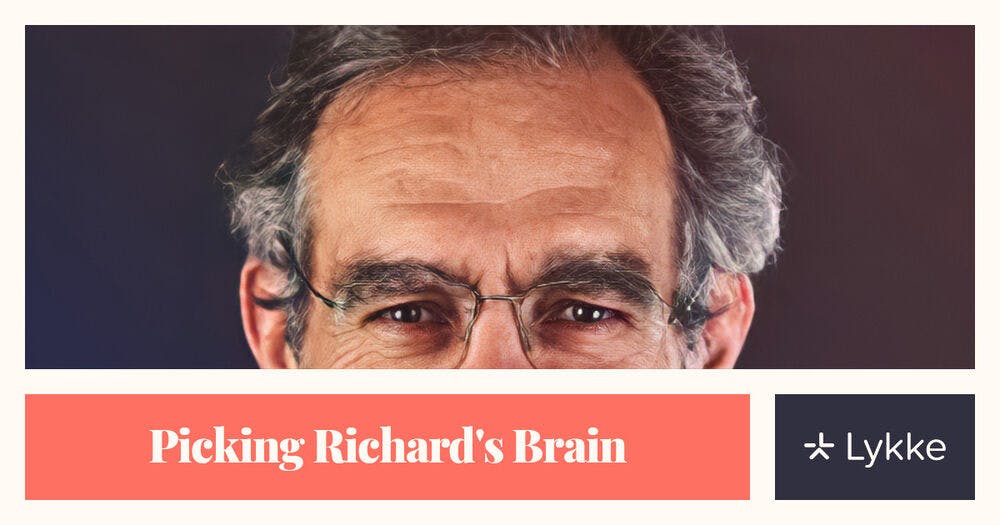 Richard Olsen - Co-Founder of OANDA, Founder and CEO of Lykke. 
Richard is a pioneer in high-frequency finance. With Lykke, he pursues his ambition to transform financial markets into a seamless ecosystem resolving the inefficiencies of the current financial system. 
In the first segment of this short interview, Richard shares with us his views on financial markets' fairness, the key factors for success in trading and API trading.
How would you describe the current market conditions?
A marketplace is like a football field - it is easier to play and make money on a field that is leveled for everyone who's playing in it. If traders have different fee schedules depending on the volume or the size of tickets - then the marketplace becomes unfair and much more difficult to 'read', leading to an unfair advantage of some players over others. At Lykke, we try to level the playing field for every single player on the field, it is not an easy task but we believe that making investing more accessible and approachable is the first step towards democratizing finance.
What is the most important factor for success in trading?
In the manufacturing industry, everyone knows that 'costs' need to be under control to make profits and achieve success. There is no second guessing - every manufacturer continuously searches for ways to reduce costs by achieving efficiency gains or buying materials cheaper. Professional traders and hedge fund managers do the same, they are cost conscious. The most important factor for success in trading is execution quality and cost which translates to the fees and spreads that need to be paid.
Spreads and transaction fees are analogous to the sea level - if the water level is high, then profit opportunities visualized as mountains are subsurface. The crypto markets are in a phase of exponential growth.  Day to day and week to week, there are new developments be it in technology, business with new products and funding rounds, or spillovers from herding behavior, such as cascading margin calls for specific cryptos that disrupt trends and impact correlations between specific cryptos.
Low transaction fees enable traders to implement different trading ideas and thereby diversifying the risk, which reduces drawdowns. A well diversified trading portfolio allows traders to escape the boom and bust cycle of crypto trading.
What is your input on API trading?
API traders have a big advantage in trading - they can access different trading venues and create their own 'combined exchange' - this dramatically increases the investment and trading opportunities. Professional traders have risk parameters to keep concentration risk under control and ensure that their trades are well diversified. They trade with different counterparties and exchanges to minimize the cost of execution of their trading ideas while maintain a managed risk profile by offsetting risk with hedging trades. In crypto, API traders can do the same,  they can open accounts with several trading venues. They can create their own bespoke market place which picks the best of the different exchanges. In particular, they will want to link up to an exchange that offers a broad universe of cryptos and utility tokens albeit at relatively high transaction costs to have as many trading opportunities as possible, and on the other hand to link up to an exchange that charges no ticket fees and has low fees - the low transaction cost exchange will be used to manage exposure and reduce excess risk. 
About Lykke
Lykke is a Swiss-based investment and financial product provider leveraging the power of the blockchain. Lykke runs a proprietary exchange — Lykke Wallet — where clients can buy, sell and store a large variety of tokenized assets, amongst them cryptocurrencies, national currencies, native tokens but also investment products.