Published

05/06/2023
Written by

Lykke
Share
Opposing

Winds

Blow

Over

the

Crypto

Sphere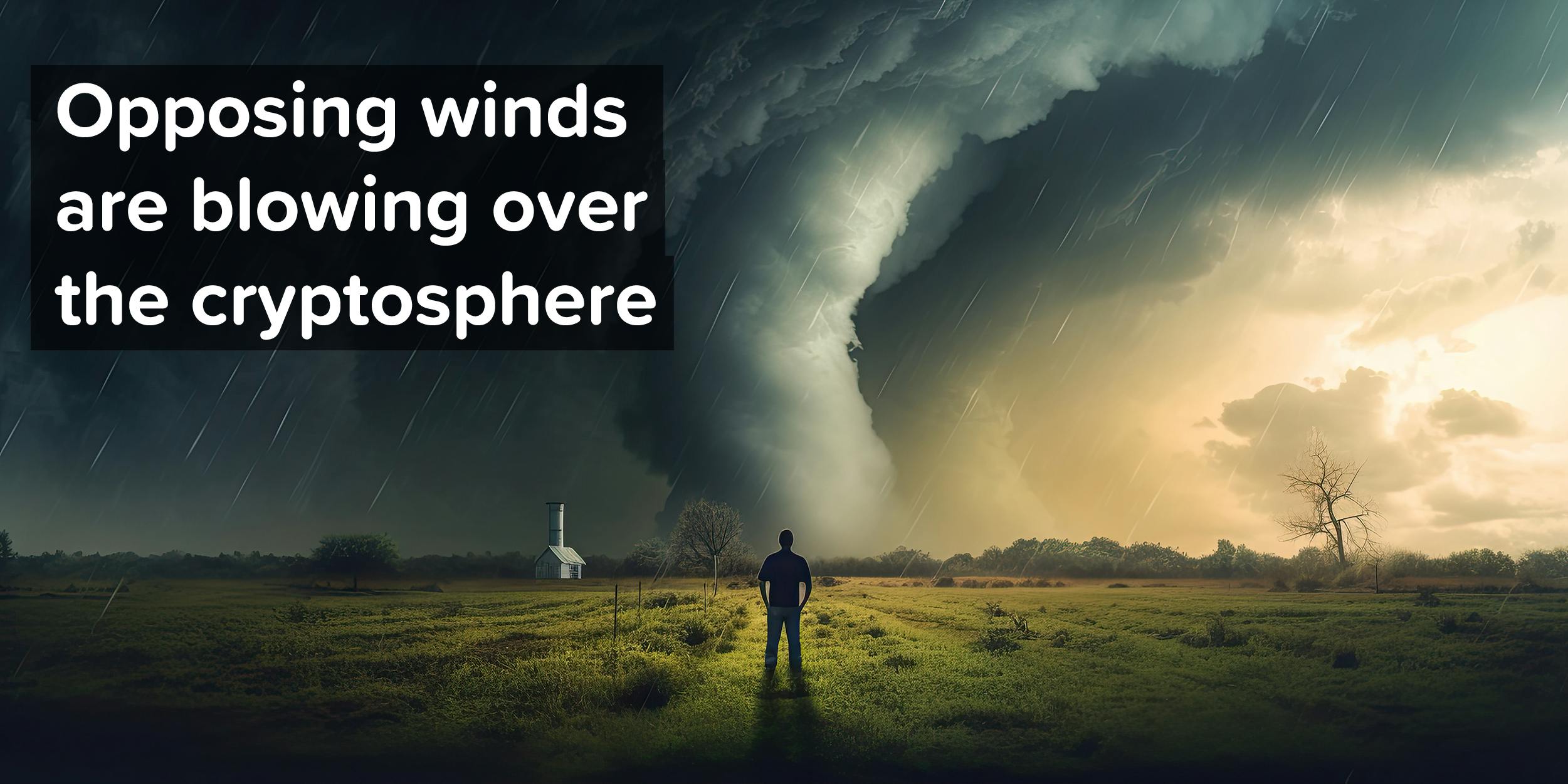 Strong tailwinds and strong headwinds have blown over the global crypto markets during June. The question is whether the Securities and Exchange Commission's (SEC) recent crackdown on the US crypto market will succeed in stifling it with strict regulations and subpoenas, or whether the renewed interest of large financial institutions in crypto assets will emerge victorious.
This past month started off with a forceful show from the SEC, described as crypto trading platforms being under "a U.S. regulatory/law enforcement siege," by John Reed Stark, a former SEC attorney. On June 5, the powerful US regulator filed 13 charges against Binance, world's largest crypto exchange, and its CEO known as CZ. "Through thirteen charges, we allege that Zhao (CZ) and Binance entities engaged in an extensive web of deception, conflicts of interest, lack of disclosure, and calculated evasion of the law," the SEC's Chairman Gary Gensler tweeted. The US market share of Binance has since dwindled to 0.7 percent from 1.4 percent at the beginning of the year. Globally, its market share remains strong, at roughly 56 percent in terms of volumes.
That same week, the SEC also sued Coinbase, which is the largest crypto exchange operating in the US and the second largest globally. In this case, the regulator claims Coinbase has operated its exchange "as an unregistered national securities exchange, broker, and clearing agency… failing to register the offer and sale of its crypto asset staking-as-a-service program." 
The exchange's CEO Brian Armstrong commented on the developments by stating "We are proud to represent the industry in court to finally get some clarity around crypto rules. There is no path to 'come in and register' – we tried, repeatedly – so we don't list securities. We reject the vast majority of assets reviewed."
US senators and market participants have recently become more vocal in their criticism of the SEC's actions. "The SEC has failed to provide a path for digital asset exchanges to register, and even worse has failed to provide adequate legal guidance on what differentiates a security from a commodity," Senator Cynthia Lummis tweeted, while the co-creator of Sologenic, Bob Ras, warned: "This could result in capital flight and job losses, denying the US the thrilling opportunities that blockchain technology offers. A regrettable lose-lose scenario that we can and should avoid." 
The SEC argues that crypto assets except for Bitcoin should fall under its jurisdiction and tough securities rules. This is notably claimed in the ongoing court case against Coinbase. The crypto sphere disputes this position, arguing that cryptocurrencies should be treated as commodities and fall under the Commodities Futures Trading Commission's (CFTC) regulations. A court ruling clarifying this issue is expected in the coming weeks in an ongoing case where the SEC and Ripple (whose cryptocurrency is XRP) disagree.
180-degree wind change in favor of crypto as of mid-June
The sudden turnaround in crypto sentiment occurred on June 15 when BlackRock, the world's largest asset manager, applied for the sale of a spot Bitcoin exchange-traded fund (ETF) with the SEC. It triggered a wave of similar filings from smaller asset managers such as WisdomTree, Bitwise, Invesco, Valkyrie Investments, ARK… Analysts are confident that the SEC will approve BlackRock's Bitcoin ETF, as it over the years only has seen one of its 576 ETF filings rejected. This should then set a precedent for the other Bitcoin ETF applications. Fidelity, the world's third largest fund manager, is rumored to be fine-tuning its application at the time of writing. 
Such Bitcoin ETFs will allow institutional investors, retail traders and individuals, to hold exposure more easily to Bitcoins. Experts forecast billions of US dollars flowing into these ETFs. "If both Blackrock and Fidelity get approved for spot Bitcoin ETFs then it is hard to overstate how incredibly bullish that will be for markets... When gold ETFs were first approved for US markets the price rose by a few hundred percent over the next few years. Will history repeat for Bitcoin?," Lark Davis, a Bitcoin and crypto investor asks. Crypto analyst, Markus Thielen, predicts inflows of 10 billion dollars within 3 months and 20 billion dollars within 6 months of their entry into the market and that they could accumulate up to 50 billion dollars over time.
Another unexpected turn during the second half of June, was the launch of the crypto exchange EDX Markets, by three leading financial players. Fidelity, Charles Schwab and Citadel. The Wall Street giants behind EDX, solely offer trading services to institutional clients in four crypto currencies: Bitcoin, Ether, Litecoin and Bitcoin Cash. A week later, another crypto exchange catering for the same client segment, Tradelink, was launched by the crypto security firm Ledger. They clearly bet on increasing demand for crypto assets from institutional clients in the coming years, despite the lack of clear regulations in most jurisdictions and legal protection, and the risk of theft, fraud and hacks.