Published

20/12/2021
Written by

Lykke
Share
Lykke's

Goal

is

to

be

the

Most

Cost

Effective

and

Simple

Crypto

Platform

in

Town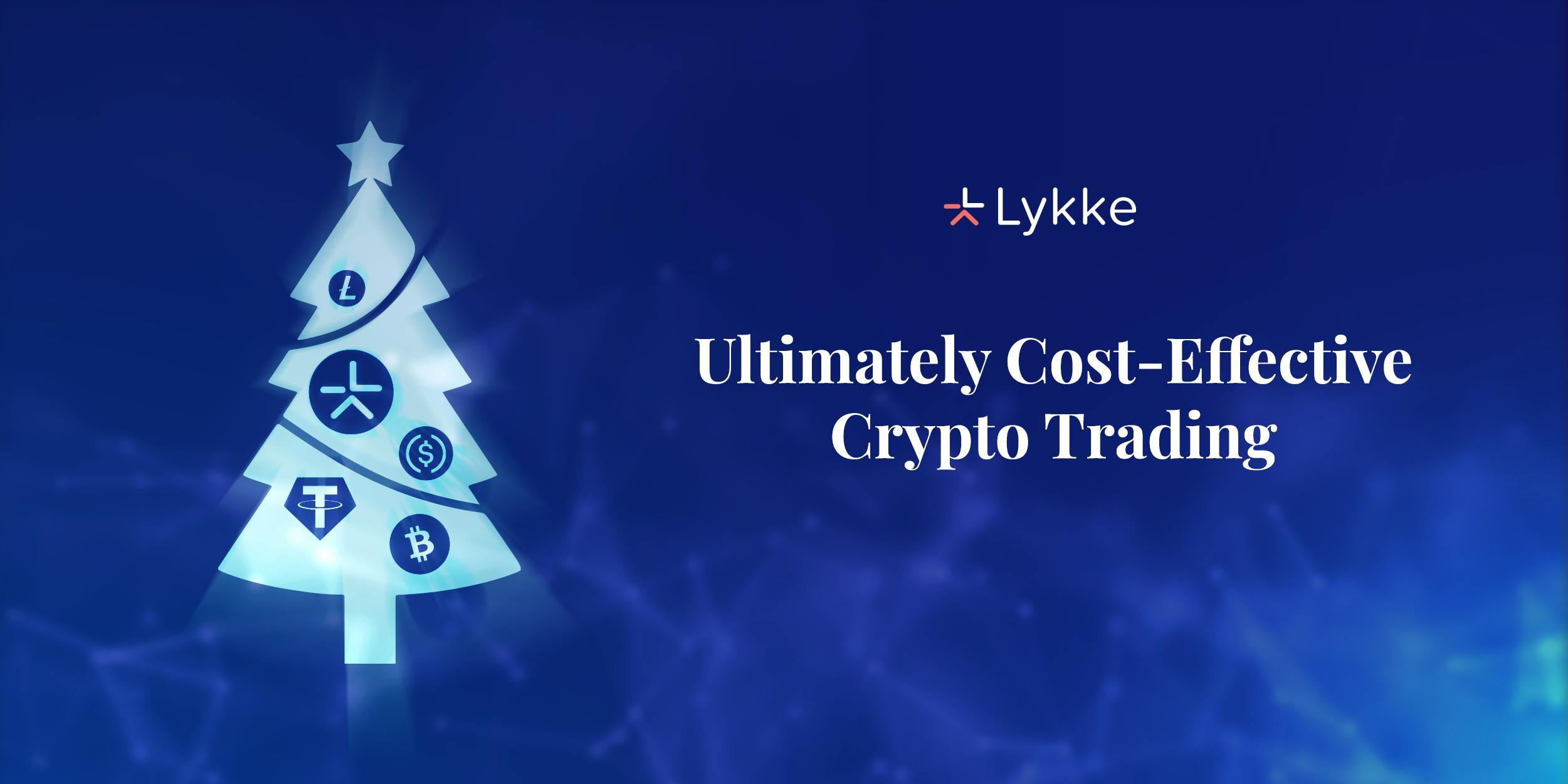 If you are wondering what is the cheapest way to buy cryptocurrency the answer is Lykke. Lykke offers the same terms of free crypto trading to both retail and API traders, including corporate clients, independently of the volume they generate.  Maintaining these conditions regardless of how difficult the times are is our main achievement of the year and our goal for the future.
At the end of each year, we always somehow try to stop for a moment and think about what the year has brought us, what nice moments we have lived and what lessons we have learnt. The last two years were particular for all people and businesses, so many changes have been brought abruptly. But as always, every cloud has a silver lining. At Lykke, the effect of the pandemic was optimization and focus on core activities. As a result of this internal optimization, we have managed to create attractive trading conditions for all kinds of traders.
And here's how...
The cheapest place to trade in town
Let us start with a simple example. Imagine that on your Christmas holidays you arrive in the Caribbean and you need local currency.  You go to the first "currency exchange" booth and try to calculate the exchange rate. You see that for one euro there are two XCD prices: 3 and 3.10. What does this mean? An exchange earns money on this operation and they buy cheap from you, but they sell expensive to you. So, if you want to sell your XCD, they pay 3 to you, but if you want to buy it, you have to pay 3.10. Probably, you don't like this place and move on to search for another one. In the meantime, you realize you want to buy a fresh coconut and the exchange mission becomes urgent. After crossing the whole port under the burning sun you finally see the rate of 3.03 and 3.07. You like it better and exchange 100 euros. But once you've finished the operation you see that you've received 300 instead of 303 XCD. How come? That's the exchange commission, oh yes, those tiny letters at the bottom of the receipt that you had not seen before you signed it. You finally buy your coconut, sit back and think to yourself - "I should have exchanged it at the first booth, I would have bought my drink already… Eventually, all exchanges are the same"… But are they?
When you trade cryptocurrency, the situation is very similar: you have venues that have tiny spreads between the buy and sell prices, but they have huge commissions. Some venues don't have trading fees, but they have a bunch of hidden fees, such as the inactivity fee, or their deposit and withdrawal fees are prohibitive. Others, instead, have a moderate commission if you place a non immediately executable limit order (maker commission), but high commissions if you don't want to wait and place a market order (taker commission). Taker and maker fees normally are different, moreover, at many exchanges they also directly depend on the volume a trader generates: the more you trade the less you pay. This favours whale traders and penalizes beginner retail traders who often take several false steps before making a profitable trade. It is not only unfair but also very complicated for an unprepared trader to understand.
This is the situation we address at Lykke, we believe that it is possible to democratize finance by combining innovative technology, such as blockchain tech, with financial engineering that allows to create smarter business models and provide fair conditions for all traders. Lykke's business model is based on research in high-frequency finance and does not depend on fees. Unlike other exchanges, we have never charged fees for trading. It means, at Lykke, you can forget about understanding what taker and maker fees mean and the difference between them. You just have no fees for trading. Period.
However, getting back to the example of the two exchange booths on the paradise island, the first had 0 commission, but a large spread, the last one had a narrower spread, but a commission. Until last year, some assets at Lykke resembled the first scenario: no fees, but a large spread. During the past year, we have taken several steps to reduce spreads for all the listed cryptocurrencies. We have introduced a new listing/delisting policy. According to this policy, each asset has to meet certain criteria of liquidity. Judging by these criteria, we have delisted the illiquid assets from the exchange. Moreover, we have reduced the number of trading pairs for most assets to tighten the liquidity for the most traded pairs. Newly listed are only assets with intrinsic liquidity. By undertaking these measures we have drastically reduced the spread on all trading pairs listed at Lykke and managed to create truly favourable conditions for all traders. 
Now at Lykke, the users can benefit from:
Zero trading fees - you don't pay any commission for the exchange;
Simplicity - no need to understand the difference between taker and maker fees - we don't charge trading fees at all;
Computer bots: in the fast moving markets of crypto, they do not have to bother with the complexity of taker fees;
Narrow spreads - you don't lose trading opportunities because of the big difference in price;
Liquidity - whether you are an investor or a day trader, liquidity is important for making immediate reactive trading decisions on this volatile market;
Fiat deposits and withdrawals by bank transfer without fees;
No charges on fiat deposits and/or withdrawals by bank transfer;
High-Frequency Trading API.
In sum, these trading conditions make Lykke the cheapest place to trade crypto in town!
A Christmas gift for API traders
The crypto market is still a nascent phenomenon and therefore, it is highly volatile. To be successful on this market, a trader must make the right decisions at the right moments. Since it's a truly global market because the tech has no borders, the right moment may be at 3 am on a Tuesday… We bet it's a familiar situation to any trader. This is why trading automation seems a logical solution. Most traders sooner or later come to the conclusion that it's possible and advisable to automate their trading strategies. At Lykke, we have been working to create conditions for each trader to access trading automation. We have been developing our API improvements and an update is scheduled for the release soon.
More good news is that we integrated our platform with Margin, a German trading platform that offers a range of crypto trading bots. The platform has a very intuitive visual interface which allows you to configure bots in a drag and drop mode. We invite our users to test the integration during the Christmas holidays. Manuals are available here. If you have specific technical questions, please contact Lykke or Margin support services. For all those who subscribe to the single-exchange Margin plan with their Lykke account, there is a discount of 30%.
Lykke trading and Happy New Year!