Published

06/10/2023
Written by

Lykke
Share
Lykke

Underlying

System

Improvements:

scalability

and

extended

functionality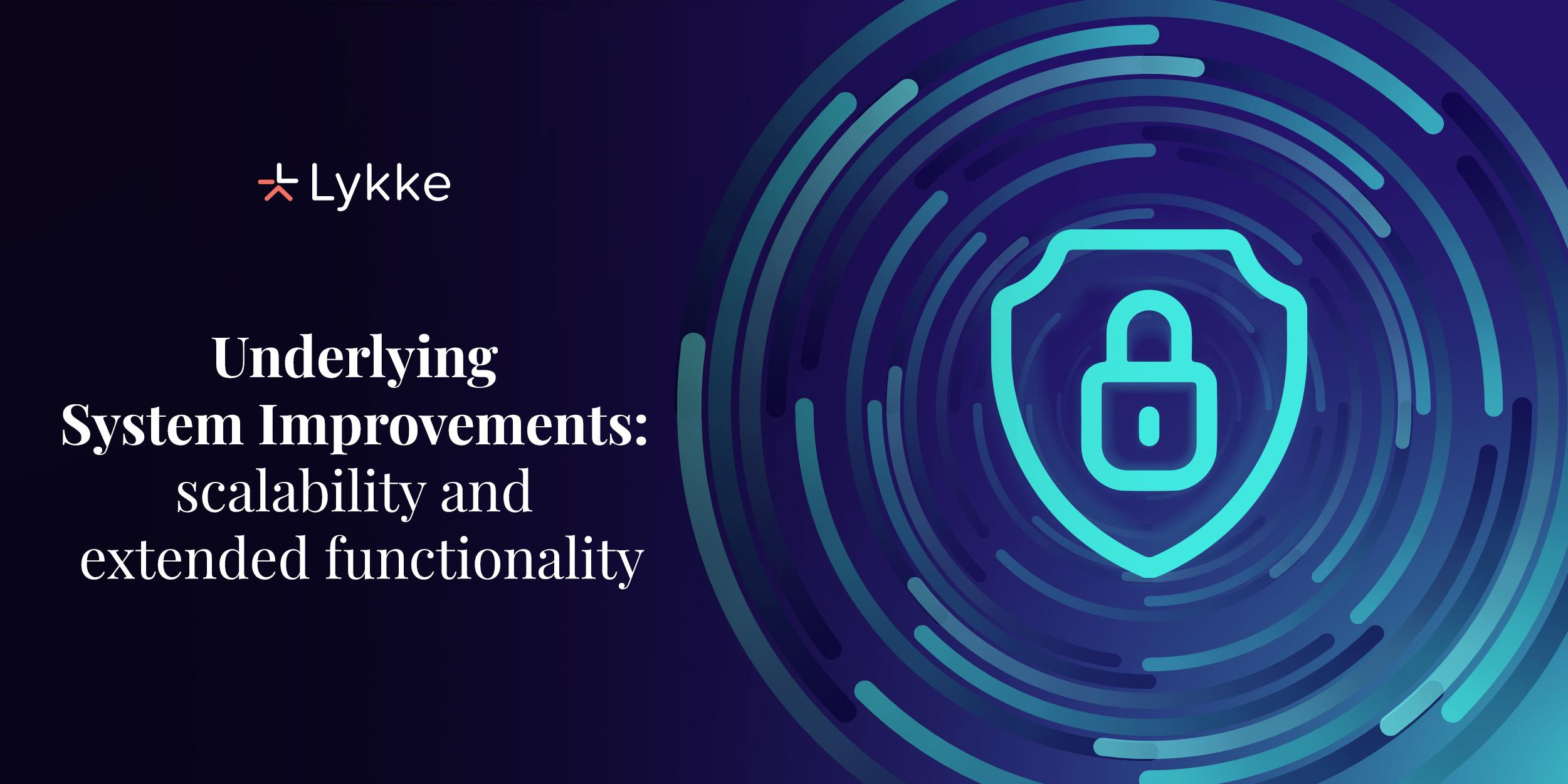 Lykke Wallet exchange has been on the market for more than five years, it's a fully functional trading environment that combines a web terminal and mobile device applications. It is a trading venue that creates conditions for ultimately cost-efficient transactions with the trading fees being zero and the buy-sell spreads low.
To maintain these conditions, a whole system composed of a blockchain engine, nodes, integrations and various add-ons is necessary. This system offers an all-in-one trading solution for cryptocurrency trading and forex: it integrates a KYC-verification system, a fiat gateway, an API for automated trading, a possibility to generate trading history for tax purposes, etc. The underlying architecture allows to create trading and private wallets, supports the necessary nodes to integrate new blockchains and, last, but not least, maintains high security standards to protect the users' funds. All this system has to be maintained and constantly updated to meet the needs of the maturing market and the growing user base of Lykke. Its seamless functioning requires a continuous effort of a whole development team. So even when it looks like nothing is really happening, in reality, a whole team of professionals works full-time to guarantee the system's seamless functionality.
A new and important step for Lykke in this continuous process is the migration to a new underlying exchange architecture. For several months, we have been gradually migrating the building blocks of our exchange infrastructure to Sirius, a dedicated solution developed by a Swiss tech company SwissChain. SwissChain is a Lykke talent spin-off specialized in blockchain technology. It is one of quite few entities globally that offer businesses a whole range of services for Self-Managed Custody and Management solutions. Sirius is one of the key product offerings of the company, it combines a blockchain engine with a custody solution. Apart from blockchain infrastructure and custody components, Sirius supports such functionalities as smart contracts, stacking, and settlement to name a few. It also allows the integration of DeFi systems. For example, if integrated, it allows users to buy tokens on decentralized exchanges.
What does the current migration mean to Lykke and its users?
First of all, Sirius is a product tailored to the needs of blockchain-powered businesses. It combines the necessary elements of blockchain infrastructure with other value-add items. The system is developed according to the industry's highest security standards. In particular, it includes a dedicated custody solution developed specifically for safe storage purposes. Lykke's hot wallet will be migrated to Custody to enhance the security level. This also means that all the users' trading wallets will be moved to Custody as well, bringing more security and peace of mind to the investors and traders.
The system's blockchain technology features are designed specifically to enable faster and easier blockchain integrations. Building a node for a new blockchain integration will now be a standardized process based on a prefabricated architecture. It means that integration of new crypto assets will be a faster and smoother process.
Finally, it is important to mention that the system is scalable. With the Lykke user base growing, the system has to be able to maintain operability during trading peaks and rush hours regardless of the number of users simultaneously executing their transactions.
What to expect?
The process of migration will not affect our users heavily. The only action that will be required is paying attention to the notifications about new deposit addresses. The newly integrated blockchains - Tezos, Cardano, Polkadot, and Dogecoin - are already hosted in Sirius. However, all the other blockchains have still to be migrated. As a blockchain is migrated to Sirius, each user will be assigned a new corresponding deposit address. Please make sure to update this deposit information at all other venues from which you may fund your account.
Another improvement consists in the whitelisting of addresses for API traders. The users will be able to whitelist withdrawal addresses to enable arbitrage or crypto transfers to and from other cryptocurrency exchanges.
The system migration is an ongoing process, it has no ETA. It is an important step in our continuous work on system and process optimization. Please stay tuned and be informed about the coming changes in deposit addresses.