Published

15/11/2022
Written by

Lykke
Share
How

and

Where

to

Buy

Polkadot

(DOT)

Without

Fees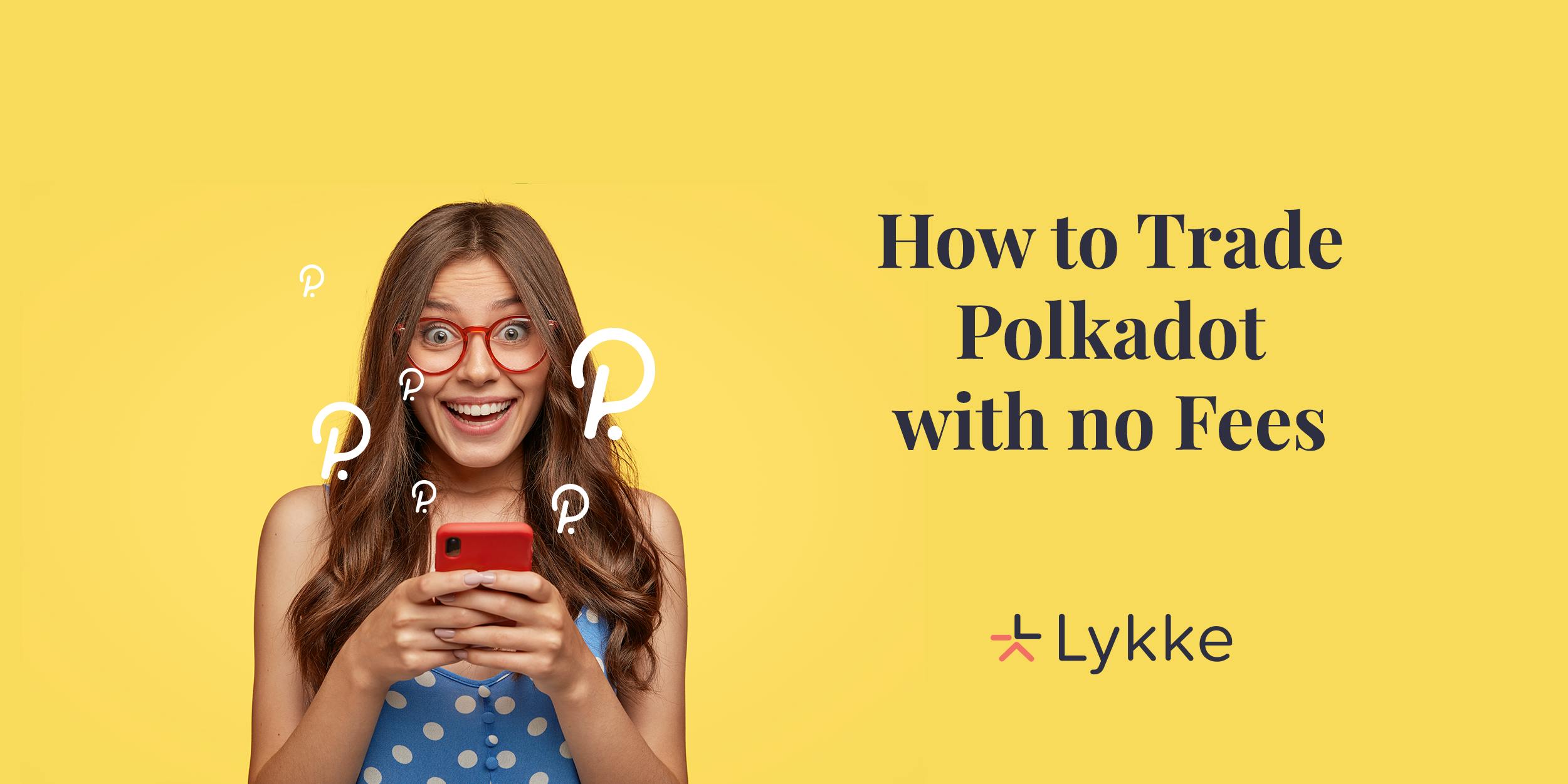 If you are wondering how to buy Polkadot (DOT) without fees you've landed on the right page. In this article, we will tell you not only where to buy Polkadot, but also how to trade DOT with no trading fees (zero taker and maker fees). 
How and Where to Buy Polkadot Without Fees
To buy DOT without commission follow the steps below:
1. Get registered at Lykke Wallet crypto exchange
You can do it through a web interface or by downloading an app for Android, iOS or Huawei AG.
Lykke Wallet is the crypto exchange that gives you more bang for your buck! With 0 fees, you can trade, buy, and sell your favorite cryptocurrencies, XRP, ADA, DOT, and so on without worrying about any hidden charges
2. Pass the KYC
It's a fast and easy process for your account verification.
Learn more about what is required to pass the KYC here.
3. Make a deposit
You can deposit fiat by bank or deposit crypto from another crypto exchange. If you deposit fiat by the bank, we will cover the deposit and withdrawal fees for you (unless your bank uses a correspondent bank). This is a temporary special offer, no other exchange does so!
A deposit is very intuitive both through the web interface and in an app. In case you have any doubts, you can learn about how to deposit here. 
4. Buy DOT
Exchange your BTC / ETH / USDC or USDT if you prefer crypto or USD / EUR / CHF or GBP if you prefer fiat to DOT without fees. 
There you go!
Considering that the fiat deposing fee is covered by the exchange and the trading fee is zero, you get your DOT absolutely for free. If you want to deposit crypto, the deposit fee is also zero, but you might have to pay a withdrawal fee at the exchange of origin.
What Is Polkadot Crypto? Why Consider Buying It?
Polkadot is considered to be one of the most interesting crypto assets from a long-term investment point of view. Its mission is to build what Gavin Wood, a co-founder of the company and co-founder of Ethereum, calls Web 3.0. In this new Web, the private data and identity will be secured from any central authority, according to the company's website. The main characteristic of this new network is ultimate interoperability.
Polkadot is a layer that connects different blockchains allowing them to communicate with each other. The protocol is being developed by Web3 Foundation, based in Switzerland. Under its leadership, several developer teams bring their expertise to make the project's roadmap a reality.
Interoperability is one of the most important challenges blockchain technology faces, together with scalability. Polkadot addresses this challenge by building an ecosystem in which different blockchains will be able to interchange information by connecting to a host chain, which is called Relay Chain and is developed by Polkadot. Slots of this chain will be made available through an auction and leased to its winners.
By hosting different blockchains and allowing interoperability between them, Polkadot also addresses the problem of scalability: instead of trying to scale a given blockchain infinitely, Polkadot allows multiple blockchains to meet different smart contract needs together avoiding saturation of every single one.
With this vision and roadmap, Polkadot is considered by investors as an attractive project. At the moment of writing, DOT, the native cryptocurrency of the project, is positioned within the top 10 cryptocurrencies as per the market cap on CMC. Traders and investors willing to trade this asset wonder where and how to buy Polkadot at the best available price. In this article, you'll learn how to buy DOT with zero fees. The secret is to use Lykke Exchange.
At Lykke Wallet crypto exchange users can buy any cryptocurrency without fees. The vision of the company is to democratize finance, and we bring this vision to life by creating equal trading conditions for all kinds of traders: retail, API and corporate. Regardless of the volume you generate, you will pay no taker and no maker fees. Lykke also employs financial engineering and KPIs for the listed assets to guarantee that the buy-sell spreads remain low. By this, we create ultimately cost-effective trading conditions at our all-in-one crypto trading platform.
About Lykke
Lykke Corp is a group of entities that operate in the blockchain technology sector on B2B and B2P levels. The main product offering of the group is the Lykke Wallet cryptocurrency exchange. The exchange has been on the market since 2015 and has gained a reputation for being transparent and compliant. The main characteristic of the exchange that distinguishes it from the competition is the level-playing field it offers in terms of trading conditions. The trading fees are zero and the buy-sell spreads are tiny. The listed assets are meticulously selected and pass through a due diligence process. At the moment of writing, the exchange offers more than 20 liquid cryptocurrency assets and a number of forex pairs. All of them can be exchanged without taker and maker fees.