Published

09/03/2020
Written by

Lykke
Share
How

to

buy

Cryptocurrency

with

Swiss

Francs

(and

without

Fees)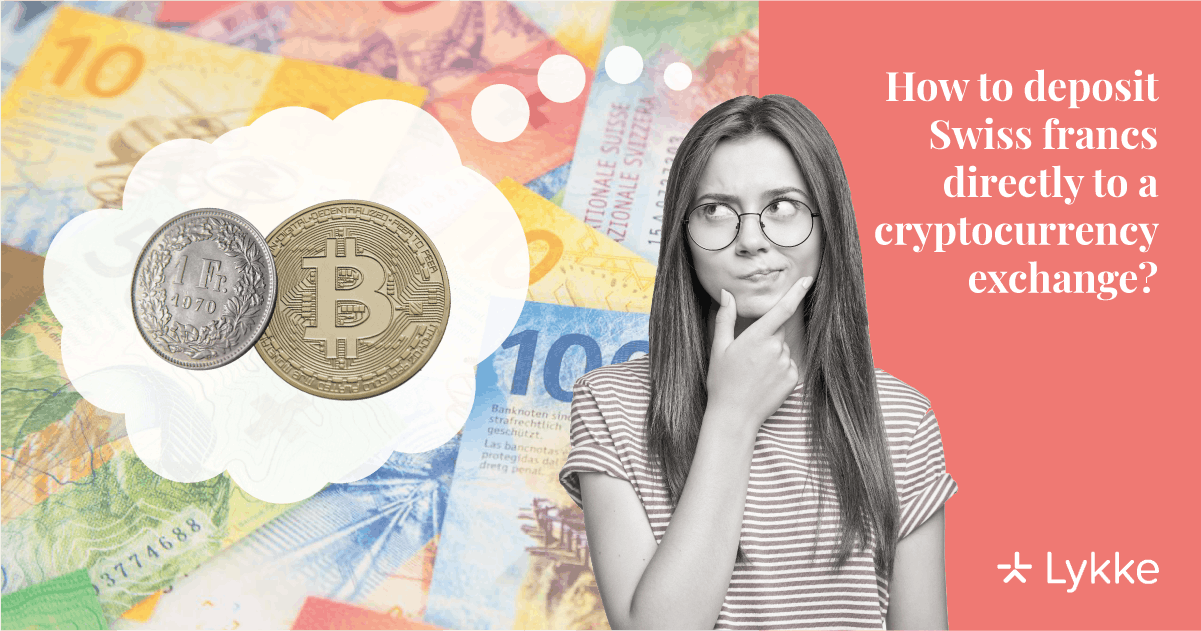 Are you wondering where and how to buy cryptocurrencies with Swiss francs with as low fees as possible? In this article, we will explain to you how to buy Bitcoin and other top crypto currencies directly with CHF and with no trading fees at Lykke Wallet.
Users located in Switzerland and Liechtenstein often have to perform several steps to buy Bitcoin: first they have to exchange Swiss francs to euro or US dollars, then deposit their funds to a crypto exchange. Moreover, sometimes, to access a specific exchange to get a specific asset, you first have to exchange your Swiss francs to another currency, then buy crypto at an exchange and finally, move that crypto to the exchange of your choice, which means a three-step process in the end. This clearly does not look like the financial system of the XXI century. So, if you only have a CHF account, you should know that there are ways to trade CHF directly to cryptocurrency.
Lykke Wallet is a Swiss-based blockchain marketplace that allows its users to make deposits by bank transfer or by credit card directly in Euro and Swiss francs. This is called fiat on-ramp / off-ramp. Lykke Wallet charges no deposit commission* and, most importantly, trading at Lykke Wallet is also commission-free. It means that once your Swiss franc deposit has been credited to your Lykke Wallet account, you can trade your money to dozens of cryptocurrencies and fiat currencies with no commission.
The following cryptocurrencies are supported in the pair with Swiss francs at Lykke: Bitcoin (BTC), Ethereum (ETH), XRP, Litecoin (LTC), Stellar (XLM), Eos, Chainlink (Link), Bitcoin Cash (BCH), you can also buy the Lykke native coin LKK. The good news is that more trending cryptocurrencies are in the pipeline, so stay tuned!
How to deposit Swiss francs directly to a crypto exchange or wallet?
Sign up to the Lykke Wallet platform and get verified.
Go to your Lykke Wallet and tap the blue "deposit button". Select "bank transfer", and you will see the bank details that you will have to use.
Insert the deposit amount and click on the "email me" button to receive all the data by email. Copy and paste them to your banking account to make a bank transfer. 
Or you can copy and paste each parameter directly from the Lykke crypto app to your bank app.
Note that in Switzerland, most banks allow you to save up on the fee if you fill in the transaction data by yourself. In some cases, Swiss franc transfers can be free of charge in your digital bank account. Check it with your bank.
Lykke does not charge any commission to receive your Swiss franc deposit. Once your funds have been credited to your Lykke account, you can start trading.
Exchanging any currencies at Lykke is also commission-free.
You can deposit Swiss francs to the Lykke cryptocurrency platform also through your account on the web. It is very easy: 
Go to Funds 
Click the menu Deposit, choose SWIFT on the dropdown and select the Swiss franc.
Fill in the total amount you would like to deposit and use the bank account details provided or get them emailed to you.
Important! Remember to always add in the "purpose of payment" field the unique payment identification code that is provided to you. Without this code your transfer will not be processed.
How to deposit Swiss francs to Lykke crypto exchange by card?
Depositing CHF to a crypto app by credit card is even easier than by bank transfer, but the disadvantage is that the card deposits are usually subject to a fee, in the case of Lykke, it is 3,9%. To initiate the deposit in the Lykke Wallet app, click on the same "deposit" button and choose "credit card". Follow the instructions, they are intuitive.
To do that through the web platform, you have to go to your account on the web and click on Funds. Then click Deposit, choose the card option and select the Swiss franc. Follow the instructions like in a normal online store cashout system. Depositing Swiss francs to a crypto exchange has never been so easy, direct and cheap!
If you want to withdraw your Swiss francs from the Lykke Wallet app or web platform, follow an analogous procedure: tap on the "withdraw" button and fill in your bank account details. If you ever have any difficulty in performing these steps, check detailed instructions in the Help Center. Lykke does not charge any commission for fiat withdrawals, so if your bank does not charge a commission either, you will receive your crypto earnings entirely and directly in Swiss francs! Depositing, trading and withdrawing your Swiss francs at Lykke is simple as 1, 2, 3. 
* Third-party payment terminals such as the card deposit terminal or banks may charge a commission.