Published

12/06/2021
Written by

Lykke
Share
Where

and

How

to

Buy

ADA

With

Fiat

Without

Fees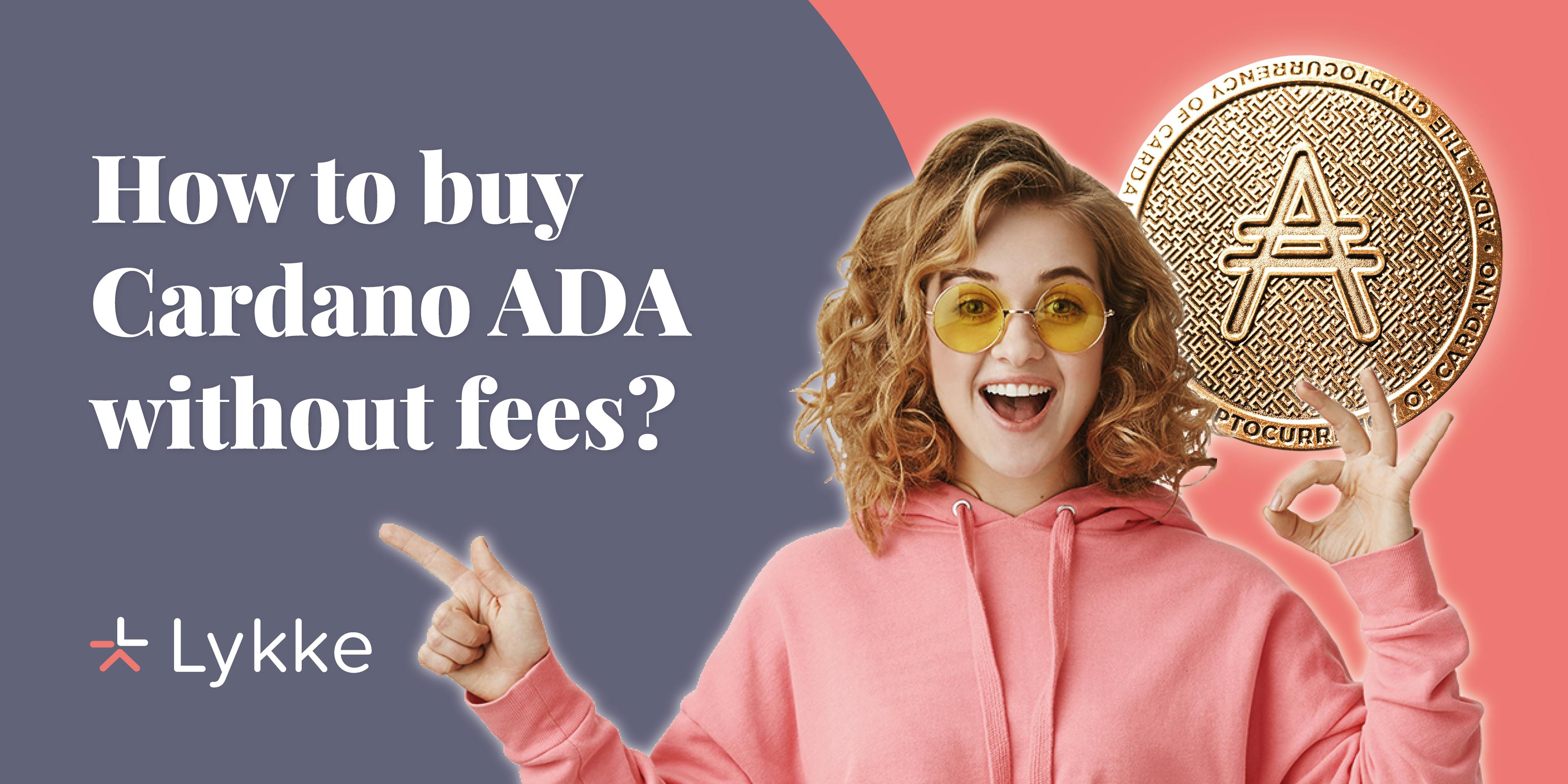 Wondering where and how to buy Cardano (ADA) coin without fees? It's easier than you might think. In this article, we will tell you the cheapest way to buy Cardano and how to actually buy it with cash by bank transfer in three simple steps. 
ADA is one of the top assets on Coinmarketcap, the native currency of the Cardano project. Cardano is building a third-generation blockchain that is environmentally sustainable, based on a research-driven consensus protocol and offers various applications. Among these applications, there are verifiable smart contracts and Dapps. Cardano, in fact, is aiming at becoming the default blockchain for an entire ecosystem of Dapps.
With all that, ADA becomes an attractive asset that many investors and traders are interested in acquiring or trading. Lykke Wallet cryptocurrency exchange offers its clients the possibility to trade, sell or buy Cardano without fees, which makes it the best place to buy Cardano. To do that, follow several simple steps below.
Where and How to buy Cardano's ADA without fees - a Step-by-Step Guide
1. Get registered and KYC-approved at Lykke Wallet commission-free crypto exchange.
2. Make a bank transfer (in Euro, Swiss francs, or GBP). Lykke covers the bank fee for its users, but you might have to pay the correspondent bank fees, if any. Lykke is probably the only exchange on the market that covers the deposit expenses for the user.
You can also make a crypto transfer from another cryptocurrency exchange to the Lykke crypto exchange. The other venue might charge you some withdrawal fees, however, at Lykke, we don't charge any fees for crypto deposits.
3. Exchange your fiat funds directly into ADA without trading fees.
The trading pairs at the moment of publishing are:
USD, CHF, EUR, GBP, BTC, ETH, USDC, USDT, check here the latest information on the trading pairs.
Additional Factors to Consider When Buying Cardano
Since Cardano is a well-established cryptocurrency and available on many exchanges and apps, it's a good idea to pick the right exchange before buying ADA. So, now that you know how to invest in Cardano, let's just go through some extra factors that you might want to consider when making up your mind about the best exchange to buy Cardano.
Security
When it comes to crypto exchanges, security is the king of the castle. As we've seen in the past, even the mightiest exchanges have fallen victim to hacking marauders. To avoid being caught off-guard, it's crucial to choose an exchange that takes security seriously (we do).
Keep your eyes peeled for exchanges that have their assets tucked away in cold storage like precious treasure locked up in a fortress. And if that's not enough to soothe your nerves, look for an exchange that has had external security audits. It's like having a team of knights checking the castle walls for weaknesses. And if that still doesn't cut it for you, some exchanges even offer third-party insurance against hacking, like a dragon-slaying insurance policy.
Crypto Assortiment
If you're a Cardano connoisseur, then a narrow selection of tokens will suffice. But if you're eager to venture forth into the wild world of cryptocurrencies and take a peek at Uniswap, Doge, Ripple and other digital assets, then you'll want to scope out what the platform has to offer.
To make sure you're not stuck with a paltry selection of tokens, check to see if the top 20 coins by market cap are on the roster. It's like picking the best ingredients for your crypto stew - you want to make sure you have all the essential flavors to create a delicious masterpiece.
User-Friendliness
When it comes to buying Cardano, everyone's got their own groove. Some folks just want a site that'll take their boring ol' fiat currency and magically transform it into crypto gold, while others are looking for a wild ride with all the bells and whistles of complex crypto trading.
If you're on the hunt for the perfect place to buy Cardano, don't just dip your toe in - dive right in and explore every nook and cranny of the platform. Don't be afraid to set up multiple accounts and experiment like a mad scientist in a crypto laboratory.
And if you're one of those mobile mavens who likes to manage their crypto on the go, make sure the platform has a mobile app (Lykke does) that's as slick as a greased pig. Take a gander at the educational resources on offer, too - some platforms are like crypto Hogwarts, chock full of spellbinding information that'll have you slinging crypto spells like a pro.
Fees
Ahoy, matey! Before you set sail on the high seas of crypto trading, there's a treacherous sea monster lurking beneath the surface: fees. These pesky little critters can take a big bite out of your profits, and the problem is, not all crypto platforms are transparent about how they're calculated. It's like trying to compare a kraken to a mermaid - it's just not apples to apples.
But fear not, ye crypto adventurers! If you're looking for a no-fee crypto exchange that won't plunder your treasure, look no further than Lykke. We've got a treasure trove of features and services that'll have you shouting "yo-ho-ho" all the way!
Why is the zero crypto trading fee policy important for traders?
A trading fee is a commission that a crypto exchange charges for each transaction on it. These are generally known as the taker and maker fees. In cryptocurrency trading, sometimes you have to do multiple trades before you actually make a profit. However, even if your trade is not profitable, you still have to pay a commission, which does not incentivize traders to increase the frequency of their trades.
On the Lykke exchange, the taker and maker fees are zero. If the trading fee is zero, no matter how many trades you execute, you never pay taker and maker fees. Therefore, our no-trading fee policy is particularly beneficial for API traders who use bots to automate their crypto trading strategies and increase the frequency of trades. If you still don't have a trading bot, we recommend you have a look at the Margin platform with a range of popular crypto trading bots already available for customization. If you introduce the discount code "Lykke" when purchasing a Margin bot, you will get a 30% discount on the Starter plan for trading on the Lykke exchange.
About Lykke Wallet
Lykke Wallet is a cryptocurrency and forex digital exchange based in Switzerland and founded in 2015. It has gained a reputation as a transparent venue committed to regulatory compliance. The exchange offers a web trading platform and apps for Android and iOS. Professional traders can connect their trading robots via an API. Both retail and API traders enjoy very favorable trading conditions with zero trading fees and low buy-sell spreads at Lykke. Learn more and get registered here.