Published

25/12/2020
Written by

Lykke
Share
How

Blockchain

Could

Revolutionize

Charities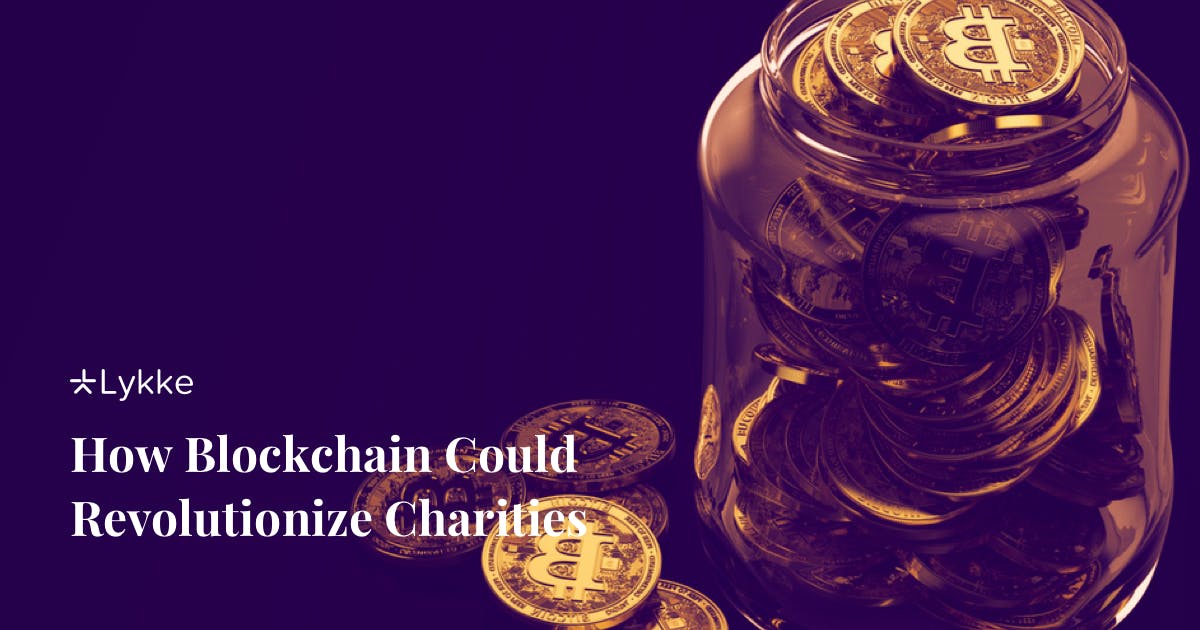 Charities and how they raise funds and the methods that they use for donations are somewhat antiquated when you consider some of the possibilities if you were to incorporate a donation system via blockchain, not to mention the fact that many people who currently donate their hard-earned funds to charity, don't know where that money goes. Often it can be utilised for paying staff members of the charity, instead of being used where it matters most.
Let's look at some of the ways in which Blockchain technology could empower charities and supporters further to make for a more transparent and less cynical relationship going forward.
Trust
As mentioned above, trust is a big issue these days with charitable organisations. Corruption is a big hurdle for aid organizations, and funds which are sent to impoverished countries do not always reach the intended cause. Some charities have also been accused of lacking transparency, either by failing to disclose how much money from donations goes towards paying staff or administration, or by refusing to reveal how much money they have in cash reserves.
Blockchain allows finances to be publicly audited, ensuring charities remain accountable and no stone left unturned. The very nature of it being decentralized eliminates banks, allowing funds to be directly sent to those in need without a middleman.
Administration costs
Many charities accept donations internationally, but this can get expensive with various transactional costs and currency fluctuations, but if done via the blockchain, charities can cut the transaction fees associated with accepting payments from donors and transferring money to those in need. This would maximize the impact of the funds they have raised, especially when donations are taking place internationally.
Instead of creating their own platforms for generating awareness and accepting donations, blockchain organizations have developed APIs which can be customized and adopted by smaller nonprofits, helping them to expand their reach and spend less money on developing technical infrastructure.
Transparency
With charities being more transparent to donors and other third parties, this makes them a more trusted institution. With many charities, rightly or wrongly being accused of being involved in illegal money flows due to the charities in question sending funds to wartorn countries due to terrorism or unsanctioned territories.
Blockchain can solve this problem by showing a clear path of transactions within the Blockchain which is then recorded on the public ledger
No more cash donations
With millennials fast approaching the key demographic for donations, engaging them with modern platforms that utilize the same technology that is playing an increasingly important role in other areas of their lives is critical.
An increasing number of people are making the choice to make a charitable donation via cryptocurrencies; Fidelity Charitable stated in August 2019 that it had received more than $106 million in cryptocurrency donations since it first began accepting them back in 2015.
Blockchain has the ability to revolutionize the relationship between the donor and charities. What the crypto industry needs to do is educate organizations to the benefits of this technology and how it can help make it a future whereby corruption, accessibility and maximum returns for charities are enhanced