Published

26/04/2023
Written by

Lykke
Share
Ethereum's

Shanghai

upgrade

now

live,

enables

withdrawal

of

billions

worth

of

staked

coins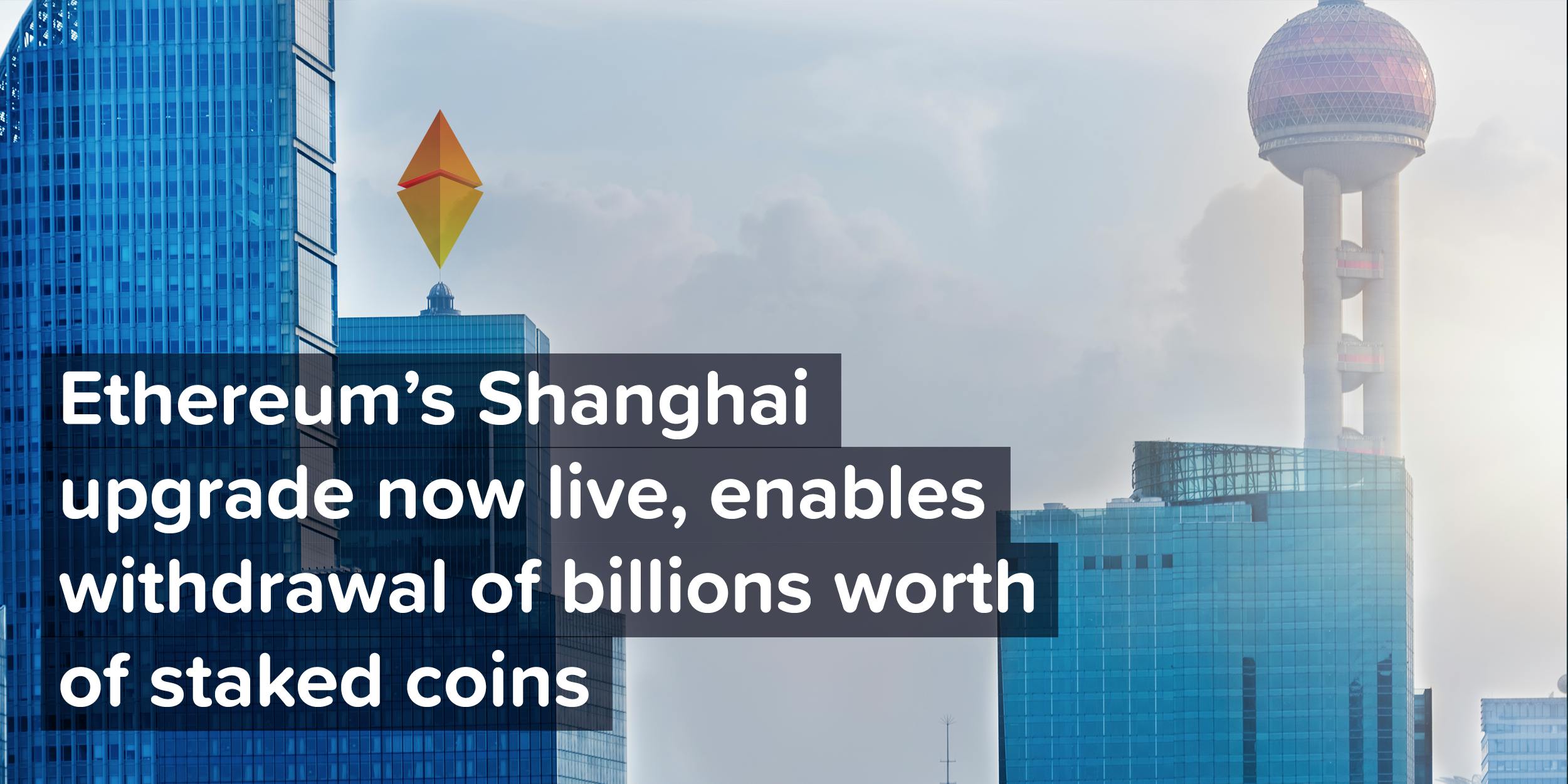 Two weeks ago, on April 12, Ethereum's Shanghai upgrade was successfully implemented. Until then ether validators, those minting ether coins, saw these locked up. The upgrade of Ethereum's blockchain now enables a withdrawal or unstaking of the minted ethers.
Staking returns can now be paid out daily, just like interest rate payments. This is a major step forward in the evolution of blockchain and cryptocurrency technology toward a fully fledged financial system. Ether's staking APR (annual percentage rate) was 4.98 percent on April 26.
Ether holders can choose between staking, reclaiming (unstaking) previously staked ethers, earning ether rewards that are automatically distributed, or re-stake to sign back up and start earning more rewards.
To avoid a potential price crash, a maximum of 115,200 validator withdrawals can be processed every day. And the feared mass liquidation, which would have led a sharp decline in Ethereum's price, has not materialized. The price of Ethereum dropped by 0.4 percent since April 12. Approximately 1.14 billion worth of ethers are pending withdrawal on April 26, data from Token Unlocks show.
Kraken behind majority of withdrawals
The US crypto exchange Kraken is behind a third of ethers withdrawn to date, data from Nansen show. Kraken was fined by the US Securities and Exchange Commission (SEC) back in February for failing to register its staked Ethers  as a security. The crypto exchange is thus automatically unstaking any locked Ethers held by its US clients. "The time this takes is dependent on the ETH protocol and out of Kraken's control," Kraken tweeted.
Kraken's competitors Binance and Coinbase are the two largest players currently waiting to withdraw ethers. They represent 30 and 15 percent of the staked ethers currently pending withdrawal.
Gas fees cut following the upgrade
One of Shanghai upgrade's goals is to increase Ethereum's overall liquidity. Another is to reduce and optimize gas fees for developers during periods of congestion on the network.
Gas in the cryptosphere refers to the computational power required to mint crypto coins. They help to keep the Ethereum network secure, as the required fee prevents bad actors from spamming the network. Ethereum's gas fees are charged in gigawei (gwei) and represent a billionth of an ether.