Published

26/03/2020
Written by

Lykke
Share
Cryptocurrency

Trading

For

Beginners:

An

Arsenal

Of

Useful

Tools

And

The

Best

Cryptocurrency

Resources.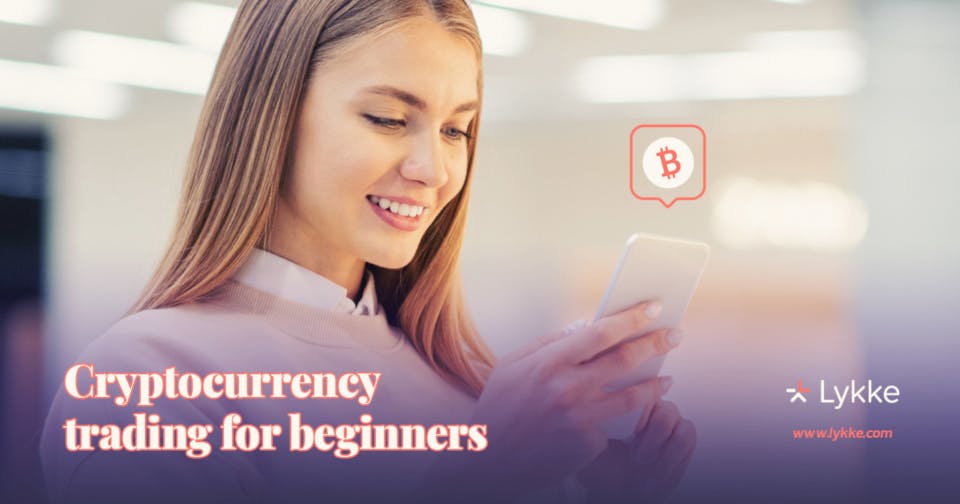 Cryptocurrency trading is a buzzword you might have heard at a party or on the radio. Or maybe you heard your friends talking about buying Bitcoin and other virtual assets with curiosity and more or less a clue. Each time there's an expectation of an economic crisis, the topic pops up in the press as an alternative to traditional forms of storing objects of value. Indeed, in countries with very devalued currencies, such as Venezuela, Bitcoin is a known safe haven. If your curiosity has finally matured as to enter the cryptocurrency world, keep on reading to learn how to do it in the smartest and most seamless way possible.
What is cryptocurrency trading?
Cryptocurrency trading is a form of exchange of virtual assets on digital platforms similar to traditional stock exchanges. Cryptocurrency is a representation of value in the form of a virtual asset protected by cryptography and is stored in distributed ledgers. Distributed ledgers are a type of Google Drive spreadsheet that is cryptographically ciphered. This then gets modified and updated on numerous servers at the same time to guarantee that the information is true and immutable. The sequences of such pieces of information are known as blockchain, which means a chain of blocks with ciphered data.
Cryptocurrency trading is in many cases a speculatory activity aimed at earning money thanks to smart trades to take advantage of the price fluctuating. If you buy 1 Bitcoin when its price is 10'000 euro and sell it when it's 11'000, you have earned 1'000 euros.
How to start trading cryptocurrency if you are a beginner?
Step 1 - do your homework.
Since this article is mainly about the tools and resources that may be useful to a crypto beginner trader, we will stick to the topic. One of the best resources for cryptocurrency that you have to study before you engage in crypto trading is Coinmarketcap cryptocurrency tracking tool.
What is Coinmarketcap?
CMC, as it is also known in the cryptocurrency community, is a data aggregator and informational portal with lots of data about most cryptocurrencies and crypto exchanges. By using their tools, you can spot out promising cryptocurrency projects and make smart choices for trading and investing. For example, the "gainers and losers" tool will list the assets whose price has grown (for gainers) and fallen (for losers) in a given period of time. It is also one of the best cryptocurrency learning resources.
If you click on an asset of your choice, let's take Bitcoin for instance, you will get access to additional data, such as the website, the social media profile links, a graph with the price behavior over time and more. However, the price graph is available in USD only. If you don't clearly perceive the value of USD, we recommend a very similar and better in many aspects cryptocurrency benchmark tool - Coingecko. On that platform, you can see the price of Bitcoin in euro, as well as lots of other aggregated cryptocurrency data. As the platform claims, "Current approaches to doing altcoin valuation mostly revolves around using market capitalization, a metric that is very easily manipulated by pre-mined coins. CoinGecko provides a fundamental analysis of the crypto market", so it may be considered a cryptocurrency prediction tool if you can extract the necessary insight from the aggregated data.
If you are a beginner, it may take you some time to figure out what cryptocurrency assets you would like to trade or to invest in. Doing your own research means not only comparing the prices on aggregators, but also studying the project's documents on its website. Trying to understand what team stays behind it is important, if there's a real registered entity with a physical address and any sort of regulatory commitment. Once you have decided what cryptocurrencies to buy, it's time to search for an exchange. Most people tend to do a simple search and end up on a mass market platform, such as Coinbase or Binance, with all the abusive fees and lack of human support as a consequence of their superficial choice. However, in case you don't fancy mass markets, you should try our next favorite tool - Cryptowisser.
Cryptowisser is a very useful cryptocurrency research tool that allows you to choose a cryptocurrency exchange according to a number of parameters. There are many other similar tools, you can filter crypto exchanges on CMC as well, however none of them gives you the option to filter by fees. On Cryptowisser, instead, you can determine a set of quite rigid parameters to quickly filter out the exchanges that offer exactly what you're looking for.
For example, if you're looking for a cryptocurrency exchange with 0 fees, a fiat gateway, good rating and based in Europe, your search will filter down to Lykke Exchange.
Lykke Exchange
Lykke is a fintech company headquartered in Switzerland and founded by an economist and professor Richard Olsen, formerly the CEO of OANDA. The company is a financial services provider, which means that they operate on the fintech market on different levels, but today we will look into what they offer for cryptocurrency beginners.
The Lykke Pocket app is a cryptocurrency app for complete beginners. It offers a limited range of most popular crypto assets, an intuitive user interface and human support service for those who have doubts about how to start trading cryptocurrency.
At the moment, the app is only available in a private beta version, but you can keep up to date by registering here.
The Lykke Wallet cryptocurrency app is an intuitive smartphone app for traders of all levels. It's a perfect starting point for cryptocurrency beginners given that it's easy to deposit and withdraw money and its fee policy is highly transparent, such as the 0 trading fee for all kinds of trades. However, there are also many experienced traders who choose it given the wide range of crypto currencies, national currencies for forex, and crypto indexes you can trade.
Download the Lykke Wallet cryptocurrency app and get your identity verified.
On the main screen, tap on "deposit" and choose the currency you want to deposit. Follow the instructions to deposit by credit card or bank transfer.
Once your money has been transferred into the Lykke Wallet app, you can exchange it to any of dozens of crypto currencies without any trading fee.
Last but not least, we have one more tool to offer you in case you would like to skip most of the above steps and speed up the process. If you really don't have time or the know-how and expertise to study the whitepapers of all of the potentially interesting cryptocurrency projects out there, let an index do the work for you.
Within the crypto market, there are very few indexes and the only one that is investible is LyCI.
LyCI is a utility token (just like ether of Ethereum) that follows the behavior of the self-titled cryptocurrency index. The index has 25 constituents, these are the top 25 assets with the largest market capitalization. Market capitalization represents the total investment made in the given project and indicates the trust people have vested in it. The higher the market capitalization, the more power a company has in making growth and investment decisions.
A peculiar part of the crypto market is that it's highly volatile and the top companies are not the same from year to year. Ones grow fast and fall into oblivion, others slowly approach their way to the top. The index automatically tracks everyday what cryptocurrencies are the top 25 at any given moment and updates its constituents if this composition has changed. Moreover, it automatically calculates the weight of each of the top assets in the index to accurately represent the behavior of the crypto market. It's the very same system that is used by the S&P 500.
If you still don't know what cryptocurrencies to invest in, this may be a fast and reliable way to choose the top 25 even if you don't know which ones they are and even if the members of this top 25 club constantly change due to volatility. No matter how the market has moved, you always have a piece in the top 25 whatever they are at any given point.
Start trading today and download the Lykke Wallet app now!