Published

18/10/2021
Written by

Lykke
Share
Cryptocurrency

Fees

Explained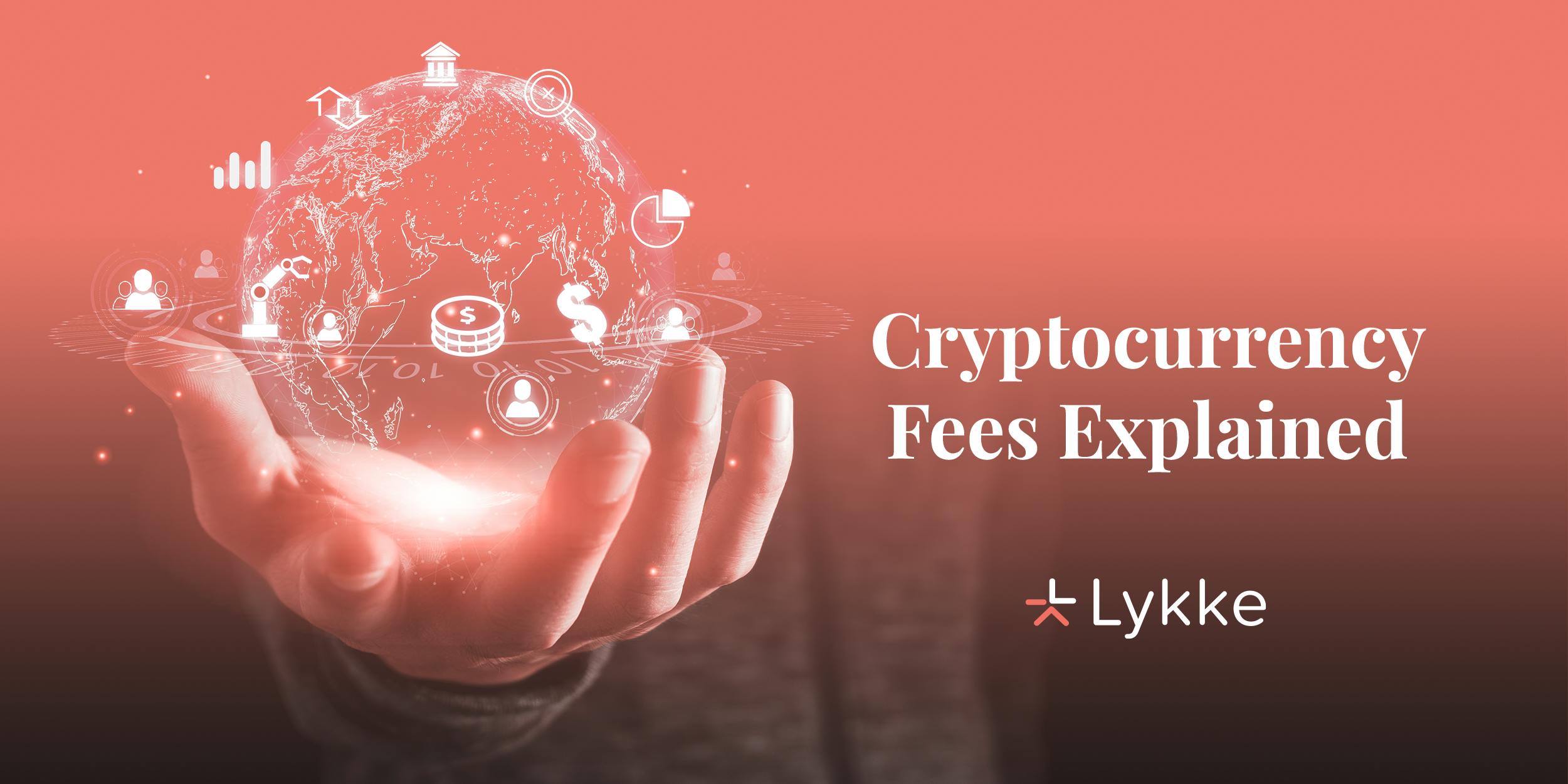 Understanding cryptocurrency trading fees may be a challenge even for people who are not newbies to the crypto market. In this article, we will look into different types of crypto fees and explain why zero trading fees are a great advantage for all kinds of traders and explain how to trade cryptocurrency without fees.
To understand crypto fees, let's walk along the whole process of starting cryptocurrency trading. The first step is to get registered at a crypto exchange, which is totally free without exceptions. The second step is to get KYC-approved and deposit your first funds, this is where the first fees may be charged.
Fees for Depositing to a Crypto Exchange
In most cases, cryptocurrency exchanges do not charge you anything for receiving your incoming transfer in crypto. Some cryptocurrency exchanges allow you to deposit only crypto and others also have a fiat gateway.
A fiat gateway, or a fiat ramp-on, is a system of payment that allows you to deposit fiat (central bank currencies) such as Euro or USD. There are various options you can choose from: depositing by SEPA or SWIFT, depositing through a payment gateway such as PayPal or Wise, or depositing by credit card. Crypto exchanges usually don't charge anything for accepting your bank wire deposit.
At Lykke, we not only charge zero fees for receiving your bank deposit, but we also cover your bank's commissions unless these are correspondent bank fees that we do not cover.
Note: This is a temporary offer that is valid at the moment of writing, but may not be valid anymore when you will be reading the article. These are truly unique conditions on the crypto market.
At Lykke, we currently don't offer other fiat deposit options, but other exchanges might have deposits by PayPal, credit card or other payment providers. Such options are typically offered by special payment providers and therefore, normally have quite high fees. However, it may be worth it if you need to fund your account instantly to take advantage of a trading opportunity.
Cryptocurrency Exchange Fees
It is commonly known that a crypto exchange, offering a marketplace service to its clients, needs to charge some trading fees in order to monetize the service. Crypto exchange trading fees are the commission that exchanges charge each time a trader buys or sells cryptocurrency. This means that if you want to buy Bitcoin at a low price, then wait and sell it at a higher price, you would pay the Bitcoin transaction fee two times: when you buy and when you sell.
Crypto exchanges actually charge anywhere from 0 to 1.5% Bitcoin transaction fee. So, if you want to buy $10,000 worth of Bitcoin, you'll pay 0 to $150 in fees.
All of this sounds super simple, you would say, however, understanding cryptocurrency trading fees may result more complicated than it seems.
Each exchange has its own policy so make sure you study it carefully and understand it before you make a trade. In most cases, crypto trading fees vary a lot depending on several factors. Primarily, these factors are (1) your role in a transaction and (2) the aggregated trading volume that you eventually generate. When we talk about the role of a transaction, we have to distinguish between people who provide liquidity and people who consume it. They are called "makers" and "takers".
Taker and Maker Cryptocurrency Fees
These terms refer to the trading opportunities that crypto traders create or take advantage of on a crypto exchange. All players on the market are interested in making money. Exchanges actually create opportunities for making money. However, if an asset is not interesting to many buyers, it gets more complicated to exchange it. Since people just don't buy it, a token becomes less liquid. Therefore, everyone is interested in maintaining the liquidity of assets: the exchange and the traders. 
To stimulate it, exchanges offer lower fees to those traders who create liquidity. They are called "makers" because they make markets. They place limit orders and populate the order book. The denser the order book, the more liquidity an asset has. Therefore, an exchange normally favors the maker behavior and charges lower fees to makers than to takers. Takers are those players who consume liquidity by closing the open limit orders. They remove orders from the order book and therefore, exchanges charge them higher fees.
Zero Cryptocurrency Trading Fees
Contrary to the common misconception, there are exchanges that do not charge any trading fees, which means that both taker and maker fees are zero. Many players on the market simply do not conceive the idea that an exchange business model may be less simplistic than just charging crypto transaction fees, and therefore, automatically assume that all cryptocurrency trading platforms charge fees. However, this is far from the truth.
Many DeFi platforms operate on a commission-independent model, however, in case of a DeFi, a trader faces the risk of not being able to receive any technical or legal support when needed. The conditions are better, but the risk appetite should be higher to operate on such platforms. The solution to this problem is the Lykke exchange, which is a centralized and compliant exchange that charges zero trading fees.
Our business model does not depend on commissions, moreover, we smartly optimize the processes and KPIs in order to maintain solid liquidity and guarantee low buy-sell spreads. This model is possible thanks to financial engineering expertise and is based on research in high-frequency finance. This may sound complicated, but all you need to know is that no matter how many trades you execute, even if you use a high-frequency crypto trading bot, you will pay zero crypto fees for your transactions on the exchange.
Zero trading fees are an important advantage for all kinds of traders, but it is especially favorable for high-frequency traders. This is just simple math: on a mainstream exchange, the more you trade the more you pay in trading commissions because you pay a fee for each trade. Even if you lose money when you make a mistake when trading, you still pay a fee. In high-frequency trading, a bot may easily perform hundreds of trades per day, so just imagine the amount of money you would pay as trading fees.
Lykke eliminates this inefficiency and gives crypto API traders the opportunity to open and close positions without being concerned about paying fees and calculating the total profit after the fees are paid. If you still do not have a trading bot, we recommend you benefit from our promotion for Margin.de bots. If you purchase a starter plan for Lykke exchange and introduce the code "Lykke" you will receive a 30% discount.
Crypto Exchange Hidden Fees
"Hidden fees" really sounds like something not nice and so it is. Probably, the most strident example is the inactivity fees whose existence users normally discover either because they have read all 10+ pages of the exchange's Terms and Conditions or because they have noticed in their account that they had been charged a fee.
At Lykke, we do not have any inactivity fees. The only fees you will pay are the withdrawal fees if you withdraw cryptocurrency and a recovery fee if you've sent your funds to the wrong address.
Wrong Crypto Address Recovery Fees
Blockchain technology is a new concept with some special characteristics: it's immutable, it's public and hence transparent, and it's sometimes not as user-friendly as we would want it to. For example, when you have to operate with cryptography, the 12-word backup seeds or deposit addresses. Add to this hard forks, token migrations to a different blockchain, and changes in exchanges' listing policies.
For this reason, it's not uncommon for people to send their funds to the wrong address or to keep on exchange a delisted or migrated asset. In such cases, when technology permits, the exchange can take action to recover the lost funds, but there will always be a recovery fee to compensate for the developer resources needed to recover your funds. Bottom line: please do check the notifications of your crypto apps not to miss important updates.
Fees for Withdrawing Your Cryptocurrency Revenue
When you want to withdraw your funds from a cryptocurrency exchange, you generally have two options: withdraw crypto to another platform or withdraw fiat to your bank account. In both cases, crypto trading platforms charge crypto fees.
In the case of the Lykke exchange, we charge cryptocurrency withdrawal fees, but we cover your fiat withdrawal fees if you send your funds directly to your bank account. Just like in the case of deposit fees, this is a temporary special offer that may not be valid anymore at the time of reading.
Tracing the bottom line, you have surely noticed that there are lots of crypto fee types that you have to take into account when you start trading cryptocurrencies. It may be complicated if you use several platforms whose taker and maker fees depend on the volume and don't have the same pricing.  If you're looking for simplicity and cost-effectiveness, Lykke is a smart choice: forget about taker and maker fees and just trade for free!
About Lykke
Lykke is one of the crypto exchanges with the lowest fees, registered in the UK, and operating on the market since 2015. It was founded by Richard Olsen, formerly the founder of OANDA. In our view, blockchain technology allows market players to design products and services that can truly democratize finance by eliminating the middleman, fueling exchange and eliminating inefficiencies such as trading fees. Apart from our beneficial fee policy, we offer robust architecture, 24/7 human support and a safe trading environment in compliance with KYC and AML regulations.
How to Minimize Crypto Fees?
Don't let sneaky crypto fees eat into your profits! Whether you're a seasoned trader or new to the game, these strategies can help you keep more of your hard-earned cryptocurrency.
Trade Cryptocurrency Without Transaction Fees
Obviously, when it comes to buying and selling cryptocurrency, every penny counts. That's why it's important to find a reputable crypto exchange that offers low or no fees, like Lykke.
Consider Trading With Coins
Use coins to purchase cryptocurrency and avoid pesky withdrawal fees associated with converting your digital assets to government-backed fiat currency. Opting for this strategy could potentially reduce or even eliminate your crypto fees, allowing you to maximize your profits.
Transaction Types Can Help With Minimizing Crypto Transaction Fees
Minimizing crypto fees requires strategic thinking, especially when it comes to transaction types. Instead of immediately converting your cryptocurrency to fiat, consider trading it for another token. This way, you may be able to avoid excessive fees associated with depositing and converting your assets. Remember, some exchanges charge for deposits and may also impose fees for converting cryptocurrency to fiat currency.
Summary
Cryptocurrency has become an increasingly popular investment option, but high transaction fees can eat into profits. To minimize these fees, it's important to look for crypto exchanges that offer low fees or even no fees. By being strategic and seeking out these cost-saving opportunities, investors can make the most of their cryptocurrency investments.