Published

30/03/2022
Written by

Lykke
Share
9

Powerful

Crypto

Bots

with

a

Visual

Strategy

Editor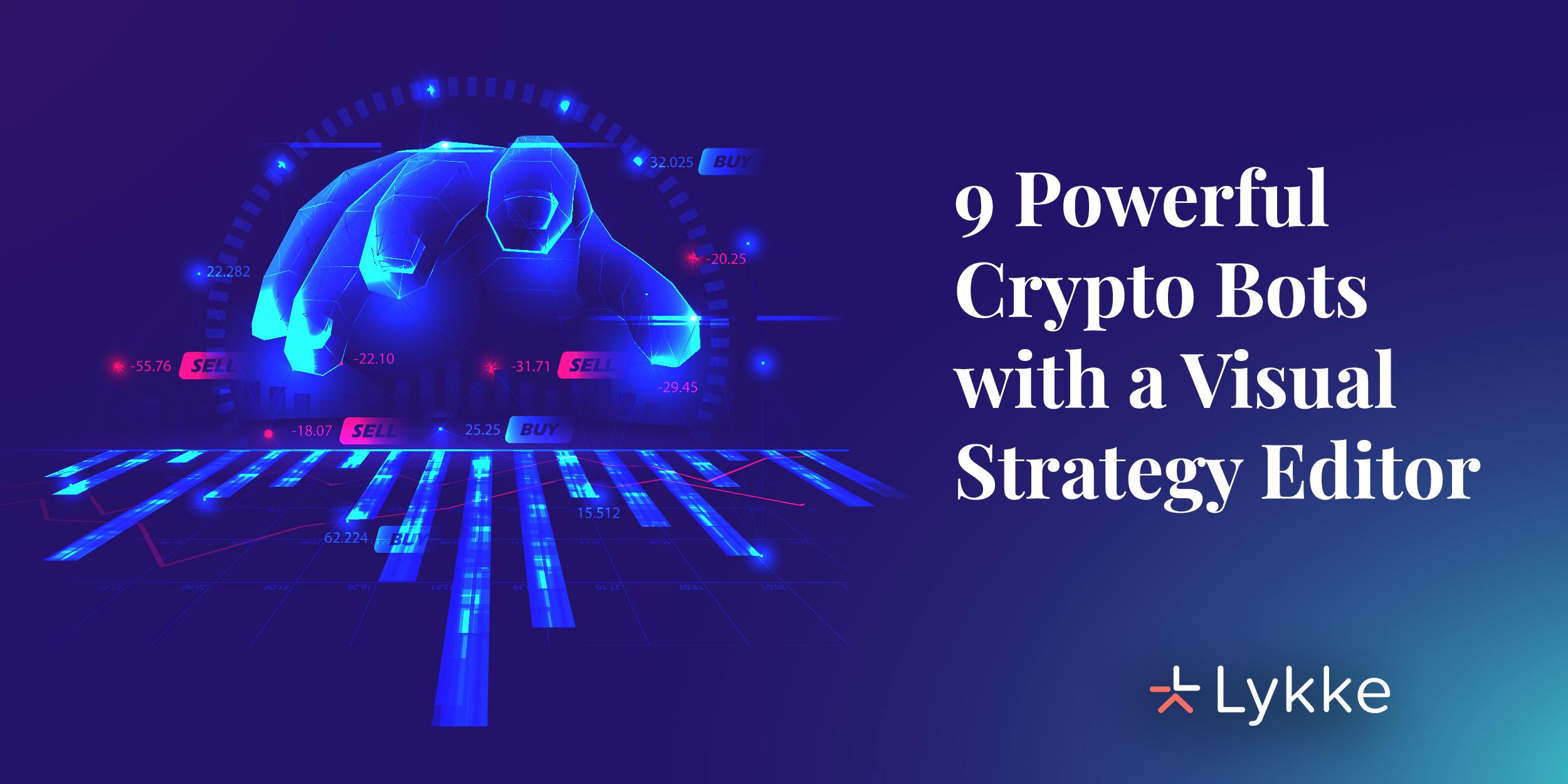 A crypto trading bot is nothing more than an algorithm that executes automatically buy and sell orders on your crypto account. In other words, a crypto bot is a computer program that does the trading for you. There are different types of crypto trading robots. They can differ by the algorithm or the underlying strategy the bot uses to make trading decisions. They may differ by the coding language used to develop them. Some traders prefer to code a trading bot themselves and others rely on existing bots and use SaaS or open source solutions.
This post opens a series of blog posts about SaaS or open-source trading bots that we will publish at Lykke. Lykke exchange is your best choice for crypto Algo trading because we charge zero taker and maker fees. Therefore, high-frequency crypto trading becomes highly profitable because you don't lose money on trading fees. If you want to connect a trading bot to Lykke Exchange, find the API documentation here.
Choosing a Crypto Bot
There are different types of cryptocurrency bots in terms of their technical complexity and user-friendliness. The choice ranges from delegating your money to a professional trader (so you don't even have to understand the strategies used) to copy trading or drag and drop bot editors to coding your own bot yourself. Today we will have a look at those crypto trading algorithms in our selection that require the trader to understand crypto trading strategies and signals. If you are a complete beginner in cryptocurrency trading, these bots may not be the right choice for you. We will prepare a separate list for beginner-friendly crypto trading bots.
Different pricing plans from 0 to some 60 USD
Target audience: seasoned traders
Bot editing tools: visual strategy editor and code editor
Trality is a powerful tool for building a trading bot. It is designed to serve casual traders and traders who want to automate their trading strategies. The platform offers two ways of building a crypto bot: by combining a set of rules in a drag and drop intuitive editor or by coding a bot in a dedicated editor. The platform is integrated with four major exchanges, all of which charge trading fees. If you're up to testing it, there's a free plan that allows you to run one bot with unlimited backtesting. The platform is cloud-based and you don't have to download or run anything on your computer. An interesting detail about the platform is that it's building a marketplace for crypto robots. Users will be able to get access to profitable bots coded by other users. The company behind the platform is based in Austria and was founded in 2019. The transparency of the company surprised us positively: you can email the team or connect with the members on LinkedIn. For support, you can refer to tutorials and a dedicated Help Center. The platform does not offer any affiliate or referral programmes.
Plans start from 0.009 BTC
Target audience: seasoned traders
Bot editing tools: visual strategy editor and code editor
HaasOnline is a truly powerful platform for crypto trading bot configuration. It is highly customizable and offers a wide range of options for crypto bot building. It is worth mentioning that the platform has been on the market since 2014 and it uses its own language for coding bots - HaasScript. However, it does not mean that you have to be able to code, you just need to understand what strategies you want your bot to follow. If you have little experience, you can rely on some predefined battle-proven Haas bots. If you're able to code, you can also use C# apart from the native script. The platform is cloud-based and you can be sure that your bots will never stop working. HaasOnline has a massive community and some support resources are user-generated. At the same time, the platform offers different channels for support requests, as long as a dedicated Help Centre. It is also a transparent team with their LinkedIn profiles listed on the website. The company is based in Belize, however, it seems to have German origins. The platform offers a referral program.
Plans start from 15 USD
Target audience: seasoned traders
Bot editing tools: visual strategy editor and Python editor
Margin offers not only bots but a whole trading platform that supports multiple exchanges, among them Lykke for zero fee trading. What you can do with this platform is to switch between exchanges by using the same intuitive and visual interface. Indeed, the platform was originally built as a powerful and user-friendly trading terminal with a configurable GUI, RSS feeds rendered in-chart and visually user-friendly technical indicators. But apart from these comforts, you can run any of Margin's five predesigned bots. You can configure them easily in a visual mode without having to code. However, if you are comfortable coding, you can write your own bot in Margin's Python editor.
Margin has four pricing plans, Lykke users have a promotional discount for the Starter plan activated for the Lykke exchange. Just introduce the discount code "Lykke" when signing up. To use the platform you have to download it and run it from your computer. Having truly an enormous choice of exchanges, Margin offers an arbitrage option but at the moment, only to institutional clients. Margin is a German company that functions very well both technically and from the support point of view. You can use their detailed guides on how to use each bot or contact the support which is very responsive.
Free (until the new release is ready)
Target audience: from beginner to seasoned traders
Bot editing tools: visual strategy editor
Quadency is a trading platform where you can aggregate your exchange accounts and automate your trading strategies. It was built with the idea of making crypto trading simple through an intuitive interface and ready-to-go trading automation tools. The platform is available for mobile devices as well. Apart from the intuitive interface and crypto trading bots, the platform offers various options for data collection. You can track your performance in different venues, access market screeners and charts, and get market insights from reliable sources with promotions and ads filtered out. The platform was built in 2018, left Beta in 2019 and is still being developed. The good news about it is that for the time being, it is available free of charge. The company has its token that fuels the development of the products. The platform is integrated with quite a few exchanges and is based in the USA. The team members' Linkedin profiles are available on the site, which clearly adds to transparency. The platform highlights its security levels, which is also nice to know. To contact support you can refer to the Help Centre or click on the chat button. The platform has an affiliate and a referral program.
Different plans from 0 to some 100 €
Target audience: seasoned traders
Bot editing tools: visual strategy editor
3Commas is a trading automation SaaS platform that offers much more than just bots. It offers a trading interface for manual trading, as well as crypto bots for trading automation. The platform also allows users to purchase trading signals, create portfolios and finally, it offers investment solutions. Currently, it is integrated with some 20 exchanges, none of which offers zero trading fees. The company is based in Estonia, it started up as a tool the three of its founders developed for personal needs of crypto trading automation. Since then it has grown into what it is today. The company's mission is to make crypto trading automation user-centred. The development approach is feedback based. The platform has an ambassador programme.
Different plans, starting from 15 USD per month
Target audience: from beginner to seasoned traders
Bot editing tools: visual strategy editor
Tradesanta is a company built with a mission of making crypto Algo trading simple for everyone. The platform offers a trading interface, trading bots and signals. It is connected to some 10 exchanges of which none offers zero trading fees. The interface is quite intuitive, indeed, the platform is also available as an Android and an iOS app, which makes it truly user-friendly. For each bot, you can find a simple tutorial on the web, and the configuration becomes very simple. Tradesanta also offers a referral program, and users can finance their subscription fees with their referral gains. There's no free starter plan. The company is based in the British Virgin Islands, nevertheless, it's compliant with the DGPR.
Plans: pay as you go
Target audience: from beginner to seasoned traders
Bot editing tools: rent a bot, copy trade, visual strategy editor
Kryll is sort of an Algo store where you can rent a bot coded by a community member. You can also rent out your strategies if you're comfortable coding and if your bot is profitable. To build your bot, you can use a powerful editor with an unlimited number of strategies, backtesting is totally free. The platform is cloud-based and it's integrated with nine exchanges, all of them charge trading fees. It's worth mentioning that Kryll is also available as a mobile app, while pro traders will appreciate Tradingview integration. There's no fixed fee, you pay as you use. We didn't find on the website any "about" information, company registration data or T&Cs. Judging by the platform's Twitter account, it's located in France. The founders' and the teams' LinkedIn profiles are available on the website. To contact the support service you can email the team or join their Telegram group.
Plans: starting from 0 €
Target audience: seasoned traders
Bot editing tools: visual strategy editor
Botcrypto is a tool for bot creation, it was built by three young French programmers who developed it into a fully-functional platform run 24/7. The website does not offer much information on the company or the platform itself. However, any curious user can try it themselves with a free plan. At the moment, only two exchanges are supported and both have trading fees. If you want to contact the platform for more information or support, there are various forms of doing so, including the founders' LinkedIn profiles. The platform also has a partner program.
Plans: starting from 0 €
Target audience: seasoned traders
Bot editing tools: from visual strategy editor to advanced editor
ProfitTrailer is a crypto bot that comes with a variety of addons. It is integrated with quite a big number of exchanges. It has various free and paid subscription options, depending on the number of active bots, connected exchanges and additional perks. The tool is available for all kinds of devices - both desktop and mobile. However, you have to run it on your premises. The bot can be configured by using a powerful config tool. The company is based in Curaçao and is quite transparent in terms of company registration information or contact details. It also has an affiliate program.
About Lykke
Lykke is a zero free crypto currency exchange platform registered in the UK. Our zero taker and maker fee policy makes us an attractive venue for API, high-frequency or crypto Algo trading. By eliminating the trading fee, we maximise your profits on each transaction. If you need support connecting your crypto trading bot, please contact our support team by email at support at lykke.com

Published on March 30th, 2022.