Published

30/04/2022
Written by

Lykke
Share
8

Crypto

Trading

Automation

Solutions

You

didn't

Know

About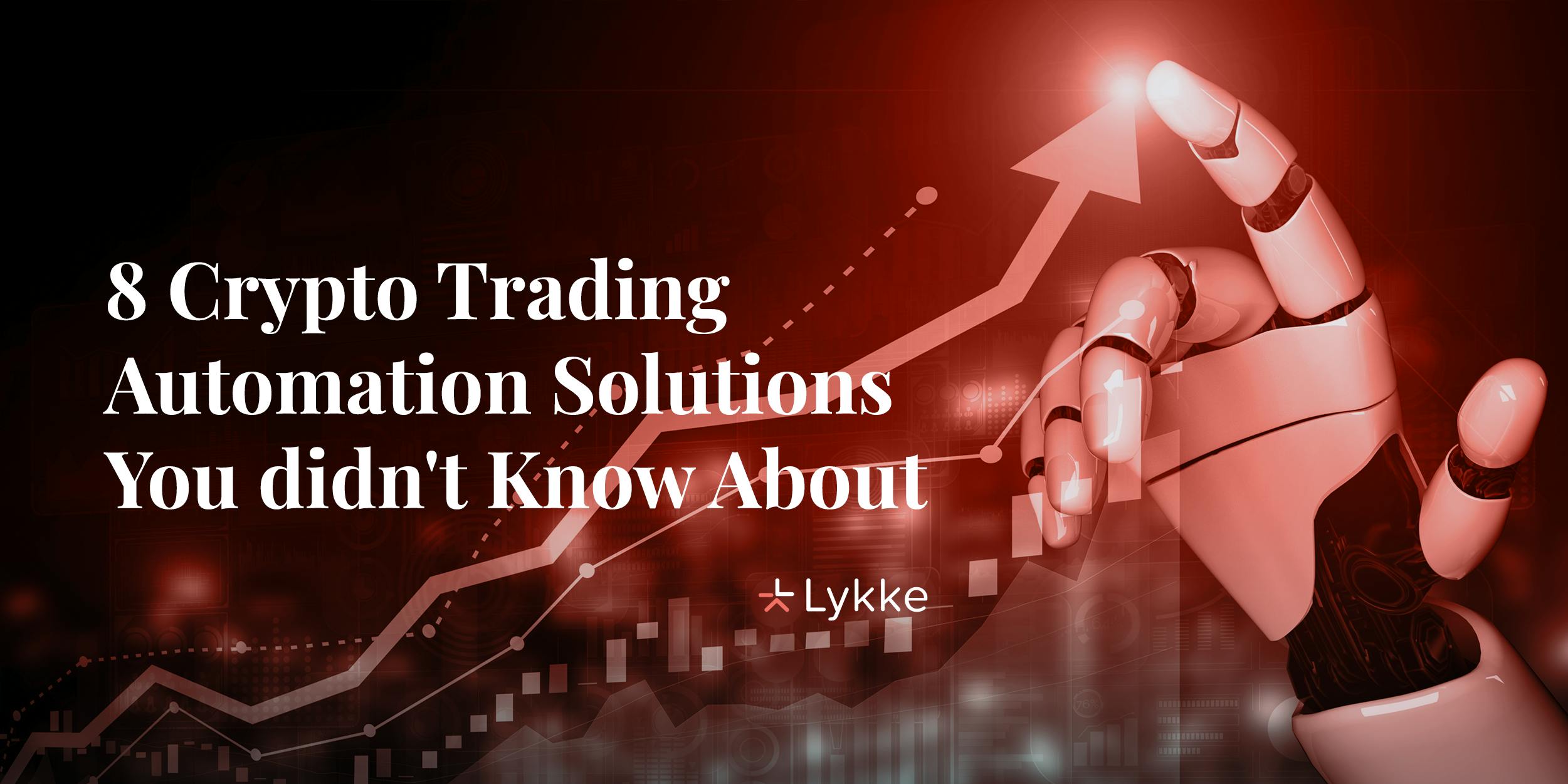 There are numerous trading bots and algorithms on the cryptocurrency market, most of them, however, offer quite similar features and pricing plans. Mainstream bot SaaS solutions offer a range of tools that target both beginner and more professional users. They are typically drag and drop and allow the users to edit their trading strategies. However, if you don't master trading strategies yet or, on the other hand, feel that the available on a mainstream platform trading signals and tools are not sophisticated enough for you, you need an alternative solution. Today we will tell you about cryptocurrency trading platforms and bots that we found different, curious and worth having a look at.
The first group of crypto trading platforms that we are featuring today are those that target complete crypto beginners. You don't have to understand what strategies to use and how to combine them into an algorithm. Just deposit your funds and turn on the autopilot!
Quantgeeks

Pricing: starts from 15 USD per month + 10% commission of the bot's profit
Target audience: beginners
No code is needed
Quantgeeks offers eight bots and there's no need even to configure them. You only have to connect the bot of your choice to your API account on a crypto exchange. You can view the bot's statistics and choose the one you prefer on the company's website. When choosing a pricing plan, consider that there are two components in the pricing: a cloud server monthly fee and a 10% commission on the bot's performance. The platform is connected to a few exchanges, the company is based in the USA.
Pricing: starts from 5 USD per month + 15% commission of the bot's profit
Target audience: beginners
No code is needed
Botsfolio is a very interesting tool since it's designed for complete beginners. You don't have to understand trading strategies or configure any rules for your algorithm. The only thing you have to have clear is your investment goals. As far as the pricing plans are concerned, the model is similar to Quantgeeks in that it charges a small monthly or yearly fee for the cloud service maintenance and then a commission detracted from the profit the bot makes for you. The company is integrated with only three exchanges, all of them charge trading fees. If you are interested in integrating your Lykke account with it, speak up and we will evaluate this possibility. The company is based in the USA and has an a partner program.
Pricing: profit sharing
Target audience: anybody
No code, copy trading
Zignaly is another trading automation solution absolutely worth attention. To use this platform, you don't need to have any knowledge of bot programming. This platform uses a copy trade model with a profit share pricing plan. It means that users simply trust their funds to a professional trader who gets rewarded with a commission for successful trades. As a professional trader, you can also create strategies, invite your community and trade with the trusted funds. Zignaly has a token that powers the growth of the community and the technical development of the product. The team is based remotely in the USA and Europe and has an affiliate program.
The following group of crypto trading platforms that go beyond being a simple bot are those that offer portfolio management service and coin set or basket investing. 
Pricing: not clear
Target audience: anybody
No code
Mudrex is a platform that offers a wide range of financial services for crypto investors. You can invest in sets of cryptos, curated portfolios, open an interest account or run crypto trading bots. The ROI conditions are quite interesting, however, the pricing is unclear from the website. It's worth mentioning that the product looks more like an MVP because of the missing information and the waiting list for some of its features. However, the idea is very inspiring. The team is based in India, but the company seems to be registered in Singapore, something which is also unclear from the website.
Pricing: free for a limited time (check the website)
Target audience: everyone
No code
Stacked is a comprehensive tool for automated cryptocurrency investing and trading. As the name suggests, it allows the users to create their portfolios by copying existing indexes and professional traders' portfolios (stacks). Apart from investing in ready-made portfolios, users can also run preset crypto bots. The good news is that currently, the platform is free to use, but for a limited time. Some of its features are still being developed. The company is based in the USA. According to its website, Stacked Finance LLC ("Stacked ") is an SEC-registered investment adviser and it offers investment management and advisory services. The platform is a software-based financial advice and trade execution platform.
Pricing: from 3 USD per month
Target audience: everyone
No code
Hodlbot is a platform that allows users to "invest in cryptocurrencies on autopilot". It offers users a possibility to create trading strategies or apply the already existing ones, follow indexes and create them, as well as build customized portfolios. At the same time, the platform offers automatic rebalancing, while users can also blacklist those assets that they don't want to invest in. This is an interesting offering from the regulatory perspective, however, we were unable to find on the website where the company is registered and how legally the users' funds are protected. The tool is integrated with Binance and few more exchanges that charge trading fees. However, the good news is that it's free to test the platform and after the trial period, the monthly fee starts from $3 per month.
The last groups of crypto trading bot tools are open source platforms that technically savvy users can configure according to their needs and use totally free of charge, in the spirit of true decentralized finance. 
Free, open source
Target audience: tech savvy traders
Configurable on GitHub
Superalgos is an open source, totally free software that runs on the premises of the user. As the project defines itself, it is a trading intelligence network, much more than a simple crypto bot platform. It was launched in 2021 and is growing significantly thanks to its governance model. The development is fueled by the SA token, which appreciates in price as the network grows. Users can download the software absolutely for free and configure their own bots. At the same time, the ecosystem favors collective intelligence in the form of trading signal sharing. This is a very interesting project that is built on the principles of true decentralization. Indeed, as its website states, its mission is to build a Web3 evolution of WallStreetBets.
Jesse
Free, open source
Target audience: tech savvy traders
Configurable on GitHub
Jesse is a platform that allows users to configure an open source trading bot. But apart from that, it's a huge community of Github developers, open source lovers and API traders. The community is active on Discord, it counts some 2000 users. The platform is a work in progress, it's being developed to offer more functionalities, apart from a crypto trading bot. However, to use Jesse, you have to be able to program your strategies in Python. The platform has to be downloaded to your equipment and configured. In the roadmap, the plans include integrating with the top centralized exchanges and further, with decentralized ones. It will be interesting to see its future evolution!
Conclusion
As you can see, the cryptocurrency automation market is actively growing offering new solutions of different kinds. While most platforms target quite a wide audience of crypto traders and investors, some offer truly interesting and alternative solutions. In the first and in the second blog posts of this series, we have run through the most popular crypto trading bots that do not require coding skills. In this post, we have looked into those platforms whose services range from managing your funds to creating personalized portfolios to open source platforms that only offer a framework for coding and a big community of fellow traders and supporters.
Sooner or later, each crypto currency trader starts thinking about automation of their strategies, it's good to know that the market offers so many different options. Please do try them and request their integration with Lykke exchange. Our zero trading fee policy together with powerful trading automation tools are a perfect combination for the success of any day trader!