Published

03/09/2023
Written by

Lykke
Share
Crypto

revolution

results

in

a

market

dominated

by

three

assets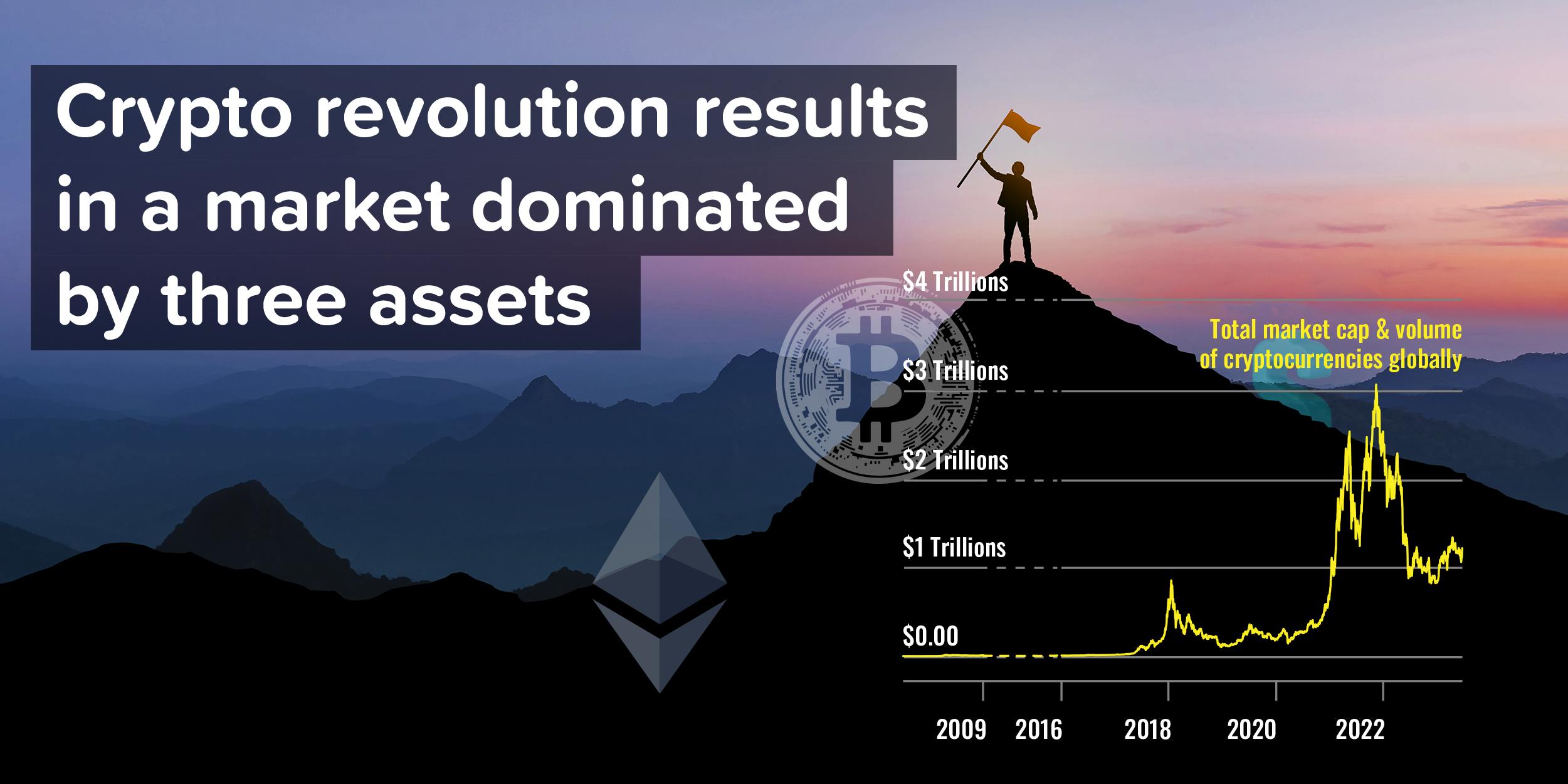 Despite new digital assets constantly entering the decentralized finance (DeFi) market, the crypto universe remains dominated by three assets: Bitcoin, Ether and various stablecoins pegged to the US dollar. Let's examine how the market has evolved from the launch of Bitcoin in January 2009 as a  starting point until today. 
During the early years of the blockchain era, between 2009 to 2015, the dominance of Bitcoin slowly but surely fell from above 90 percent to around 80 percent. Some altcoins  with Ripple's XRP and Cardano being the largest, challenged Bitcoin's dominance. Then, Ethereum emerged in August 2015.
Ether quickly took on Bitcoin's dominance and the market share of Ethereum reached an all-time high at just over 30 percent of the crypto market in 2017. At the time, Bitcoin's share of the market dropped to around 40 percent. Tether (USDT), today the world's largest stablecoin, also took off toward the end of that year, when its market capitalization doubled to above 1 billion dollars. Stablecoins offer stability as they are typically pegged to the US dollar. Read more about stablecoins here.
In late 2017, there was a wave of initial coin offerings (ICOs) that boosted the crypto market until these new coins crashed in January 2018. That year, Bitcoin's dominance bounced back to around 50 percent, while Ether's and XRP's market share oscillating around 10 percent, and other altcoins representing roughly 20 percent. The size of the crypto market remained relatively stable, around 500 billion dollars, between 2018 and late 2020. 
Crypto rally of 2021
Year 2021 was a golden year for the crypto universe. Its total market capitalization rose to an all-time high close to 3 billion dollars in November 2021. At the time Bitcoin's dominance stood at around 40 percent and Ether's at 20 percent.
The importance of stablecoins soared in 2021. Tether and its competing dollar-pegged coins, USD Coin, Binance USD, Dai, Frax, Dai, Pax Dollar, saw their combined market share more than double to nearly 90 billion dollars at the end of 2021.
The Jerome Powell, the chairman of the Federal Reserve, commented that it views "payments stablecoins as a form of money, and in all advanced economies, the ultimate source of credibility in money is the central bank… We believe that it would be appropriate to have quite a robust federal role in what happens in stablecoins going forward."
Spectacular crypto collapses nag interest in cryptos in 2022
The interest in crypto assets waned as the collapse of third-largest crypto ecosystem Terra-Luna in May 2022 followed by that of the crypto exchange FTX in November 2022 scared off numerous investors. The global market cap plunged to around 1 trillion dollars.
The market share of Bitcoin and Ether remained relatively stable around 40 and 18 percent respectively in 2022, while demand for stablecoins somewhat fell. The situation has not changed much since then.
Bitcoin, Ether and stablecoins clearly dominate today
The total crypto asset market cap has been oscillating around 1.1 trillion dollars since June 2022. Roughly 10,000 crypto coins are being traded on several hundreds of crypto exchanges at the time of writing in mid-June 2023, data from CoinGecko show.
But the Bitcoin dominance remains with almost half of the market and Ether with a fifth. The third "crypto asset" that gains ground is stablecoins, with a 10 percent share of the total market.
Stablecoins have gained in popularity as they on top of stability can be used as medium of exchange and store of value within the crypto sphere. They offer instant cross-border payments contrarily to cross-border transactions between traditional banks take several days to carry out. This matters as the value of cross-border payments is set to exceed 250 trillion dollars by 2027, a rise of more than 100 trillion dollars in a decade, data from the Boston Consulting Group shows.
Combined, these three assets – Bitcoin, Ether and stablecoins – make up more than three quarters of the global crypto universe. Numerous new and emerging crypto coins have indeed emerged over the years with unique feature and use cases, but none has managed to take significant market share. Binance and XRP together hold a combined market share of a mere 5 percent.