Published

14/03/2023
Written by

Lykke
Share
ATTMO

Times

–

Crypto

Market

Correction

on

the

Horizon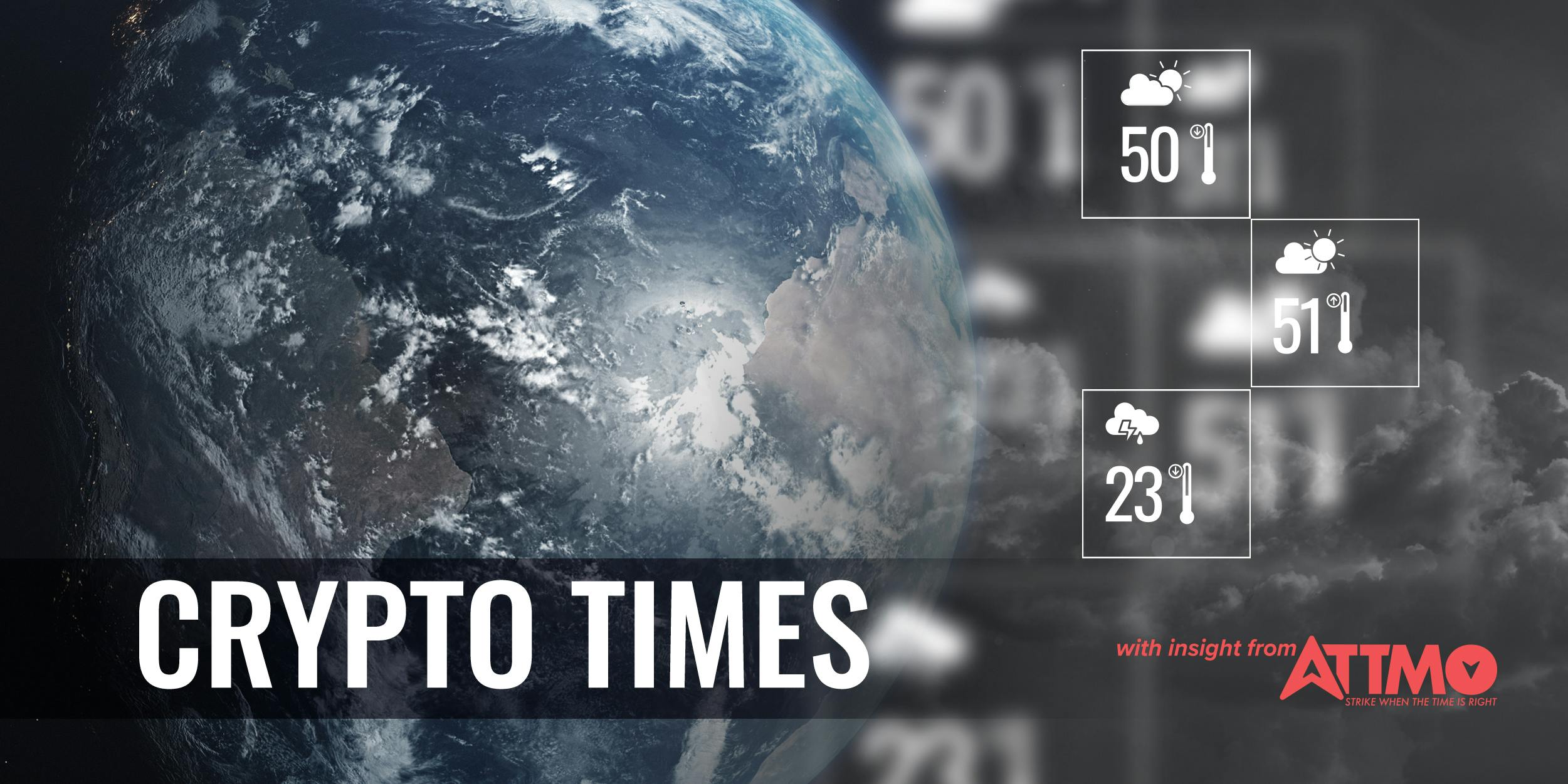 March 14th, 2023. Crypto markets are heading for a correction, according to ATTMO, a weather-inspired crypto AI forecasting tool. Cryptocurrencies rallied yesterday after the US regulator stepped in to guarantee the deposits of three failing crypto-related banks.
ATTMO foresees tropical weather with rain in the 72 hours ahead for the two largest cryptocurrencies – Bitcoin (BTC) and Ethereum (ETH). This means that a trend reversal, a downward trend, is very likely in the next 3 days. Smaller currencies such as Litecoin (LTC) and Ripple (XRP) will be less affected, the data shows.
The forecast is neutral for Bitcoin and Litecoin over the next 24 hours, while a sell-off of Ethereum is foreseen within the next day. Litecoin still has an upside, according to ATTMO. 
Crypto rally after US bailout of failing banks 📈
The global crypto market yesterday recouped last week's losses. Investors returned to digital assets after the US regulator intervened over the weekend following a bank run on Silicon Valley Bank (SIVB) and the closure of Signature Bank (SNBY). Both financial institutions had strong ties to the crypto universe, financing numerous crypto start-ups and venture-backed start-ups. 
Contrary to traditional banking stocks, which fell sharply across the globe, cryptocurrencies gained. Yesterday, the price of Bitcoin rose 8.9 percent, while that of Ethereum increased 4.8 percent. The combined market capitalization of the two cryptocurrencies makes up 60 percent of the crypto space. Smaller currencies benefited less from the upturn, with Tether, USD Coin and Ripple up 0.2 percent, 0.8 percent, and 0.8 percent respectively. 
US inflation, EU finance ministers in the spotlight 👀
The EU's finance ministers hold theirs monthly during the day. Investors will look for any comments about the ongoing turmoil in the banking sector as well as on inflation and rate hikes. 
They will also focus on the latest US inflation figures, which will be released at 13:30 CET. Year-on-year, the inflation is forecast to have slowed to 5.5 percent from 5.6 percent in January, according to the analyst consensus. A higher-than-expected inflation rate could force the Federal Reserve to raise its benchmark rate more than anticipated to dampen increasing prices. 
The market has, however, lowered its interest rate expectations following the ongoing turmoil in the global banking sector. Today, the Japanese bank index is down more than 7 percent. In Europe, the STOXX Europe 600 Banks Index has lost nearly 11 percent since Friday. 
The European Central Bank holds its monetary policy meeting later this week and the Fed next week. Both central banks are expected to raise their rates, but less than forecast just a couple of days ago. 
DISCLAIMER
These forecasts are not trading advice; they are only decision-support tools. They do not include information that is specific to the user; in particular, they do not account for their personal risk appetite or market assessment.