Published

27/09/2022
Written by

Lykke
Share
Can

Cryptocurrency

Fraud

Lead

to

Life

Imprisonment?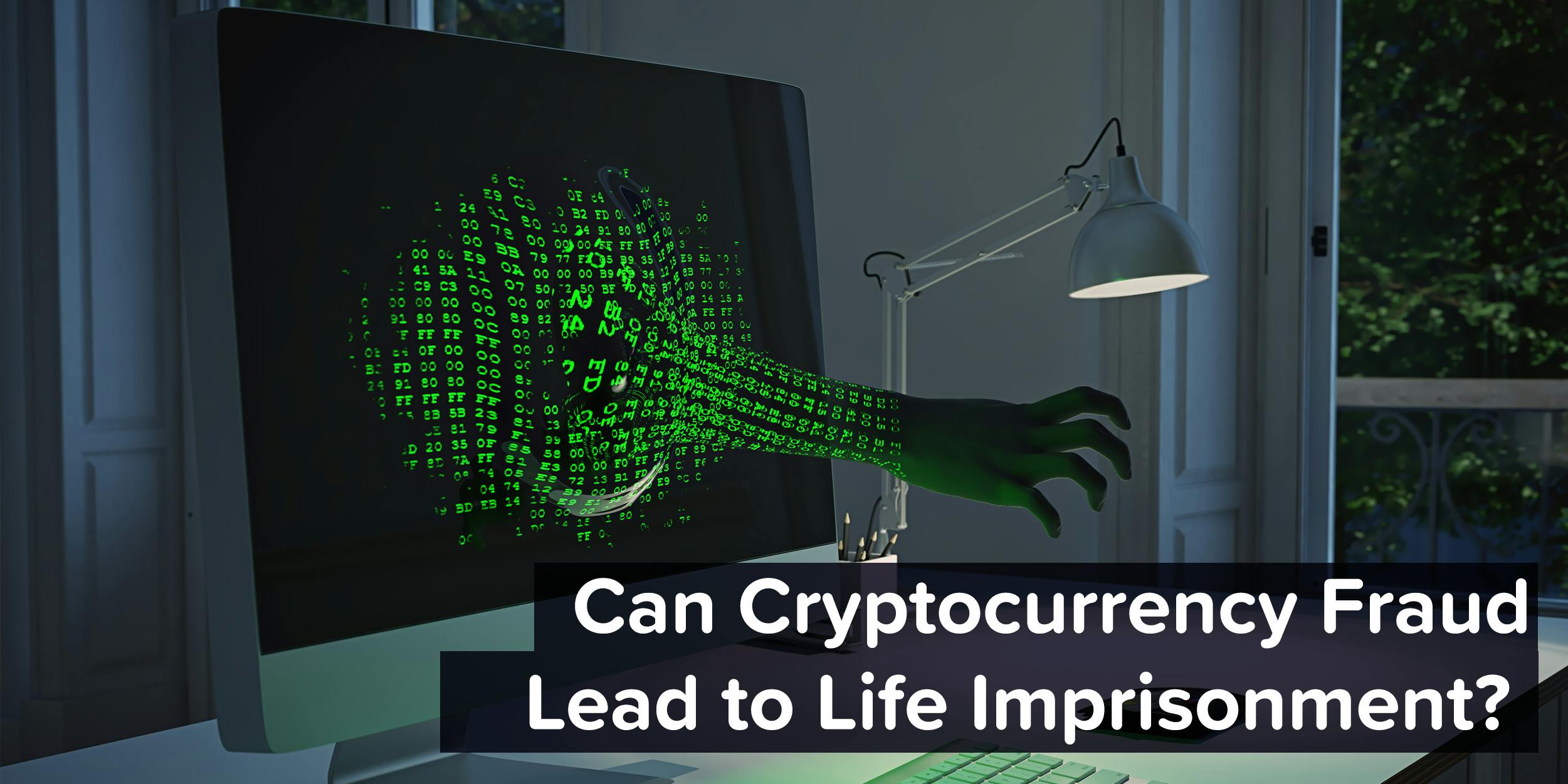 September 27th, 2022. Cryptocurrencies are speedily becoming the currency of choice by cybercriminals. The anonymity offered by this medium of exchange, its ease of use, and its ability to bypass borders make it highly attractive to scammers.
While the losses reported to the Federal Trade Commission in 2021 were worth $1 billion, Chainalysis pegs the yearly losses due to scams at $14 billion in 2021. 
Of the total, $7.8 billion went to scam-related losses, with $2.8 billion of this chunk resulting from "rug pulls." 
This crime refers to the operation of legitimate-looking cryptocurrency projects that later folds up and takes all the investors' money along with them. 
Fraud comes in various forms in America and can either be a misdemeanor or felony. The penalty depends on the type of fraud committed, the value of the financial loss, and the number of victims. 
The punishment typically includes going to jail or prison and paying restitution and fines. You can learn more about jail and prison sentences by visiting this page.
Can cryptocurrency fraud lead to jail time for life? How long can someone stay behind bars for committing cryptocurrency fraud? 
Read on if you want to discover the legal penalties for cryptocurrency fraud and how you can make safe digital currency transactions.
How Long Can You Stay Behind Bars for Crypto Fraud?
State and federal laws have their respective penalties for cryptocurrency fraud. 
On a federal level, the penalty could be a prison term of up to 20 years and fines of up to $250,000 under wire fraud, which covers email and website-based transactions.
However, the court may sentence the fraudster to 30 years and impose a fine of not more than $1 million if the violation involves a financial institution. 
Authorities can add another 10 years to the fraudster's original sentence if the victim is aged 56 and above.
In Florida, the state's organized fraud statute sets the sentencing for cryptocurrency fraudsters. The fines will depend on the amount that offenders defrauded from victims. 
The sentence can range from 60 days in jail or 30 years in prison for "false pretense" cases. Fines start at $500.
According to the state's law, false representation involves selling goods or receiving payment in bitcoin or other digital currency from a victim, even if the products don't exist.
Impersonators or perpetrators pretending to be someone the victim is likely to send money to—by posing as an authority figure, for instance—may stay in prison for up to 15 years. These fraudsters may also pay up to $10,000 in fines. 
In mid-2022, the Department of Justice issued a news release wherein it charged several individuals for cryptocurrency-related fraud. The suspects could serve sentences ranging from 20 to 115 years if convicted.
How Can You Transact Cryptocurrency Safely?
You can protect yourself from cryptocurrency fraud by being aware of scammers' modus operandi. Their techniques are similar to other kinds of fraud proliferating online that involve traditional currencies.
Bogus Platforms
Scammers can create fake websites or mobile apps. The names of sites and apps can resemble the names and interfaces of legitimate ones. These portals may even contain testimonials.
One of the ways to avoid falling for a bogus site is to check the URL. A genuinely secure website starts with "https" and a lock icon appears next to it.
Fake Initial Coin Offerings (ICOs)
ICOs (initial coin offerings) are the equivalent of initial public offerings in stock markets. Scammers also usually promise incredulously high returns. An example of this fraud is the SQUID that piggybacked on the fame of Netflix's Squid Game series.
Avoid fake ICOs by using online tools to audit new coins. Scam ICOs feature company technical whitepapers that are imitations of legitimate studies. 
Moreover, fake crypto firms may not have a real team of owners—the profiles or descriptions could also be phony.
Pump and Dump
Scammers can spread rumors via messaging apps or social channels about a business mogul investing large sums in a particular currency to raise the cryptocurrency's price. When the artificial peak hits, the owners sell off their holdings.
Protect yourself by researching claims before buying. Also, check the blockchain to ensure no single wallet holds most of the currency. The presence of a dominant shareholder could be a predictor of this scheme.
Ponzi Schemes
Like traditional Ponzi schemes, this crypto fraud involves new investors' money to provide artificial returns to older investors.
BitConnect is an example of this scheme. The platform promoted its trading as a high-yield investment, touting its trading bot and "volatility software." 
To avoid Ponzi schemes, be wary of projects featuring multi-level marketing tactics and wildly big payouts.
At least 4,5000 people from 95 nations lost over $2 billion to this scheme, which shut down in 2018. BitConnect's founder began serving his 38-month sentence in September 2021.
False Pretenses
Scammers are great con artists. When persons identify themselves as investment managers, government agency staff, or celebrities and then claim that they can grow your money, it's likely a scam.
An online love interest is also likely a scammer if the person suddenly wants to teach you how you can invest in cryptocurrency. You may also have to say goodbye to this virtual relationship if the other party requests you to send them cryptocurrency.
References
Reports show scammers cashing in on crypto craze
https://www.ftc.gov/news-events/data-visualizations/data-spotlight/2022/06/reports-show-scammers-cashing-crypto-craze
Everything You Need to Know About Fraud Crimes and Fraud Law
https://www.findlaw.com/criminal/criminal-charges/fraud.html
18 U.S. Code § 1341 - Frauds and swindles (last sentence)
https://www.law.cornell.edu/uscode/text/18/1341
Justice Department Announces Enforcement Action Charging Six Individuals with Cryptocurrency Fraud Offenses in Cases Involving Over $100 Million in Intended Losses
https://www.justice.gov/opa/pr/justice-department-announces-enforcement-action-charging-six-individuals-cryptocurrency-fraud
Cryptocurrency Fraud
https://www.aarp.org/money/scams-fraud/info-2019/cryptocurrency.html
U.S. Promoter of Foreign Cryptocurrency Company Sentenced to Prison for Role in Fraud Scheme
https://www.justice.gov/usao-sdca/pr/us-promoter-foreign-cryptocurrency-company-sentenced-prison-role-fraud-scheme