Published

03/07/2023
Written by

Lykke
Share
A

look

back

at

June:

SEC

vs

financial

institutions'

interest

in

crypto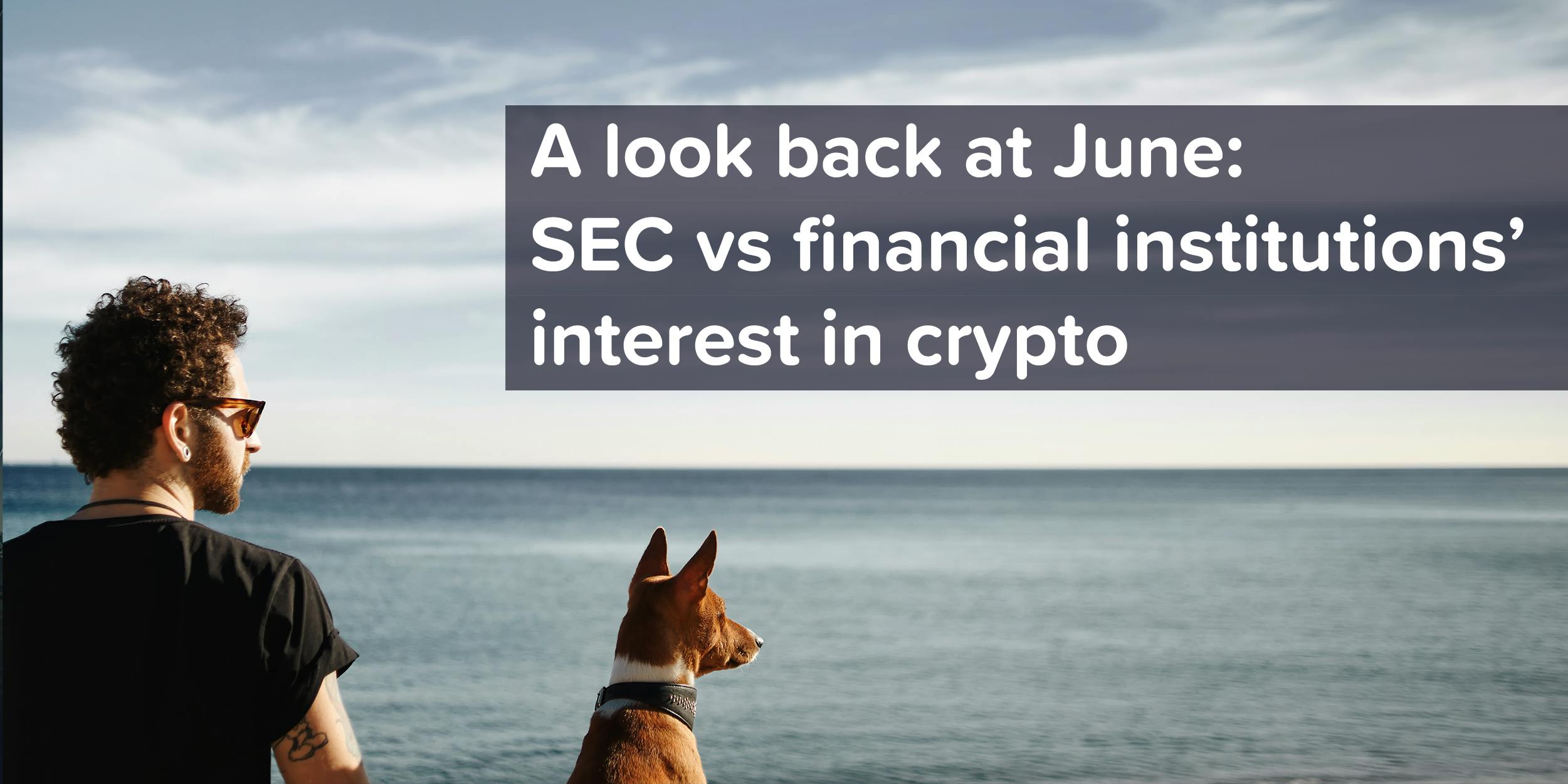 A look back at June: SEC vs financial institutions' interest in crypto
Crypto markets ended in positive territory in June buoyed by the interest of leading financial institutions in the crypto sphere. Not only were numerous applications for spot Bitcoin exchange traded funds (ETFs) filed to the US regulator during the month. The launch of two crypto exchanges solely catering for institutional players also boosted investor sentiment. The month did however start off with a sell-off due to the US regulator cracking down on two leading crypto exchanges.
The monthly cryptocurrency exchange volumes rose slightly to 489 billion US dollars in June compared to May, but remains far below the volumes traded in 2021 and 2022 as well as the first quarter of the year, data from the Block shows. Binance remains the largest exchange, with a global market share around 55 percent.
SEC flexed its muscles against crypto exchanges
June started off with Coinbase's CEO, Brian Armstrong, calling on the SEC to give the US crypto universe regulatory clarity to ensure consumer protection and realize the promise of crypto. "But instead of robust new rules that would help these efforts, we're getting threats of enforcement action," he wrote in an opinion piece published in MarketWatch.
These threats materialized faster than expected when the SEC on June 5 filed 13 charges against Binance and its CEO alleging they engaged in an extensive web of deception, conflicts of interest, lack of disclosure, and calculated evasion of the law. The following day, the regulator sued Coinbase, which is the largest crypto exchange in the US, claiming it operates its crypto exchange "as an unregistered national securities exchange, broker, and clearing agency… (and) for failing to register the offer and sale of its crypto asset staking-as-a-service" and notified it that all crypto assets, with the exception of Bitcoin, are securities.
Republican Congressmen became more active, notably putting forward a law aiming at preventing the SEC to treat crypto assets as securities and instead treat them as commodities under the Commodity Futures Trading Commission (CFTC). Senator Cynthia Lummis tweeted that "the SEC has failed to provide a path for digital asset exchanges to register, and even worse has failed to provide adequate legal guidance on what differentiates a security from a commodity."


Binance faces troubles outside the US too
Meanwhile, the regulatory issues faced by Binance outside of the US piled up at a record pace during the month. Binance failed to register its exchange as a virtual asset provider in the Netherlands and will cease operations there mid-July. In France, the country's regulator inspected its French office, notably accusing Binance of aggravated acts of money laundering, and in neighboring Belgium the regulator ordered the crypto exchange to immediately cease its operations there. In the UK, Binance cancelled its UK registration at the Financial Conduct Authority (FCA). Binance dropped more than 20 percent during June.
Bitcoin benefits from expected ETF bonanza
The largest cryptocurrency, Bitcoin, rose more than 12 percent during June to a one-year high after a slew of asset managers filed applications for spot Bitcoin ETFs to the SEC. BlackRock, the world's largest asset manager, is one of them and has a pristine track record when it comes to getting their ETF applications through the SEC's scrutiny.
Experts thus started to speculate that the offer Bitcoin ETFs will attract both institutional and retail investors, thus boosting demand. The 10, 20, 50 billions of US dollars forecast to enter the market, would in turn push up the price of Bitcoin. Its price rose to a one-year high in June.
The CIO at WisdomTree, of one of these smaller asset manager that filed an ETF application told CNBC that the market manipulation feared by the SEC in earlier rejected ETF applications now has been addressed through data sharing agreements now in place. A cold shower followed when the SEC on June 30 told Nasdaq and the Chicago Board Options Exchange that the ETF applications from BlackRock, Fidelity and others are deemed unclear and incomprehensive.
Financial giants interest in crypto institutionals give another boost
The launch by the three Wall Street giants Fidelity, Schwab and Citadel of a crypto exchange aimed solely at institutional clients, EDX Markets, also gave a boost to the crypto markets. Investors see this step into cryptos as a greater acceptance of crypto assets, which should support the entire sector. "One question I get a lot, especially in Januarys: What do you think will trigger the next bull market? …. Up until a week ago, I could not have said TradFi," Binance's CEO CZ tweeted.
EDX Markets trades only four assets. Bitcoin, Bitcoin Cash, Ether and Litecoin all benefited from the opening of this new exchange. Ether rose 1 percent in June, Bitcoin Cash 164 percent and Litecoin 16 percent.
In Germany, the country's largest bank Deutsche Bank applied for a license to provide custody services for cryptocurrencies to the country's regulator.  
US, EU & UK take different stance on crypto regulation
The EU is the furthest ahead, with its comprehensive regulation on markets in crypto-assets (MiCA) formally published in the EU's official journal in June. MiCA will enter into force on Dec 30, 2024. In the US, the world's largest crypto market, the US House Financial Services Committee aims to hold a vote on the Digital Asset Market Structure Discussion Draft by the middle of July. Such a law would notably give greater regulatory clarity in the US crypto space and make it clear whether cryptocurrencies qualify as securities or commodities. In the UK, an inquiry recommended to the government that crypto assets be classified as a "distinct third category of personal property" in addition to the existing categories; tangible and intangible property.
With numerous questions marks on the regulatory front, combined with additional rate hikes coming up, it's unclear whether the upwards trend can continue in July.